Miles Walker recently returned from an amazing Christmas and New Year trip to South America where he travelled on our 15 day Trails to Titicaca tour, with an extra few days at the famous Bolivian Salt Flats. Hiking to Machu Picchu, tasting the culinary delights of Lima, exploring the Amazon rainforest, visiting the highest navigable lake on earth – Lake Titicaca, panting his way through the highest altitude capital city on earth in La Paz and ending in the lunar landscapes of the Bolivian Salt Flats – Miles did it all! In order to give you a taste of what you can expect, Miles has put together this week's photo showcase. If you'd like to visit the world's largest salt flat in Bolivia after the end of the tour like Miles did – this can easily be added to your trip too!
To find out more about Miles' trip to South America, please email him at Miles@onthegotours.com.
1. Sleeping in the Amazon
No trip to Peru would be complete without a trip to the Amazon Jungle - the largest tropical rainforest in the world. Puerto Maldonado here we come and a beautiful resort - with an an amazing freshwater pool to match!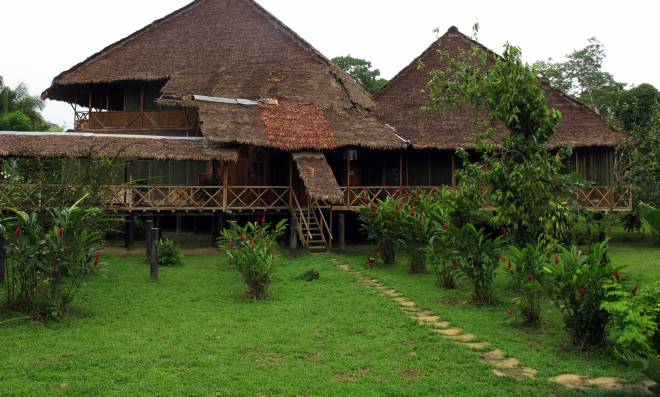 2. Exploring the Amazon Rainforest
With unparalleled biodiversity and indigenous settlements, the Amazon cannot fail to inspire. The best way to see and experience the jungle is by boat so we often found ourselves rowing through its verdant waterways.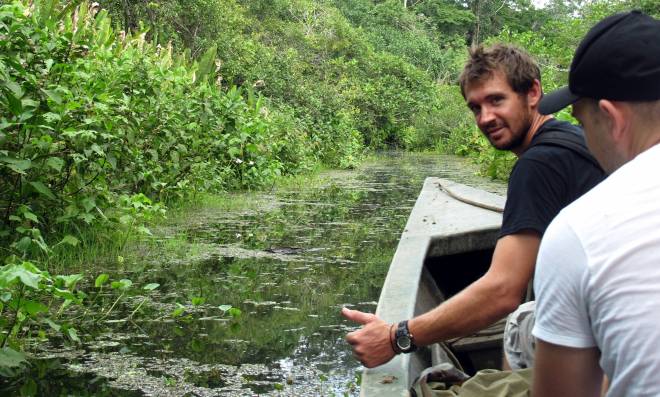 3. Walking the backstreets of Cuzco
Cuzco, perhaps my favourite city in all of South America! Small and compact, this city was made for walking and is packed with small souvenir shops, amazing restaurants and busy city life - sit back, relax and take it all in!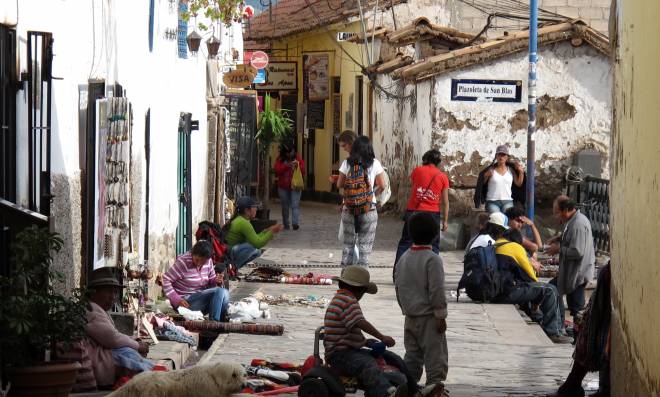 4. Arriving at Machu Picchu
This was one of the main reasons why I came to the Land of the Incas - to follow in the footsteps of Hiram Bingham, who discovered this lost city back in 1911. Getting a clear day can be tough, but luck was on my side!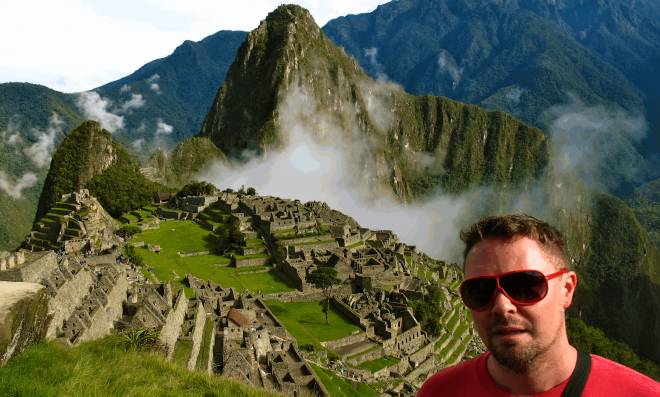 5. Getting friendly with the locals
There is no better way to really experience a place than by getting to know the local people. Getting licked by a llama however, I did not plan on happening, but nevertheless it did! I am single though, so I guess it's okay!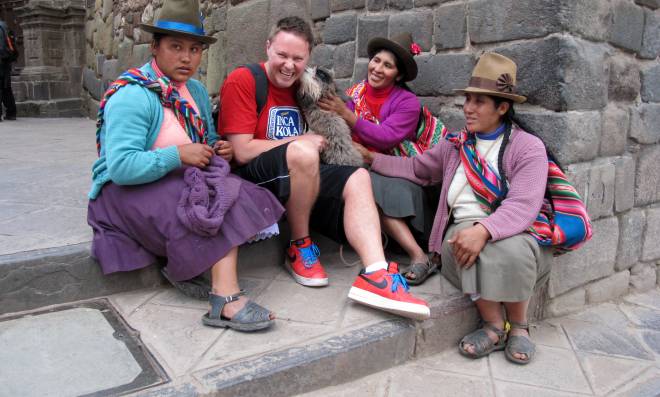 6. Visiting Lake Titicaca
What an experience. As the highest navigable lake on earth, Lake Titicaca also contains one of the oddest places to live - floating on a hand-made reed island. We visited, chatted with locals and learned about how they have survived living on these floating islands for generations. Simply amazing!
7. Chacaltaya ski resort
One of the highest ski resorts in the world, Chacaltaya even trumped the heights of Everest Base Camp. Did we drive here..yes! Then hiked the closest peak up, rising up to 5700 metres. Even though it wasn't easy to breathe it was a great experience getting to the top and seeing a fully abandoned ski resort - it shut down in 2010.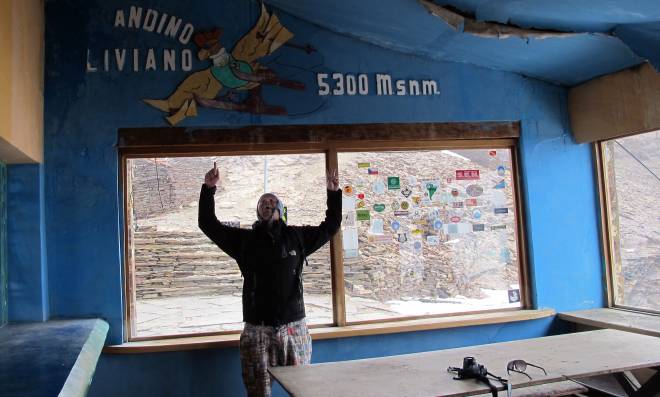 8. At Moon Valley, La Paz
A place named after the moon - can you guess why? Also known as Valle de la Luna, this area really looks out of this world, and spending an hour getting lost in this place like an astronaut was fun!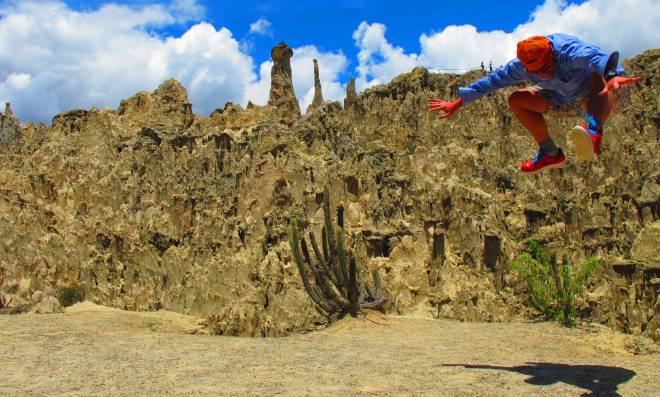 9. Salar de Uyuni Salt Flats
As the largest salt flat in the world, Salar de Uyuni is truly remarkable, with a breathtaking landscape that seems to be endless. In the rainy season the salt flat takes on the title of 'the largest mirror on earth' - what a view!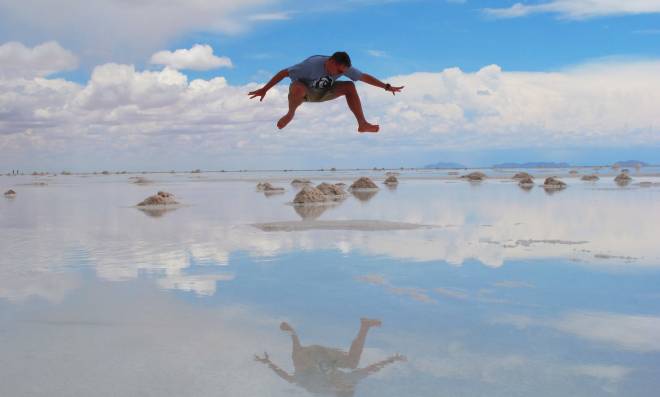 10. Different perspectives
Fun perspective shots come aplenty in Salar de Uyuni. I was fighting off dinosaurs in the afternoon but still made it to the salt hotel to enjoy a nice ice cold Cerveza by the evening!