This week we've got a fantastic photo showcase for you featuring a selection of photographs captured by Andrew Kirkby while travelling on our 10 day Totally Morocco tour. Although we know its all about the photography, we've added in some helpful commentary highlighting the very best of what this tour takes in. Setting out from exotic Marrakesh, Andrew takes in the hustle and bustle of Djemma el Fna, the vibrant city of Casablanca, Morroco's picturesque capital of Rabat, the pungent tanneries of Fes, the incredible landscapes of the Atlas Mountains and much more along the way.
Find out more about our Totally Morocco tour here.
1. First night in Morocco
Make the most of your first evening in Morocco with a trip down to Djemaa el Fna, an exuberant market place in the heart of Marrakech which comes alive at night. Wandering down narrow streets to this main square, discover a hive of activity alit against the night sky.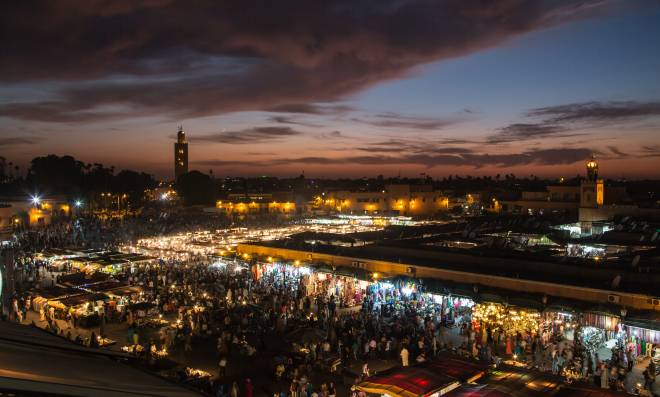 2. After dark in Djemaa el Fna
A wonderful assault on the senses, Djemaa el Fna is an exotic and mesmerising mix of aromatic smells, weird and wonderful sights and a cacophony of sound as traders market their stock, dancers perform, snake charmers intrigue and fortune tellers fascinate.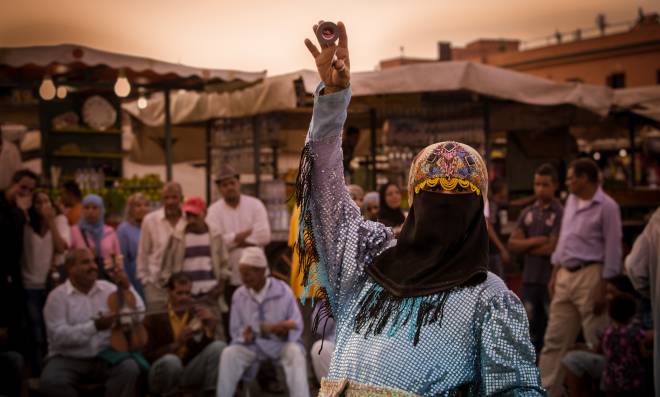 3. On to Casablanca
Leaving the hustle and bustle of Marrakech behind journey on to Casablanca, a vibrant city where you'll discover the country's best contemporary art, innovative fashion and trendy bars. To add to this is the phenomenal Hassan II Mosque, the third largest in the world.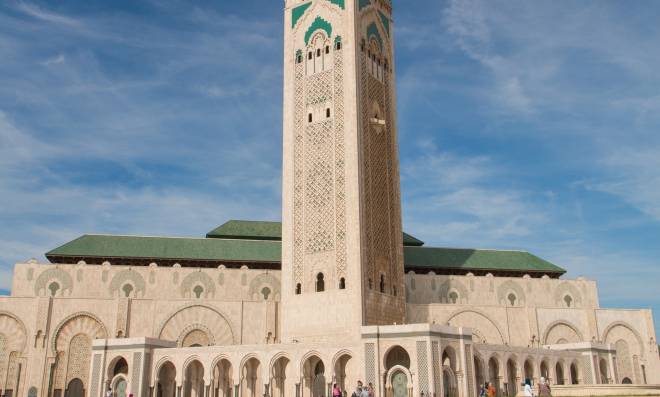 4. Stop in the capital city
Next stop is Rabat. Set on the Atlantic Coast, this picturesque city has pretty tree-lined boulevards and an unhurried charm making it a wonderful place to explore. Here take in highlights like the impressive Chellah, a necropolis and complex of ancient, medieval ruins.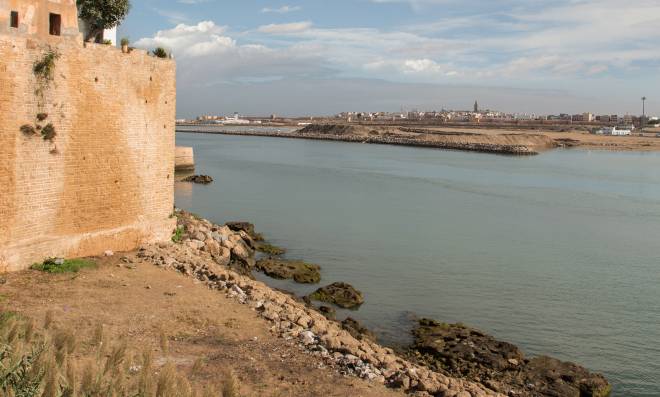 5. Roman ruins in Volubilis
Heading west of Rabat uncover the imperial city of Meknes and nearby the UNESCO listed site of Volubilis (pictured), home to the largest and best-preserved Roman ruins in Morocco.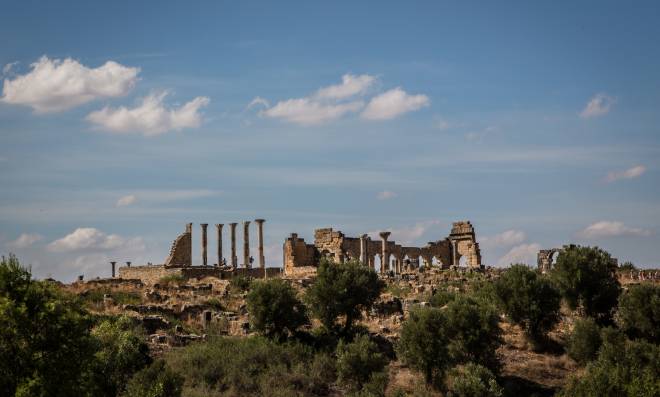 6. Next stop, Fes
Travelling on to Fes, discover one of the oldest and largest medieval Islamic cities in the world. The wonderfully preserved UNESCO listed medina is a captivating hive of activity and the labyrinthine streets lined with tanneries, dye pits and spice tubs provide a mix of sights, sounds and aromas.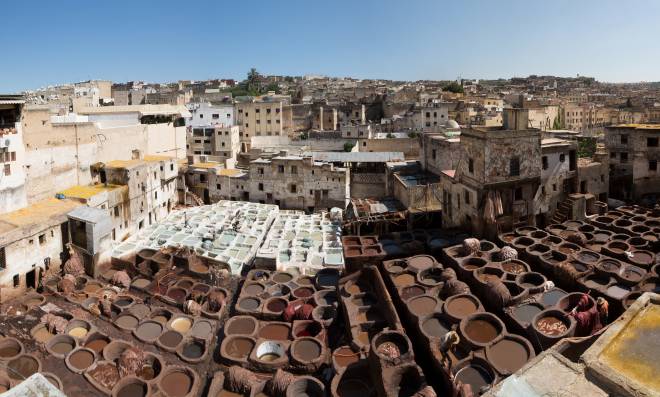 7. A night under the stars
A scenic drives takes you to Merzouga where you'll mount a camel and begin a trek into the vast Sahara Desert. Arriving at your camp watch as the sun sets over the orange dunes as you enjoy local cuisine, music and a memorable night under the Saharan stars.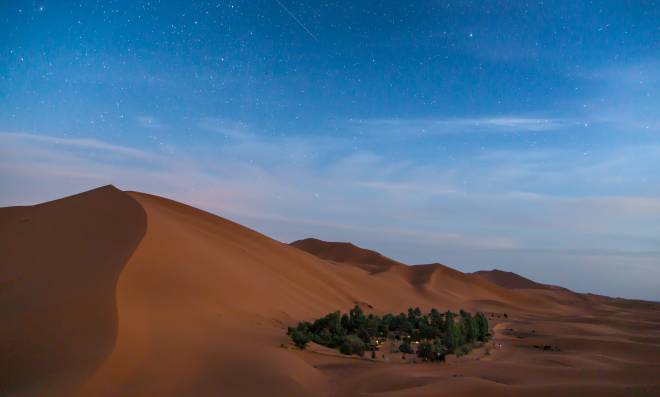 8. Kasbahs en route to Dades Gorge
Travel through striking landscapes to Dades Gorge, an awe-inspiring valley which stretches from the High Atlas Mountains to the Jebel Sarhro range in the south. Pass medieval kasbahs en route and stop at a vantage point to take in the spectacular views.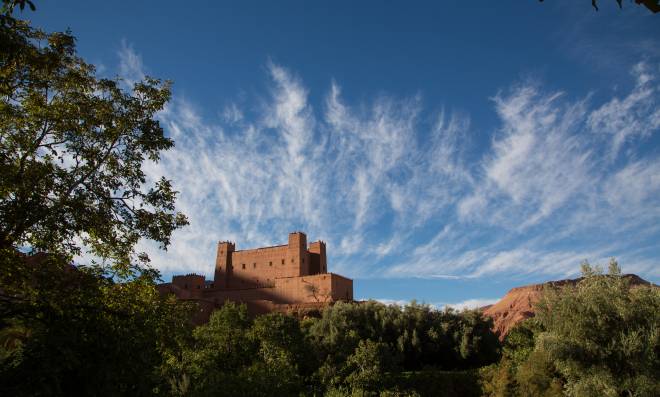 9. Relaxation at Todra Gorge
Continue on to Todra Gorge, perhaps one of the most dramatic sights in all of Morocco. With incredible scenery and a constant stream of locals passing through, herding camels or selling their ways, this is the perfect place to stop for a while.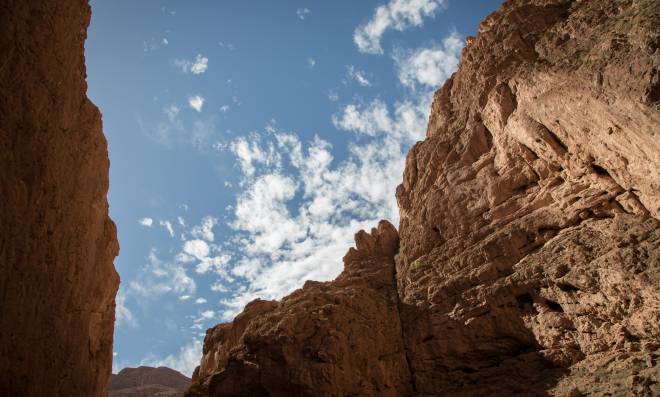 10. Photo op at Ait Benhaddou
Last stop before returning to Marrakesh is the ancient fortified kasbah of Ait Benhadodu. Built for defence purposes high on a hill with a bubbling steam within it shadows, this stunning medieval city is a true highlight. Snap a few photos and marvel at its beauty before heading back on the road.