(Last Updated On: August 12, 2016)
In March our own Christine Fleitz travelled to Egypt on our 9 day King Tutankhamen tour, and according to her now is the perfect time to visit Egypt as without the crowds you will have the wonders of ancient Egypt all to yourself. From the legendary Pyramids of Giza and picturesque Philae Temple, to iconic Abu Simbel and the vast Valley of the Kings, what better time to explore all of these sites than before the throngs of tourists return. In this week's photo showcase Christine tells us about her experience in Egypt with some photographs to match, and as you can see from the photos, she wasn't joking when she said you'd have all the sites to yourself!
Start planning your Egyptian adventure today.
1. The Pyramids of Giza
No matter how many travel books you read, photographs you see or documentaries you watch about the pyramids, nothing compares to seeing them for yourself. These ancient wonders had been on my bucket list for a while, and lucky for me our group had them pretty much to ourselves. While it was incredible to see them and marvel at their sheer size, what really felt surreal was being able to run my finger tips along the 4500-year old stone and crawl down a narrow passage way right into royal burial chamber of Chephren – the second tallest of the pyramids.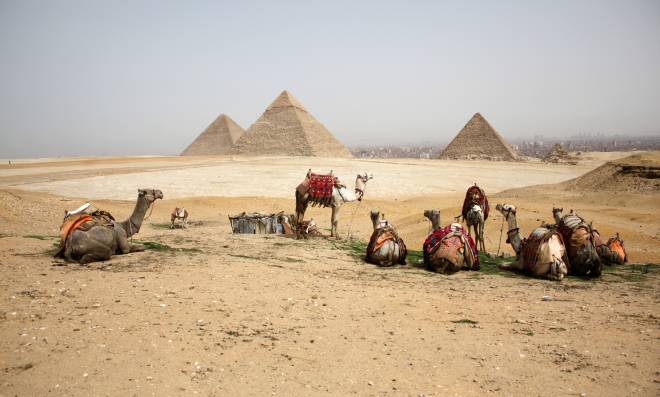 2. Camel Trekking
Growing up with cats and dogs I've always had a soft spot for furry creatures of all shapes and sizes, so needless to say I was definitely looking forward to the possibility of riding a camel while in Egypt. While visiting the pyramids there was the chance to opt for a short camel trek – which I eagerly accepted, that took us out to an isolated vantage point where we were able to get some great shots of these ancient wonders. The ride might have been a bit bumpy in places, but I loved it.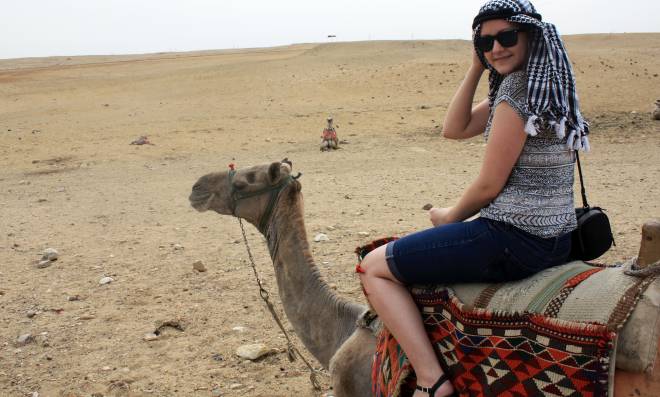 3. Philae Temple
Leaving Cairo behind we travelled down to Aswan where our first stop would be Philae Temple. While this small temple may not be the largest or best-known monument of ancient Egypt, it is certainly one of its prettiest. A short boat ride took us to a picturesque island, lined with lush vegetation and a sprinkling of colourful flowers, where the temple is located. Again, we had this site virtually to ourselves so were able to listen to its story, explore its grounds and relax for a moment or two in peace before continuing on with our journey.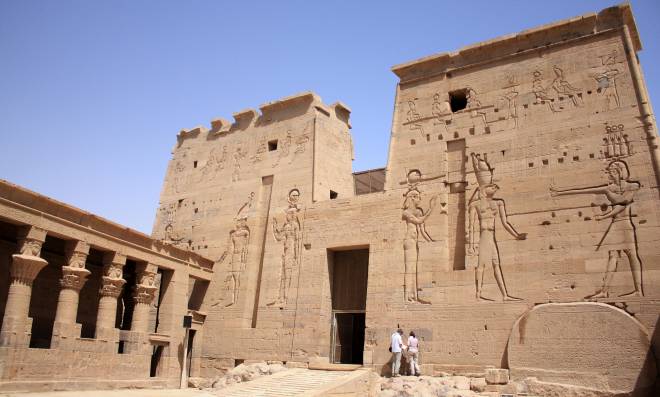 4. Abu Simbel
An early morning departure and sleepy drive took us to the iconic temples of Abu Simbel, located just a few hours south of Aswan. Much like the pyramids, nothing really compares to seeing the two temples here – one dedicated to King Ramses II and the other to his wife, up close as it is only then that you can really appreciate their sheer size and detail. In a way it is hard to believe that at one point in time Abu Simbel was lost to the world, and had it not been rediscovered in the beginning of the 19th century, it may have still been.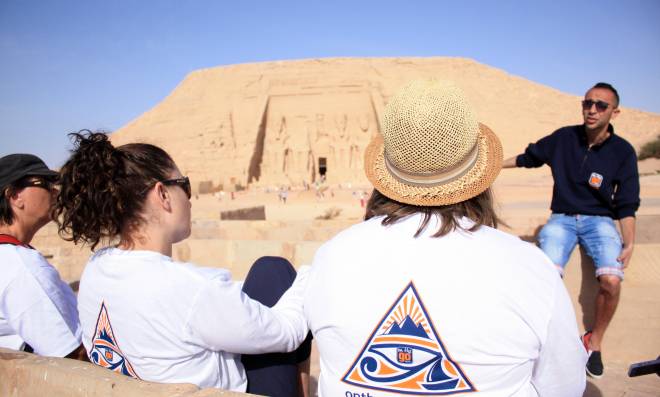 5. The Great Temple
Guarding the entrance to The Great Temple (pictured) are four colossal statues of Ramses II, seated on thrones wearing the double crown of Upper and Lower Egypt. While the facade of this temple is impressive in itself, exploring the interior is something else. Carved into the side of a cliff, a series of rooms and halls can be found decorated with pillars, hieroglyphics and at the very back the innermost shrine with statues of the Egyptian gods Ptah, Amun-Ra, the sanctified Ramses II, and Re-Horakhte.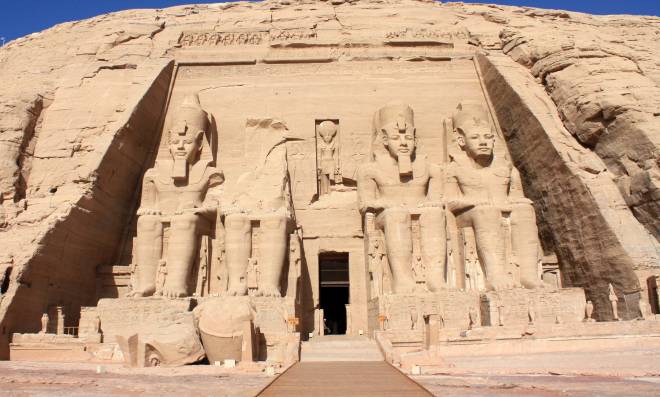 6. Sailing the Nile
After checking out of the hotel in Aswan we hopped on board our boat for a couple days of relaxation on the Nile. Sailing on a traditional felucca, a simple sailboat with broad canvas sails, we piled down the river just as they would have done in ancient times – only difference, we had a motorised support boat with a dining area and much appreciated flushing toilet. The next two days were spent relaxing, chatting, swimming and enjoy a brew or two in the sunshine.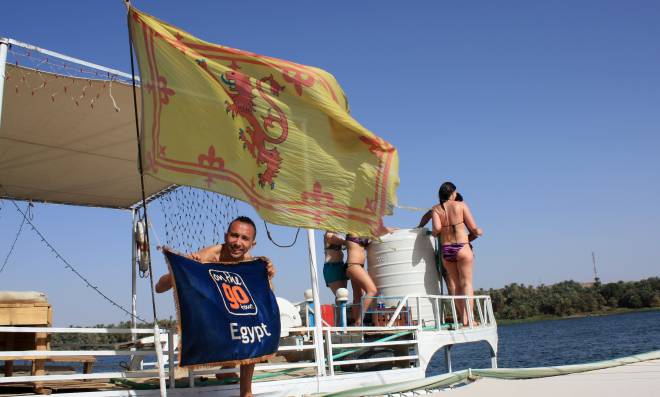 7. Luxor by night
Disembarking at Kom Ombo we enjoyed a tour of the waterside temple before journeying on to Luxor, our home for the next two nights. After a few hours of rest and relaxation by the pool we made our way to Luxor Temple where we got to experience another side of ancient Egypt – one that was after dark. The whole temple was illuminated against the night sky by spot lights creating an entirely different atmosphere than any of the other temples we had explored so far.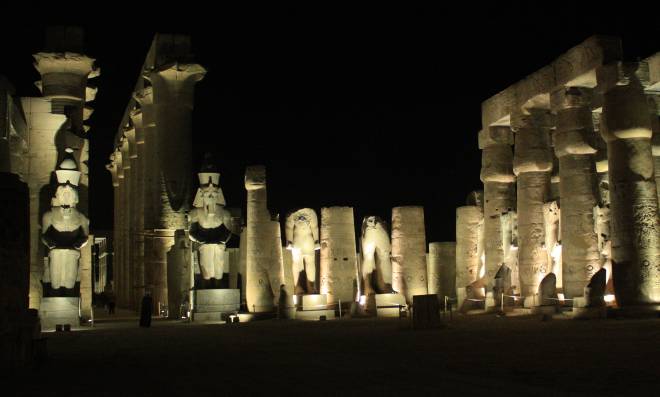 8. Hot Air Ballooning over Luxor
I would not say that I am afraid of heights, just wary of them. When I am standing somewhere high I tend to get a wobbly feeling in my knees, I am sure you know which one I mean. So needless to say I was not entirely convinced by the prospect of hot air ballooning, but then I thought, when am I going to get another chance to do this. So I did it. And what an experience it was! The lift off was smooth, I didn't even notice that we were off the ground for a few minutes, the flight was delightful, the views incredible and the landing soft. I'd do it again in a heartbeat.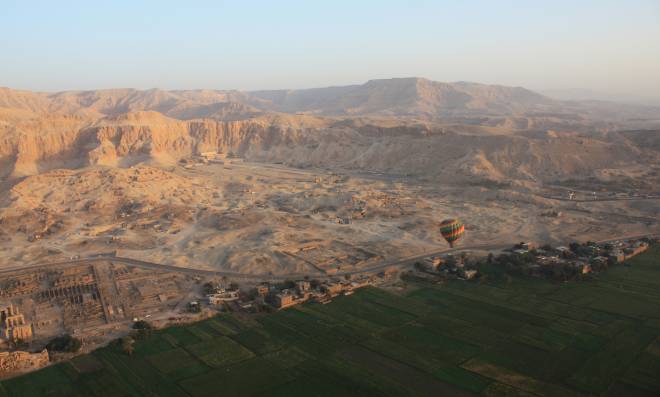 9. The Temple of Queen Hatshepsut
One of our main highlights in Luxor was the tomb-strewn Valley of the Kings (no cameras allowed!) and the legendary Temple of Queen Hatshepsut (pictured). Yet again we got to explore this site without the crowds – I really cannot insist enough that now IS the time to go to Egypt if you want to have all of these incredible sites to yourself. Dating back to the New Kingdom this iconic temple is located at the foot of a cliff on the West Bank of the Nile and was built for Queen Hatshepsut, the first powerful woman in recorded history who remained in power for more than 20 year in ancient Egypt.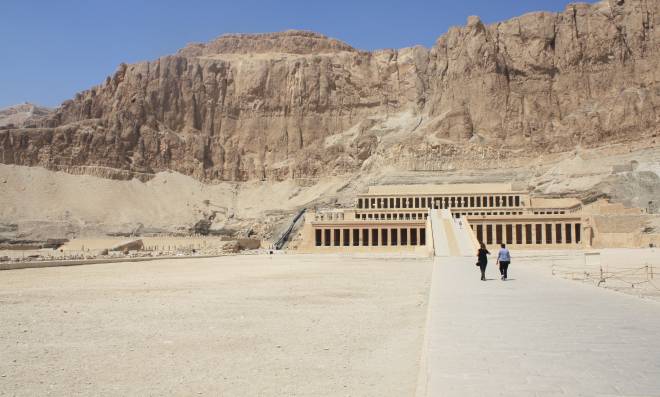 10. Temple of Karnak
Last stop in Luxor was the Temple of Karnak, a spectacular temple complex built on a gigantic scale dedicated to the Theban gods. Massive pillars, detailed hieroglyphics and colossal stone statues abound here and hours could be spent exploring its expansive grounds. Here you'll also find the Sacred Lake and the largest monumental Scarab in all of Egypt. For the superstitious it is said that if you make a wish and walk around the Scarab seven times your dreams will come true. What would you wish for?