Whether you want to discover splendour of the Forbidden City in Bejing, experience the magnifience of the Great Wall in Badaling, marvel at the incredible army of Terracotta Warriors in Xi'an, cuddle with a panda in Chengdu, witness the lush beauty of the Dragon's Backbone in Longsheng or live the high-life in cosmopolitan Shanghai, China has something for everyone. But as such as vast country with an overwhelming number of sights to see, it helps to have an idea of where to start. This week's photo showcase highlights our pick of absolute must-do things on any visit to China, whether its your first time or your fifth time. Of course there are plenty more, so this is just to get you started.
Tell us your favourite highlight in China and why!
1. Climb a section of the Great Wall in Badaling
Stretching some 20,000 km from the east to the west of China across barren desert, lush grassland, and winding mountain peaks, The Great Wall is an awe-inspiring sight to behold and a must-see on any visit to this beguiling country. Get a taste of the size and majesty of this impressive architectural feat with a short stroll atop a section of the wall in Badaling, 50 miles north of Beijing.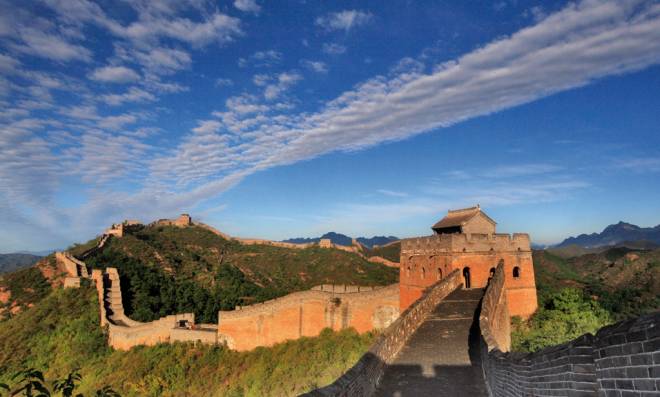 2. Take a rickshaw through Beijing's ancient hutongs
After exploring Beijing's intriguing Forbidden City, gain fascinating insight into daily life and the history of China's capital city on a rickshaw ride through the ancient alleys and lanes known as the hutongs. A labyrinth of ancient alleyways and twisted lanes lined with artisan workshops, traditional teahouses, and quiet courtyards this is a wonderful place to spend an afternoon.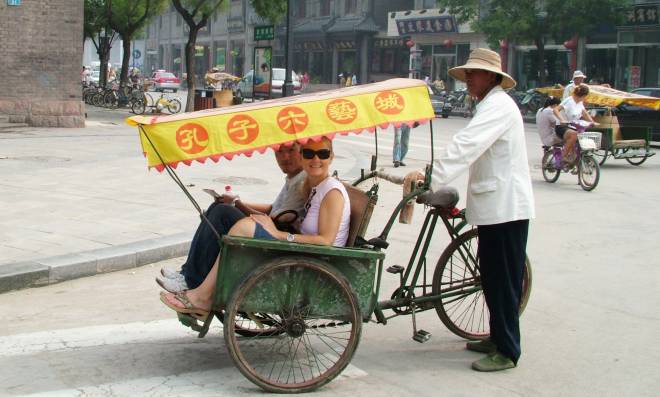 3. Explore the Longman Grottoes
Home to the rare ruins of capital cities from bygone dynasties, Luoyang is perhaps most famous for the Longman Grottoes. Dating back to the Wei Dynasty, uncover thousands of caves and hundreds of thousands of statues that are today recognised as a World Heritage Site and considered one of China's last remaining masterpieces of Buddhist rock carvings.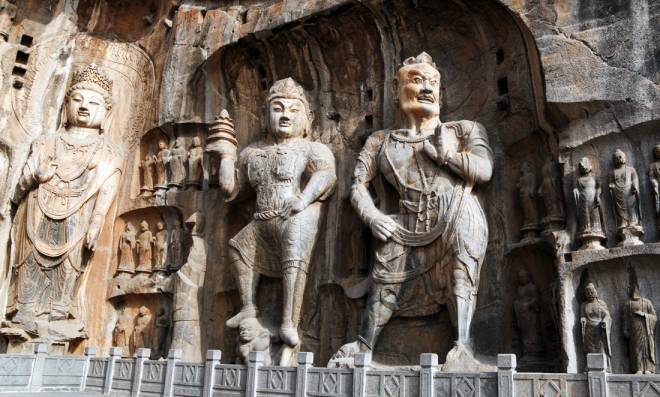 4. Discover an army of Terracotta Warriors in Xi'an
The incredible discovery of the Emperor Qin's underground army has put Xi'an on the map, and simply cannot be missed. Discover Emperor Qin's army of subterranean army of thousands of warriors, horses and chariots arranged in military formation within his burial grounds. It is said that no two faces are alike, with each warrior having his own unique characteristics.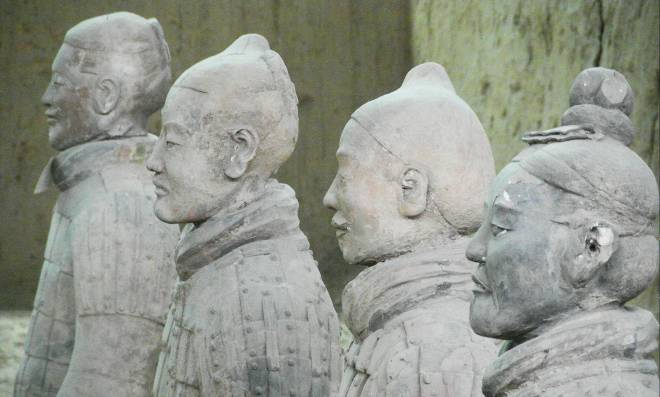 5. Cycle around the Old City walls in Xi'an
For a different look at Xi'an, take a leisurely bike ride around its Old City walls on a solo or tandem bicycle. Looking down as you peddle offers delightful views of the city hubbub and daily life with the Old City in the centre of the walls and the modern city on the outside. Enjoy the fresh air and views at an easy pace, have a race with fellow travellers, the choice is yours!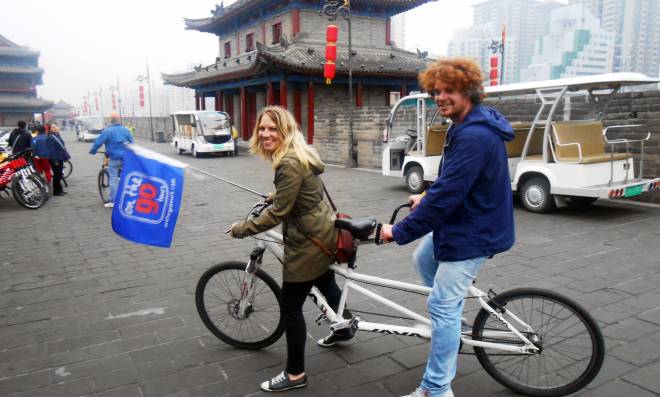 6. Meet Giant Pandas in Chengdu
Chengdu is home to China's giant pandas and the world-famous Chengdu Panda Breeding Centre. Located north of the city, the facility is dedicated to the conservation, rearing and breeding of pandas for their final release into the wild. Pay a visit to the centre and get up close to these endangered species, sit the Panda nursery or for an extra fee cuddle with one of the cuddly creatures.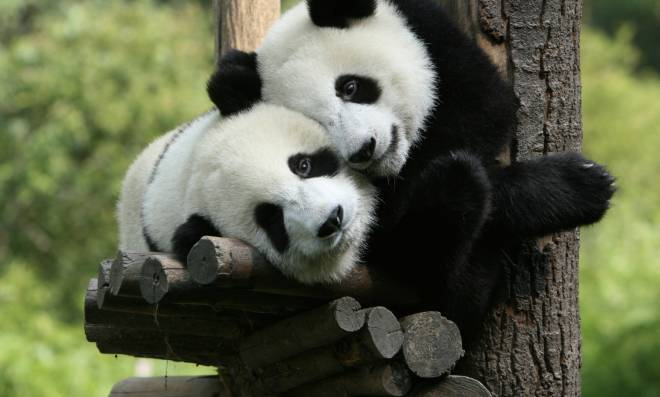 7. Witness the Dragon's Backbone in Longsheng
Layer upon layer of verdant green rice terraces coil and climb to the summit of Mt Longji in Longsheng, creating an incredible landscape that has become known as the Dragon's Backbone. The best way to appreciate the view here is to climb skyward along a narrow stone path, ending with panoramic views of the ribbon like terraces with picturesque valleys and meandering streams below.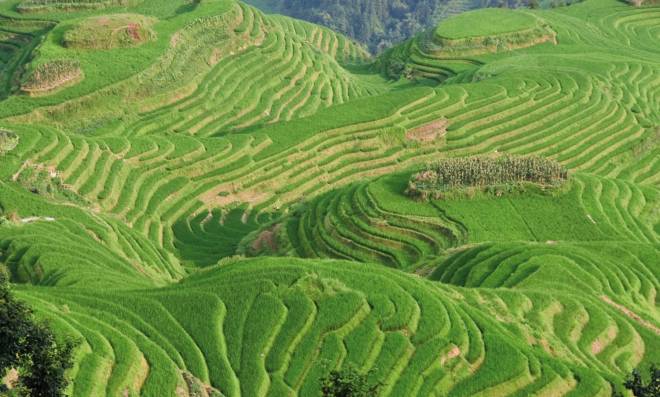 8. Cruise the Yangtze River
At 3963 miles in length, the Yangtze is the third longest river in the world, neatly dividing China into north and south, and winding its way through eight very different provinces. Journey along the river from Chongqing to Wuhan, passing by towering limestone cliffs, often shrouded in mist, and sharp gorges carpeted in jade green forest giving way to the waters below.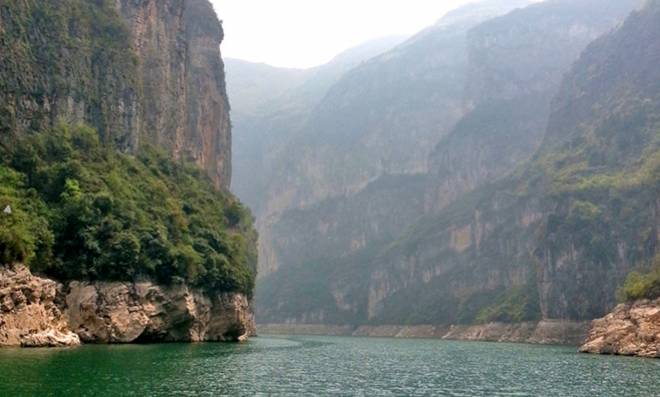 9. Explore the waterways of Suzhou
Resembling an oriental Venice, in the ancient city of Suzhou one can find boats bobbing along waterways interwoven with small bridges and lined with traditional houses. Gently cruise down its waterways and discover a series of classical gardens, laid out during the Song dynasty, and a stunning collection of UNESCO-listed gardens renowned for their delicate design.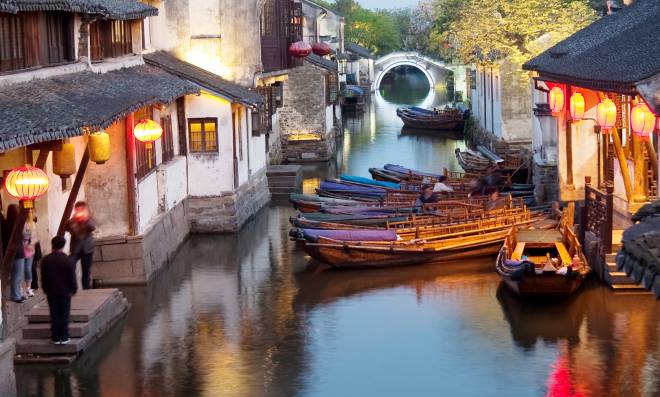 10. Hang out in the Bund after dark in Shanghai
Head down to the Shanghai's grandiose waterfront promenade – the Bund, after dark for a chance to experience the city's vitality and to take in what's old and new here. Majestic and preserved colonial buildings, once the trading and commercial centre of old Shanghai, sit alongside futuristic developments, chic restaurants, top end shops and bars.