In March, I travelled to Zimbabwe, Botswana and South Africa over the course of our 12 day Falls to Jo'burg tour. From seeing the stunning Victoria Falls, to taking a mekoro ride down the Okavango Delta and staring through God's Window in South Africa, this continent is a place that will take your breathe away no matter which way you look. In this week's photo showcase I present the top eight highlights of my trip and provide some helpful tips to future travellers. I truly believe Africa will leave you speechless at every turn.
To find out more about my trip, please email me at mike@onthegotours.com.
1. Victoria Falls
This monumental waterfall was amazing to see up close and was the perfect starting point for our tour. Although we were there in March, which is considered to be the rainy season, we were lucky enough not to have any rain on our tour. However, our guide told us that the rivers were as high as they had ever been, and because of this the falls were pouring staggering amounts of water – it was amazing. The falls produce so much mist that it actually looks like clouds of smoke, hence the nickname "The Smoke that Thunders". There is so much mist in fact, be sure to pack a poncho! While in Victoria Falls you are spoilt for choice with activities and excursions.
Tip: If you have the chance, opt to do the helicopter tour above the falls; this was so beautiful and incredible to experience the falls from above. You really cannot appreciate how vast the falls are until you look down on them.
2. Sunset cruise on the Zambezi River
Another main reason I wanted to visit Africa was to experience those amazing orange African sunsets you see in the movies! Well – I got to see it first hand here and it was even more beautiful than I could have imagined. Our sunset cruise on the Zambezi River was so much fun! We all boarded a beautiful boat with all you could eat and drink for an hour long cruise where we saw crocodiles, hippos, elephants, giraffe, fish and lots of different birds. It was an amazing cruise, from the drinks to the sunset and just being able to relax with our new friends. This is an excursion you must do!
1. Chobe National Park
The game drives through this national park were simply amazing, we spotted everything from wart hogs and impala, to elephants, baboons, rhinos, hippos, zebras, giraffes and lions. The guides driving our jeep were informative and knew exactly where to look, and what to look for. They had numerous stories to tell and could always point us in the right direction to snap the best photos. To top this off, we camped in tents within the national park! Sitting around a campfire and hearing the sounds of African wildlife all around us was exhilarating. Leaving the park in the morning and spotting lions under a tree not five minutes from where we had camped made us realise how real of an experience we'd had!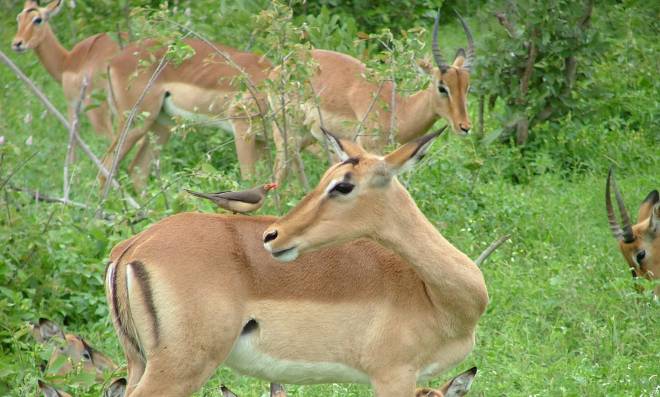 2. Mekoro ride through the Okavanga Delta
Lounge back and enjoy a ride in these traditional African canoes! This experience was really cool, relaxing and original. At first, I thought it would be like any canoe ride, but I was wrong! You just get to just sit back and watch the scenery go by as your personal guide takes you through the reeds and explains all about this amazing wetland. We learned tons of facts about the land, wildlife and the people that live on the river from the local guides steering our boat. A day not to be forgotten that's for sure! A little tip - make sure to load up on sunscreen and bring a bottle of water as it's a 90 minute ride.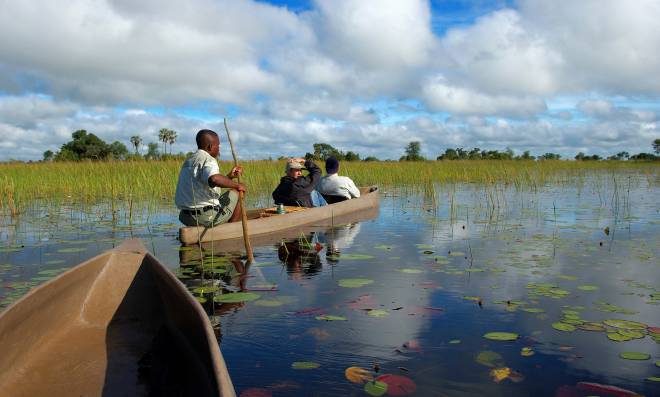 3. Elephants in the moonlight
This is exactly how it sounds, so let me paint you a picture. We were camping out in the middle of Chobe National Park with wild animals all around us. No fences, no chains, just us with the animals. It was about 11pm and eight of us from the group - including myself, were sitting around the campfire with our guide. I had to go to the washrooms so I ventured off by myself. As I am making my way there I hear grass rustling in front of me. I stop and slowly look up from the grass with my flashlight, and what do I see? Nine elephant walking across the plain not even 100 metres in front of me. I slowly back away and return to get the rest of the group from the campfire. We all then head near the washrooms and watch these amazing beasts cross the plains with gazelles and monkeys. It was amazing!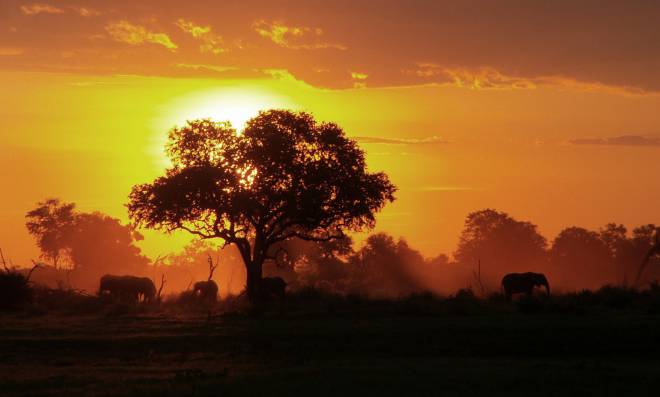 4. Driving on the bus
Simply driving around Africa is amazing. We could even just be on a highway and look to the left to see elephants and monkeys playing. Plus on the bus it's very easy to make new friends! One of the great things about travel is being able to meet new people from different places and backgrounds. Travel connects us and brings like-minded people together. I was very fortunate to be given the opportunity to travel through Africa with 21 of the best people I have ever met. We played cards on the bus, danced on the bus, sang on the bus, and had some of the best memories of the entire trip on that bus. Another unexpected but wonderful surprise!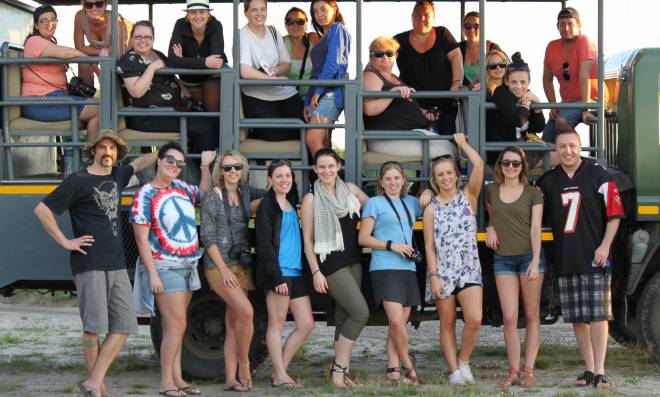 5. God's Window
One of the best things about this tour was being able to sit back, relax and enjoy the ride as we were driven through the countryside. We made a stop at a viewpoint in the Blyde River Canyon National park, nicknamed God's Window - and rightly so, the view is breathtaking! As far as the eye could see were hundreds of beautiful peaks and valleys with rivers flowing through the canyons. Another huge perk of being on tour was that you get to visit places you normally would not go out of your way for, but I was so grateful we did. My trip would not have been complete without these views!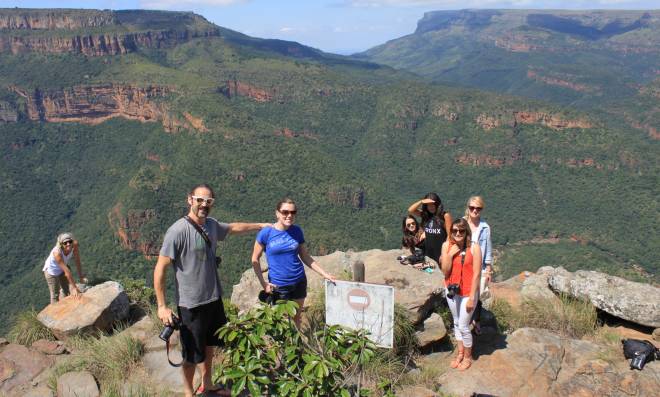 6. The Big 5
One of my main goals on this trip was to be able to scratch the 'Big 5' off my list, and to snap a picture of each one. Finally seeing these animals that we grew up hearing about, but never actually had the chance to see, was truly amazing. Seeing them in their natural habitat made it even more special. The Big 5 is made up of the lion, rhinoceros, buffalo, elephant and leopard who all earned their status for being the most aggressive and most difficult to hunt. We were able to spot a rhino literally on our last day and it was one we had been on the look out for due to their rapidly declining population. It's so important that we work with organizations to preserve these amazing creatures and protect their future.