(Last Updated On: February 3, 2022)
Everyone likes a waterfall. They are one of nature's most incredible spectacles, a waterway plunging off a sheer drop and cascading down, throwing up spray and thunderous noises down below. If you're travelling and there's a famous waterfall nearby, the chances are that you're going to go and see it – that's the rules! When talking about waterfalls around the world, it is not easy to quantify what makes one better than another, for it could be for a whole range of reasons. Whether it be the sheer size and power of the water raging over a cliff-edge enveloped by mist, or a small cascade surrounded by a stunning setting of verdant forest and pristine lakes.
In this week's photo showcase, we've decided to pick out some of our favourite waterfalls from around the world – big and small, wide and tall, or just simply spectacular. From famous cascades such as Niagara Falls in New York (and Canada) to beautiful Erawan Falls in Thailand and Gullfoss, one of many famous waterfalls in Iceland. So grab a cup of tea, sit back and enjoy our guide to some of the most beautiful waterfalls around the world.
And don't forget, if anything in this blog makes you want to travel, we're here to help! So don't hesitate to get in touch with our team.
1. Iguazu Falls, South America
Situated on the Iguazu River, straddling the border between Argentina and Brazil, the spectacular Iguazu Falls stretches for more than one and a half miles and is composed of over 250 separate cascades, making it the largest of its kind in the world in terms of size. No matter from which side you view the falls it is certainly an impressive sight to see!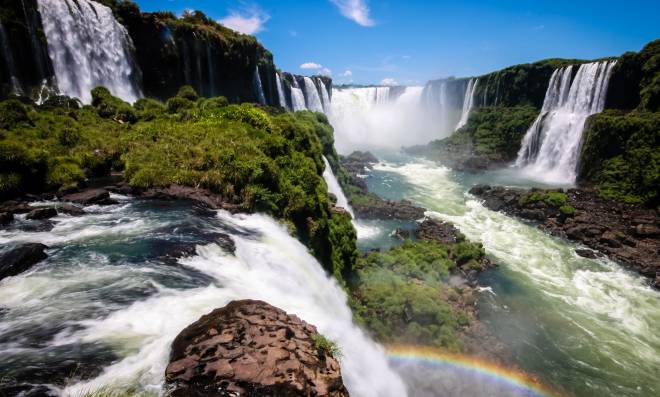 2. Plitvice Falls, Croatia
Perhaps one of the most stunning national parks in all of Croatia, the undoubted treasures of Plitvice is its sixteen clear blue lakes that cascade into no less than ninety-two spectacular waterfalls. Surrounded by dense woods these incredible falls are a natural phenomenon of rare and unique beauty and offer a stunning backdrop to long walks or treks through the park.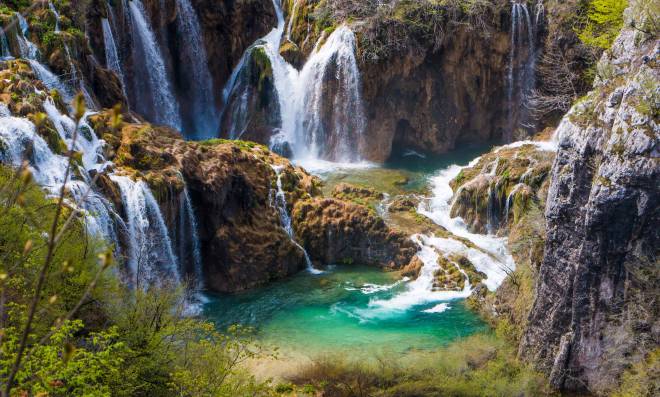 3. Victoria Falls, Zimbabwe
As one of the Seven Wonders of the World, the legendary falls and rising mist of 'the smoke that thunders' are certainly a sight to behold. As the largest singular sheet of falling water in the world, Victoria Falls is certainly unique. The best way to appreciate the sheer size of this stunning falls is from above, either by helicopter – or if you are feeling brave, on a microlight flight.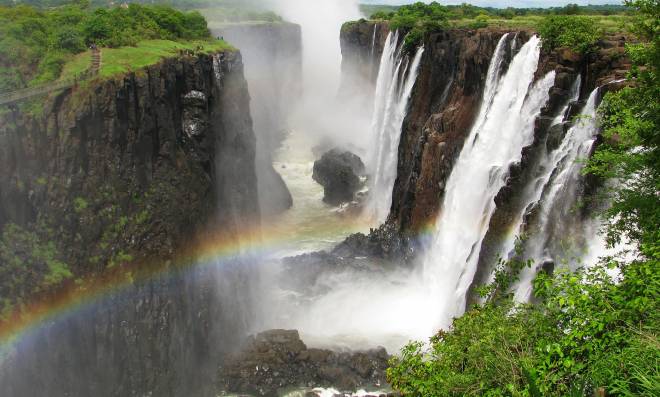 4. Erawan Falls, Thailand
Just a short drive from historic Kanchanaburi in Thailand is the beautiful Erawan National Park. Home to winding rivers, twisting trails and spectacular caves, the park's shining star is a stunning seven tiered waterfall. Dropping down over 1,500 metres the falls are perhaps one of the most famous and popular in Thailand. While here a quick dip in its crystalline waters is an absolute must!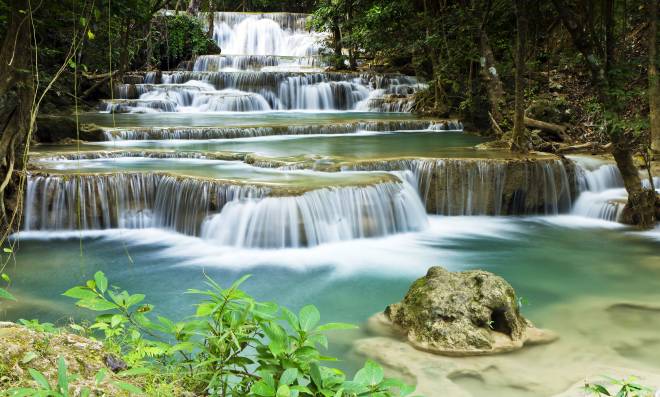 5. Gullfoss, Iceland
Forming part of the Golden Circle, the strength and magnitude of these tumbling falls makes it one of Iceland's most famous natural wonders. Not only is Gullfoss said to be more powerful than Niagara Falls, but its unique shape and angles make it even more spectacular to behold. If the weather is just right you may even be able to snap a photo of a rainbow arching over its raging cascades.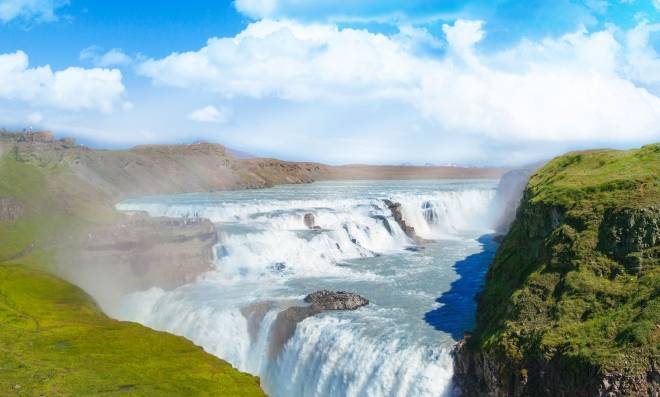 6. Jiuzhaigou Falls, China
Located high in the mountains of the Sichuan Province in China, Jiuzhaigou National Park is stunningly scenic, surrounded by snow-capped mountains, hundreds of lakes, trickling rivers and thick forests. Here you will also find some spectacular waterfalls, including the Nuorilang Falls, which at 270 metres in width is the widest waterfall in all of China.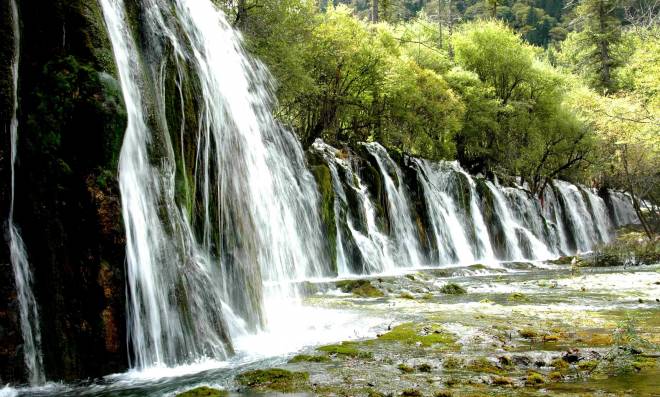 7. Sutherland Falls, New Zealand
While New Zealand is brimming with incredible natural wonders, perhaps one of the most spectacular is Sutherland Falls. Located deep within the wilderness of UNESCO Listed Fiordland National Park, this impressive 580 metre high waterfall is the tallest in New Zealand has to be seen to be believed – and the walk to reach it is fantastic too.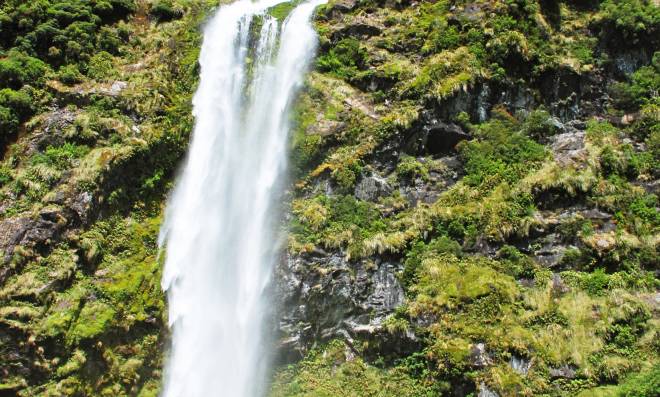 8. Niagara Falls, New York
Not one, but three waterfalls under one name, the renowned Niagara Falls straddle the border between America and Canada and are a thrilling display of natural power. While not exceptionally tall, the falls are extremely wide and act as an important source of hydroelectric power. They are also exceptionally beautiful, as clouds of mist ride up around the crashing cascades of water.