(Last Updated On: April 23, 2019)
You may have heard about the beauty of the Moscow Metro before, how it is quite unlike any transport system in the world, how it breathes an air of elegance and erstwhile opulence. As much as you may be told about the Moscow Metro, nothing quite compares to seeing it for yourself. In this week's photo showcase we take you on a journey on the Moscow Metro passing through ten of its most striking stations. Prepare for high-vaulted ceilings, impressive mosaics, sparkling chandeliers, detailed bas-reliefs, extravagant sculptures and gold-trimmed arches – and yes, this is the metro we are talking about.
1. Mayakovskaya
Considered to be one of the most stunning stations in Moscow, Mayakovskaya dates back to 1938 and is recognised not for its extravagance but rather its simplistic beauty. On the station platform high vaulted ceiling is decorated in mosaics, while the white and pink marble floor is lined with art deco columns accented by stainless steel and pink rhodonite.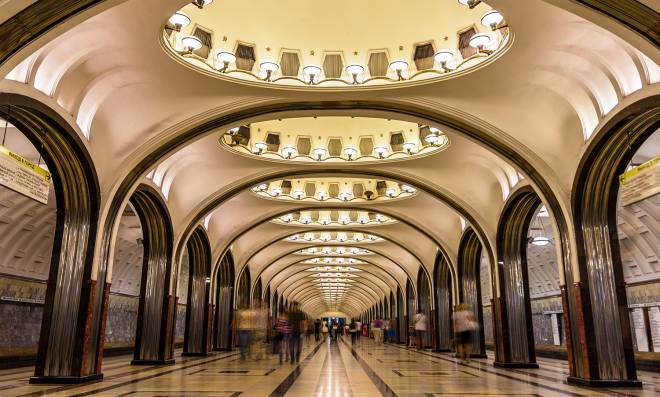 2. Aviamotornaya
First opened in 1979, Aviamotornaya has a striking central hallway with a ceiling made up of anodised gold pyramids and tetrahedral that is intended to depict the universe. The station's theme of aviation and flying is symbolised by a metal sculpture at the end of its central hall which appears to portray the mythical flight of Icarus.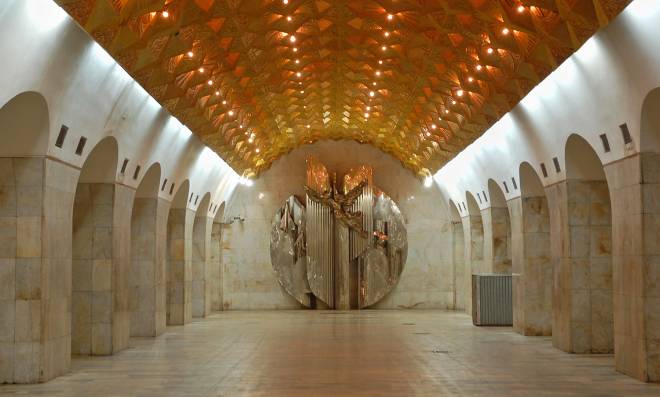 3. Kievskaya
Dating back to 1953, the design for Kievskaya station was actually decided in an open architectural competition in Ukraine. The origination of its design can be seen in the many frescos that appear on its ceiling depicting daily life in Ukraine. The impressive mosaics, along with the platform arches, are edged with gold-coloured trim giving them a regal feel.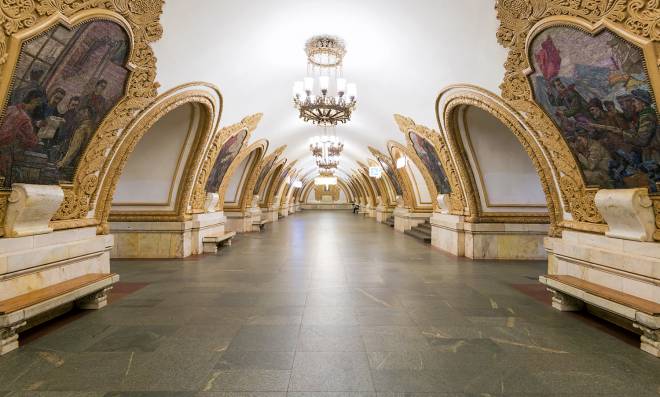 4. Komsomolskaya
With high baroque ceilings, detailed friezes and impressive chandeliers, you'd be forgiven for thinking you'd accidently strolled into a palace rather than a metro station. Opened in 1952, Komsomolskaya boasts eight large ceiling mosaics depicting Russia's fight for independence, inspired by a speech made by Stalin at the Moscow Parade in 1941.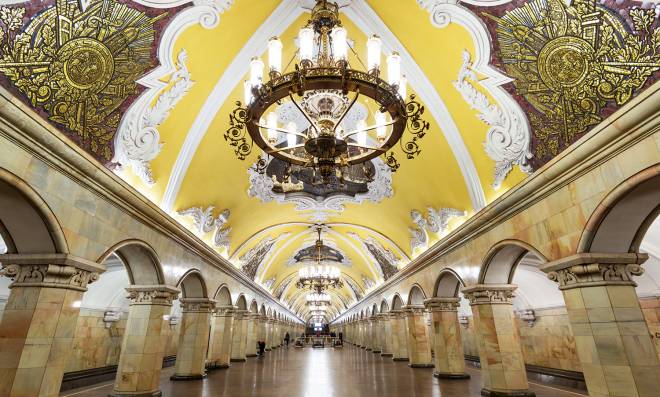 5. Krasnye Vorota
As one of Moscow's first four deep-level stations, one of the first to use a three-arched design, and the very first to have a turnstile, it appears Krasnye Vorota station likes to be a trend-setter. The off-white marble walls are accented by dark red coloums and at the end of the platform a bust in honour of Russian author Mikhail Lermontov can be found.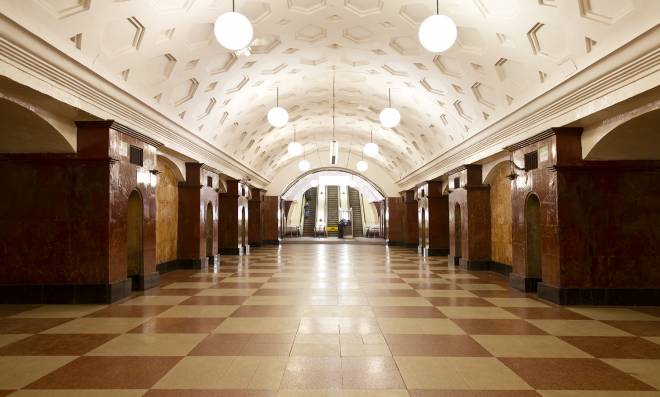 6. Park Pobedy
Opened in 2003, Park Pobedy may be one of Moscow's more recent metro stations, but it still remains in keeping with its unique design. The two platforms sit opposite each other and were designed by two architects; they are identical in design but with reverse colour schemes. The station also has two large mosaics depicting important historic events, and at 84 metres underground is the deepest in Moscow and the third deepest in the world.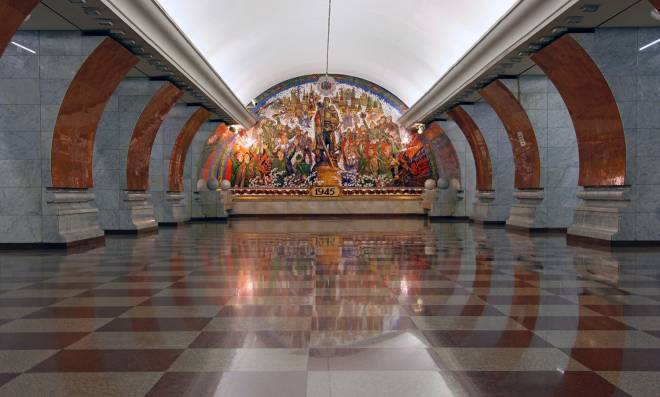 7. Ploschad Revolutsii
Perhaps the most iconic station of the Moscow Metro, Ploschad Revolutsii is located 33 metres underneath Revolution Square and is known for its bronze sculptures depicting people from the Soviet Union. Dating back to 1938, some of the bronze sculptures have begun to tarnish from commuters rubbing them for good luck.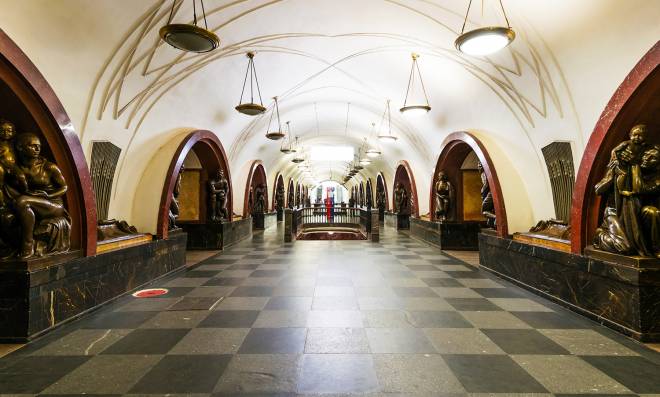 8. Shosse Entuziastov
Originally opened in 1979, Shosse Entuziastov station was designed with the struggle for Russia's freedom in mind. Themed in dark grey and yellow marble, the station is adorned with revolutionary pictures and sculptures and at the western end of the central hall sits a large metal sculpture entitled Flame of Freedom, which depicts hands with broken chains.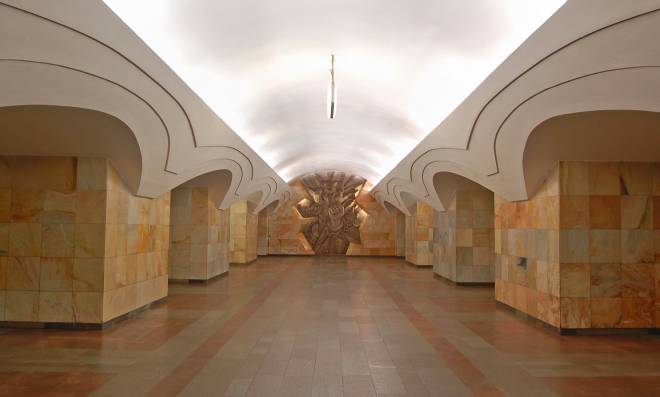 9. Prospekt Mira
Originally called Botanichesky Sad, after the nearby Botanical Garden of Moscow State University, the station has since been renamed Prospekt Mira but an obvious botanical theme remains. White marble pylons are topped with pretty floral bas-relief friezes and other works in the station portray the development of agriculture in the Soviet Union.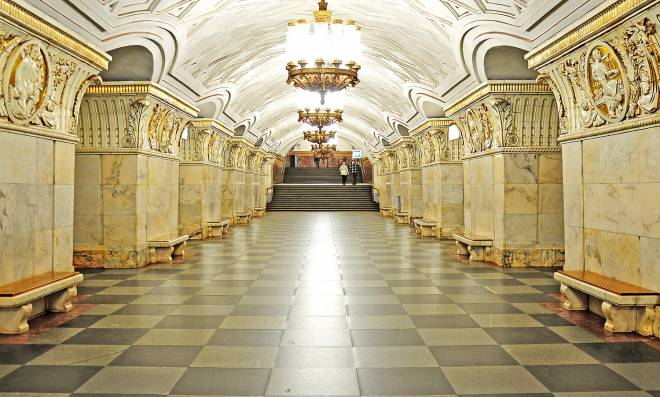 10. Arbatskaya
Located above one of the most popular shopping streets in Moscow, Arbatskaya station is something of erstwhile opulence completed in 1953 on the year of Stalin's death. The central hall is a fine example of Stalinist Baroque style with red marble pylons and white arched ceilings decorated by ceramic bouquets of flowers and bronze chandeliers.