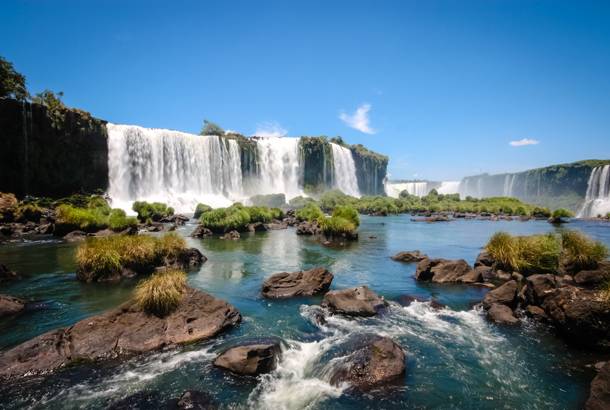 Seasons and Weather
Most of Brazil sits in the tropics meaning it enjoys a warm climate rarely dropping below 20°C, however, the further south you travel the more diverse the climate can be. Generally speaking southern Brazil has two seasons – a dry season from March to November, and wet season from December to February. Temperatures can get especially cool from June to September, which is considered by many as Brazil's 'winter'. In the south, Rio de Janeiro enjoys hot and humid summers, while the winter months bring cool evening temperatures and warm balmy days. Sao Paulo experiences a similar weather pattern, though due to its high altitude can get cooler in the evenings.
In the northwest of Brazil the weather is warm year-round at a balmy 20-30°C with a pleasant ocean breeze coming off the coast. June to July is slightly wetter with cooling showers throughout the day. In the northeast, the Amazon is hot and humid throughout the year with temperatures averaging in the mid to high 30°Cs. June to December is considered the dry season when the climate is warm and sunny, while December to May is referred to as the wet season with afternoon showers and higher humidity though maintaining clear and sunny mornings and evenings. Slightly south in the Pantanal the wet season lasts from December to March and brings with it incredibly hot temperatures reaching up to 40°C, whereas in the dry season from May to October the climate is much cooler.
Thinking of visiting Brazil? Download a copy of our Latin America brochure for inspiration.
Best time to visit Iguazu Falls in Brazil
With the temperature at Iguazu Falls remaining reasonable throughout the year (reaching a maximum of around 30°C and a minimum of about 10°C), the main factor that decides when people should travel is rain. From December to March, the weather is at its hottest and rain falls pretty consistently. This shows the falls at their most majestic but grey skies and suffocating humidity might hamper the experience somewhat.
During the winter months the falls are blessed with bright blue sky and much milder temperatures, which make a big difference when visiting from the Brazilian side. Seeing the falls from this side is less about getting up close and personal with the water and more about breathtaking panoramic views of the falls. For photographers, the Brazilian side offers some truly spectacular Kodak moments that are best snapped with blue skies. The lower water level that comes with the dry season also means that trails and activities are likely to functioning and open as normal.
Generally, people agree that the shoulder months of March, April and September are the best times to visit because, although the falls aren't at peak flow, they are more aesthetically pleasing thanks to the clear skies and rocks peeking through the cascades.
Climate | Rio de Janeiro
| | Jan | Feb | Mar | Apr | May | Jun | Jul | Aug | Sep | Oct | Nov | Dec |
| --- | --- | --- | --- | --- | --- | --- | --- | --- | --- | --- | --- | --- |
| Temp Min °C | 23 | 23 | 23 | 22 | 20 | 19 | 18 | 19 | 19 | 20 | 21 | 22 |
| Temp Max °C | 29 | 30 | 29 | 28 | 26 | 25 | 25 | 26 | 25 | 26 | 27 | 28 |
| Rainfall (mm) | 114 | 105 | 103 | 137 | 85 | 80 | 56 | 50 | 87 | 88 | 95 | 169 |
Climate | Iguazu Falls
| | Jan | Feb | Mar | Apr | May | Jun | Jul | Aug | Sep | Oct | Nov | Dec |
| --- | --- | --- | --- | --- | --- | --- | --- | --- | --- | --- | --- | --- |
| Temp Min °C | 16 | 16 | 15 | 13 | 10 | 7 | 7 | 9 | 10 | 13 | 14 | 16 |
| Temp Max °C | 26 | 26 | 26 | 23 | 20 | 18 | 19 | 20 | 20 | 23 | 25 | 25 |
| Rainfall (mm) | 168 | 114 | 90 | 111 | 144 | 111 | 93 | 138 | 132 | 144 | 135 | 132 |
Upcoming events
To help plan your visit to Brazil, here's an overview of the festivals and events taking place over the next 12 months. This is by no means an exhaustive list so if you're thinking of heading to Brazil outside of these dates and want to know what's on, check out a more comprehensive list.
2021:
February 2nd -
Festival of Yemanja (Salvador)
February 12th-17th -
Carnival (Rio de Janeiro)
June 25th-27th -
Parintins Folklore Festival (Parintins)
October 10th -
Círio de Nazaré (Belem)
July 17th-18th -
Lollapalooza (
Sao Paulo
)
December 31st -
Reveillon (
Rio de Janeiro
)
There's also a number of national holidays in Brazil and on these dates many businesses and some tourist sites will close for the day so plan your visit accordingly.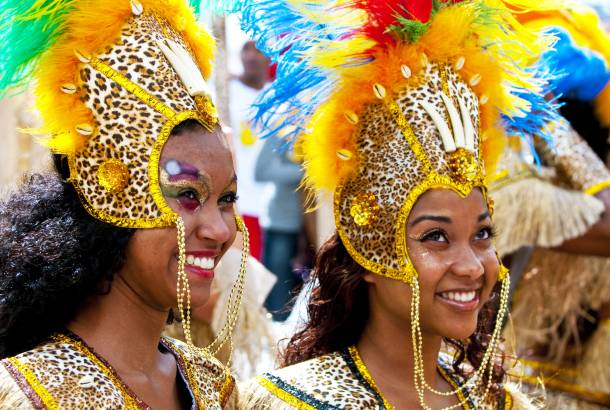 Festivals and Events
Home to the one of the biggest and most popular parties in the world, Rio de Janeiro's Carnaval, Brazil is well used to pulling out all the stops when it comes to festivals. Flamboyant costumes covered in feathers and sequins, and barely covering the glistening bodies of dancers parading down streets, drumbeats filling the airwaves and caipirinhas flowing freely are all staples as Brazil shows the world the true meaning of the word fiesta.
What is the Festival of Yemanja?
On February 2nd every year, millions of people head to the city of Salvador in honour of Yemanja, a powerful goddess according to the Afro-Brazilian religion Candomblé. Dressed in white, people of all ages walk to the seashore, to the small house that is said to have been Yemanja's home, carrying baskets of gifts, which fishermen then take out to sea and leave there for the goddess. As the sun sets, the streets play host to noisy and colourful parties, which carry on into the night.
What happens during Rio Carnival?
Known around the world as one of the best parties in existence, Rio Carnival will leave travellers breathless, speechless and exhausted as they dance and shimmy until the sun comes back up. Samba music accompanies the sight of sequins as the main parade makes its way through the city of Rio. This is surely one of the most colourful festivals in the world and one that everyone should experience at least once in their life. Booking early is essential and travellers should be aware that prices can sometimes triple during this period.
What is Lollapalooza?
The sloping fields of Sao Paulo are never as packed out as they are during Lollapalooza, one of Brazil's biggest music festivals. Taking place over two days, the impressive line-up has seen all kinds of big names in the past, including Skrillex, Alt-J and Marina and the Diamonds. The festival usually sees somewhere around 150,000 screaming and dancing fans every year. The atmosphere is always electric, making this festival a must for music-lovers from all walks of life.
What is the Parintins Folklore Festival?
Second in size and significance only to Carnival, the Parintins Folklore Festival, also known as Bumba Meu Boi or Boi Bumba, celebrates the story of a resurrected ox. The main event of the festival consists of two teams performing a retelling of the legend through dance, song and parade. Each team tries to outdo the other in order to win the competition but they are limited to two and a half hours of performance time each. Amazonian culture is a big part of this event and is a chance for locals to promote and showcase their unique heritage.
What is Círio de Nazaré?
This festival takes place on the Amazon River and revolves around a statue of Nossa Senhora de Nazaré (Our Lady of Nazareth). It is believed that the statue has performed miracles and every year, during the second week of October, the statue is carried along the water from Belem to Icoaraci and back again by a procession of boats. As one of the world's largest religious gathering, it is no surprise that there is a vast array of different cultures here, united by the sound of hymns and the sight of fireworks.
What is Reveillon?
There is no better way to see in the New Year than joining two million other people on the world famous Copacabana Beach for Reveillon. Fireworks light up the sky over the water as the religious and secular join hands and delight in this mind-blowing pyrotechnic performance. Before the clock strikes midnight, the festival is more of a family affair as parents, grandparents and children feast on tasty street snacks and sip refreshing beverages together. Once the twelfth chime has rung out, the real partying begins.
See Also
For more information to help plan your trip to Brazil, see the following:
Best Places to Visit - our top 10 destinations in Brazil
Top Travel Tips - covering everything from money to health, food to shopping Tourist Visas - know what visa you need prior to travel