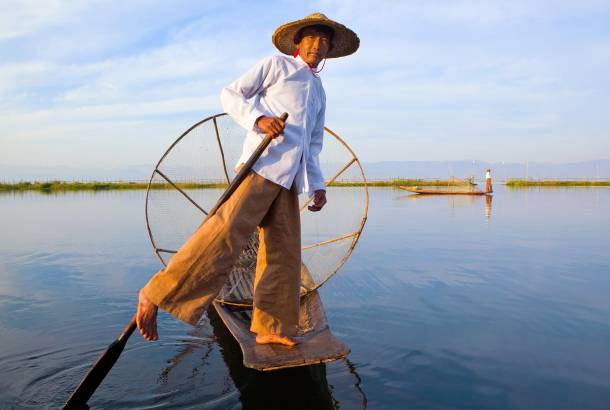 Seasons and Weather
Myanmar has a tropical climate with a dry and a wet season with regional variations such as around the highlands where temperatures are much lower than elsewhere. In Myanmar the dry season stretches from November to May and is the ideal time to visit with the least rainfall and mild temperatures, perfect for sightseeing and cruising on the Irrawaddy River when water levels are optimal. This is also the busiest time of year to visit with prices and availability at a premium.
The months of March through to May are the hottest in Myanmar with temperatures highest on the plains of Bagan and Mandalay, though the mountainous northern provinces offer a cool respite with temperatures considerably cooler and air fresher. These months herald the beginning of the wet season with humidity at its highest.
The monsoon season usually starts between mid May and mid June and brings tropical rains across Myanmar through to October. During the peak months of the wet seasons the coastal resorts such as Ngapali Beach may close due to the heavy rains and high winds. The months directly after the rainy season (October - December/January) are often the coldest with temperatures dropping after the rains.
Thinking of visiting Myanmar? Download a copy of our Asia brochure for inspiration.
Climate | Yangon
| | Jan | Feb | Mar | Apr | May | Jun | Jul | Aug | Sep | Oct | Nov | Dec |
| --- | --- | --- | --- | --- | --- | --- | --- | --- | --- | --- | --- | --- |
| Temp Min °C | 18 | 19 | 22 | 24 | 25 | 25 | 24 | 24 | 24 | 24 | 22 | 19 |
| Temp Max °C | 32 | 35 | 36 | 37 | 33 | 30 | 30 | 30 | 30 | 32 | 32 | 32 |
| Rainfall (mm) | 5 | 2 | 7 | 15 | 303 | 547 | 559 | 602 | 368 | 206 | 60 | 7 |
Climate | Bagan
| | Jan | Feb | Mar | Apr | May | Jun | Jul | Aug | Sep | Oct | Nov | Dec |
| --- | --- | --- | --- | --- | --- | --- | --- | --- | --- | --- | --- | --- |
| Temp Min °C | 13 | 13 | 15 | 18 | 20 | 19 | 18 | 18 | 18 | 17 | 16 | 13 |
| Temp Max °C | 25 | 27 | 30 | 30 | 30 | 27 | 26 | 26 | 25 | 25 | 26 | 25 |
| Rainfall (mm) | 0 | 0 | 0 | 0 | 24 | 18 | 18 | 18 | 27 | 18 | 9 | 0 |
Climate | Kalaw
| | Jan | Feb | Mar | Apr | May | Jun | Jul | Aug | Sep | Oct | Nov | Dec |
| --- | --- | --- | --- | --- | --- | --- | --- | --- | --- | --- | --- | --- |
| Temp Min °C | 7 | 8 | 12 | 16 | 17 | 17 | 17 | 17 | 17 | 15 | 11 | 8 |
| Temp Max °C | 22 | 23 | 27 | 29 | 27 | 25 | 24 | 24 | 24 | 24 | 22 | 21 |
| Rainfall (mm) | 3 | 5 | 12 | 49 | 203 | 239 | 264 | 283 | 255 | 211 | 84 | 15 |
See Also
If you're looking for more information to help plan your visit to Myanmar, check out our handy Travel Guide resources:
Best Places to Visit - what to see and where to go in Myanmar
Tourist Visas - everything you need to know for visa procurement and regulations
Top Travel Tips - useful information on money, food and health in Myanmar