Phnom Penh Full-Day Small-Group City Tour





37 reviews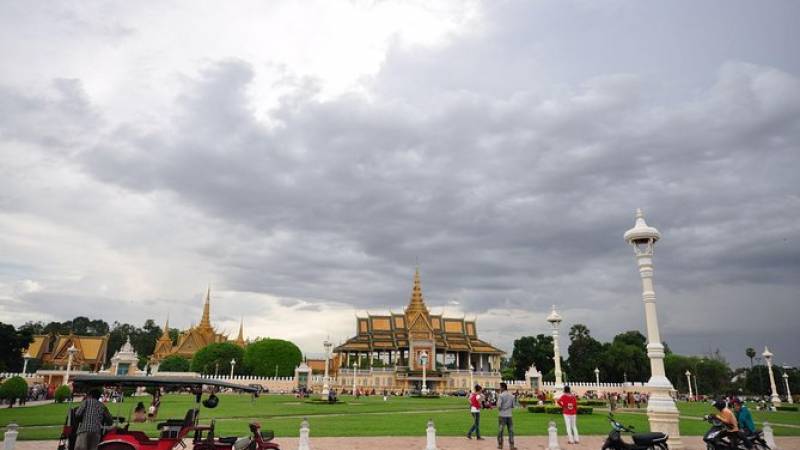 from USD $121.00
Spend the day learning about Phnom Penh's past and present. Delve into the region's dark history and how it has shaped into the Cambodia of today. Visit somber locations made infamous by the Khmer Rouge and learn about the current politics that continue to move this country. Then, get out of the capital to visit an island on the Mekong, where you'll experience the local way of life along the river.
BOOK WITH CONFIDENCE:
As members of ABTA and ATAS we are
100% financially bonded
. You can book your day trip with us in absolute confidence, no matter where in the world you are.
Due to the impacts of COVID-19, we are currently not taking new bookings for day tours.
In Brief
Location:
Phnom Penh, Cambodia
Itinerary
This is a typical itinerary for this product

Stop At: National Museum of Cambodia, Preah Ang Eng St. (13), Phnom Penh, Cambodia

Before departure, we will meet up with the group at the entrance of the National Museum. The trip will depart at 8:00 AM with the air condition vehicle.

Duration: 30 minutes

Stop At: Tuol Sleng Genocide Museum, Corner of Street 113 & St 350 History Museum, Phnom Penh 12304 Cambodia

You'll take a guided tour of the Tuol Sleng Genocide Museum, a former school that served as a Khmer Rouge torture centre. The site is a former secondary school which was used as Security Prison 21 by the Khmer Rouge regime from its rise to power in 1975 to its fall in 1979.

Duration: 1 hour 45 minutes

Stop At: Choeung Ek Genocidal Center, Roluos Village, Sangkat Cheung Aek, Phnom Penh Cambodia

Choeung Ek is the site of a former orchard and mass grave of victims of the Khmer Rouge - killed between 1975 and 1979 - about 17 kilometres south of Phnom Penh, Cambodia. It is the best-known of the sites known as The Killing Fields, where the Khmer Rouge regime executed over one million people between 1975 and 1979.
After enjoying a Khmer lunch at an NGO training restaurant

Duration: 4 hours 15 minutes

Stop At: Silk Island, Phnom Penh, Cambodia

Next on your silk island, you'll travel by moto-remork (a Cambodian tuk-tuk) and head out of Phnom Penh on the Japanese Friendship Bridge before catching a ferry across the mighty Mekong River. On the way, we will see real life and the way how our countryside people live.
On the way, we will stop at the Buddhist Monastery where we will hear about Theravada Buddhism, the Cambodian state religion since the 13th century.

Duration: 1 hour 45 minutes

Stop At: THE SILK HOUSE, Phnom Penh, Cambodia

The island is famous for silk weaving, agriculture, and aquaculture (85% of residents earn their living from these industries). We'll stop to see the silk weavers at work in the village, where you can purchase some of the local products if you wish.
Form the last stop above, we will head back to the city to start our boarding a boat to enjoy the sunset from the water at the junction of the Tonle Bassac, Tonle Sap, and the mighty Mekong. You'll see the distinctive architecture of Cambodia, with Khmer-influenced buildings such as Wat Ounalom, the Royal Palace, and the Silver Pagoda, as well as French colonial buildings from the river.

Duration: 2 hours 30 minutes


Inclusions
Local English-speaking guide
Entrance fees to Tuol Sleng Genocide Museum (S21)
Choueng Ek Killing Field
Transport by vehicle
Moto-remork
Local boat
Khmer snacks and lunch
Entry/Admission - Tuol Sleng Genocide Museum
Entry/Admission - Choeung Ek Genocidal Center
Entry/Admission - Silk Island
Entry/Admission - THE SILK HOUSE
Exclusions
Additional food
Entry/Admission - National Museum of Cambodia
Departure Time
8:00 AM
Departure Point
National Museum of Cambodia, Preah Ang Eng St. (13), Phnom Penh, Cambodia

Returns To
Phnom Penh, Cambodia

Additional Information
Confirmation will be received at time of booking
Operates in all weather conditions, please dress appropriately
Small-group tour maximum 12 people per tour
Visitors to the Royal Palace must wear shorts or skirts that are knee-length or below, shirt sleeves that reach the elbow or longer, and sandals or shoes (no flip flops). Otherwise, they will be required to rent appropriate covering.
The Royal Palace grounds may be closed on important Khmer holidays for part or all of the day, and as such the order of visiting different sites may change in order to accommodate this. In the rare event that the palace grounds are closed for the entire day, an alternate activity of the same value will be provided.
Booking Information
You can present either a paper or an electronic voucher for this activity.
Cancellation Terms
Once booked, this trip is fully non-refundable
Booking Terms and Conditions
When you book this trip, you need to read and accept the
terms and conditions
for booking our day trips in excursions.
Scoring an average traveller rating of 5 out of 5 based on the last 24 recent reviews
"
An excellent tour. Choeung Ek and S21 are must sees hard on the soul but not to be missed. The afternoon events, including Silk Island and the slow boat ride back across the river at dusk, were definitely worthwhile. The family, craft silk production was interesting - from larva to fine or raw silk items, with in-house designs finished on their hand looms and available at reasonable prices. Tour guide Reya was very knowledgeable and had a nice balance between the professional and personal in her approach. She made a special effort to suggest interesting things to see and to ensure we were well fed and watered. She is a special person. Douglas
"
Douglas F
• Submitted 18 Feb 2018





"
The tour was really great. Our tour guide Da was so insightful, accommodating, and super nice. I highly recommend!
"
Imane K
• Submitted 07 Jan 2018





"
This is the perfect introduction to Phnom Penh. We started off at the Choeung Ek killing fields and S-21 prison, which are of course sombre places, but important to understand. Our very friendly and knowledgeable guide, Neang, advised us in advance that we'd be seeing and learning about terrible things, and explained to us in clear detail the history of the city and of the places. We then proceeded to a delicious lunch at the charity restaurant, where the service was fantastic. After that, we went by tuk-tuk and ferry to the Silk Island, where I got to try my hand at weaving! The girls at the loom were lovely and very friendly too. The scarves on sale are gorgeous and we did buy a few, although as noted by a traveler below, there's no pressure at all to buy. My only regret is that I'd already loaded up on scarves at the city markets, so buying more felt a little extravagant. I would advise travellers to hold off on scarf shopping after this trip, as the quality is fabulous, the prices are more than reasonable and you know you're supporting a small local enterprise. We closed the tour with the cruise down the Mekong, which allowed us to fully experience the majestic river. The entire day was very organized and punctual yet not rushed, so we were able to learn a lot at a pleasant pace. We were warmly welcomed and well taken care of at all times. I will definitely be recommending this tour to all my friends who will be visiting Phnom Penh and will refer to the tour operator again in the future.
"
Sarah P
• Submitted 05 Sep 2017





"
Our tour guide, Da, was fabulous! We spent the latter part of the day with her by ourselves as we traveled to Mekong Island. Her history and current political knowledge was incredibly genuine and made the Tuol Sleng Prison and Killing Fields all the more moving. Meeting the survivors of the prison was heartbreaking but added such value to the tour. Meeting the silkweaver's family was also incredibly special they had the cutest puppies wondering around licking our toes!. The khmer snacks were great and the lunch at Romdeng was also amazing we'd been there before but loved it! The tuk tuk driver to the island was so gracious and had the covers of the tuk tuk down to protect us as he was drenched on his bike by the rain.
"
Mari S
• Submitted 25 Dec 2016





"
Guide was very informative. Had a great time and the Killing Fields museum is a must go. Lunch was good too. Not very rush for us elderly which was good.
"
Kit W
• Submitted 17 Nov 2016





"
Our guide, Daro, was incredibly informed and shared a great deal of information with us. He encouraged us to ask questions and discuss the things we were experiencing. He was very good at meeting the needs of everyone in the group. Even in the rain, we had an amazing day.
"
Michelle G
• Submitted 07 Nov 2016





"
Brilliant tour. Highly recommended for anyone visiting Phnom Penh.
"
Susan D
• Submitted 24 Oct 2016





"
I have been on many Viator tours but without doubt this was the best. Although advertised as a small group tout it was out of season and we were the only takers. Our guide Da turned up on time having confirmed the evening before. The morning consisted of a harrowing but respectful visit to the Genocide Museum and the Killing Fields. Da had excellent english and was knowledgable and informative without being intrusive. Lunch at the training restaurant surpassed expectations in terms of the setting, the attentiveness of the team working there and the variety and quality of the food. The trip by Tuk Tuk and Ferry to Silk Island was an adventure in itself and the visit to the silk factory informative and pleasant - we bought but we didn't feel we had to. The trip concluded with an hour long cruise on the Mekong as the sun began to set. All in all a delightful experience.
"
Steve C
• Submitted 12 Oct 2016





"
Excellent day, guide spoke good english and was able to answer all questions, lunch was lovely and the whole day was well orgnised, would recommend as a great way to see the major sights of the city
"
Robert G
• Submitted 11 Jul 2016





"
Fantastic experience! The tour guide was a very nice young man with a great cultural knowledge, explained with details,visuals and made everything very entertaining.
"
Helen R
• Submitted 24 Jun 2016





"
Really fantastic tour. Our tour guide did an amazing job taking us around all of the incredible sights in Phnom Penh. Highly recommend this tour.
"
Ursula M
• Submitted 22 May 2016





"
The morning was so educational and gave a somber look at what Pol Pot did to his own people and with such cruelty.The afternoon was much lighter and very much fun and Nean really knew his stuff.Thanks Nean and thanks to Viator for such an interesting and fun day?
"
J Kenneth R
• Submitted 23 Nov 2015





"
Daro did a great job as our tour guide and we had a wonderful time. His English skills were very good as was his knowledge of Cambodian history and culture. His enthusiasm and cheerful attitude were infectious and his patient and helpful attitude were exemplary. The only thing we missed from the tour description and the posted photo was the Cyclo ride. - Sathya Kumar
"
Sathyanarayan Kumar
• Submitted 29 Oct 2015





"
This was a pretty hard hitting and macabre start to our Cambodian experience. This tour provides you with a pretty in depth understanding of the Pol Pot regime and the resulting genocide. Our tour guide was pretty in depth in his explanations throughout our visit to the Tuol Sleng Prison and the Killing Fields. I wouldn't recommend this for the feint of heart or young children. However, I couldn't fault the guide. Very thorough in the information he was giving. The remainder of the day was cheerier, with a great lunch being had at the NGO Training Restaurant for young Cambodians, where we got to try deep fried Tarantula. There is normal Cambodian cuisine available. The visit to the Silk farm was also quite educational and fun. The owners of the farm were great to talk to, they spoke English quite well and made us feel quite welcome in their home. The final part of the tour was good, however it was too cloudy to see a sunset. Overall a great way to spend the day in Phnom Penh.
"
Joel P
• Submitted 14 Jul 2015





"
Take this tour. Very informative. You will have to pay for your drinks if you take the lunch option.
"
Allyson W
• Submitted 10 Jul 2015





Carly
• Submitted 05 Jun 2015





"
A great tour, directed by a fantastic tour guide who really knew his stuff. Highly recommended.
"
Ian K
• Submitted 03 Apr 2015





"
Great tour and guide. You get to understand and experience Cambodia's past and present. Loved the island trip. Nice to see the capital by car, boat, and Tuk-Tuk. Wonderful day.
"
Gloria D
• Submitted 16 Mar 2015





Patrick
• Submitted 03 Feb 2015





"
Another great tour, and well worth the guided tour. Far far better than doing it on your own and in a tuk tuk, and honestly this way wasn't much dearer, and far more informative.the lunch was a great experience in itself, note though only upto us$7 paid towards your choice, the curry with baguette was totally yummy, and all for such a great cause. The Russian market is hot, and full of the usual market fare. Had "dessert" at the central market, which was actually before lunch...was a little concerned with the fact it wasn't fresh, but stomach seems to have survived....oh and for some reason no walk along the water front, but that wasn't needed anyway, as all likely to do in own time anyway, just surprised mentioned in highlights but didn't happen....although did go to a fish market on outskirts of town, that was a fantastic inclusion as no way would have known or though to visit this alone
"
dannipee
• Submitted 12 Jan 2015





"
This tour was an experience and a chance to see Phnom Penh through the eyes of the people. The guide was excellent.
"
LOIS B
• Submitted 03 Dec 2014





"
My guide was Thong Sophalkun and he went above and beyond his duties, his commentary was excellent and he made the tours I took with Viator and the local tour company a truly memorable experience. When I return to Cambodia, and I certainly will, I shall ask for his services as a guide again.
"
Wendy E B
• Submitted 03 Nov 2014





"
Our tour guide and driver were excellent. They were very flexible in the places that they took us and they accommodated our wishes. I was I initially worried about the safety of riding in the cyclo but during the ride we felt very safe as the traffic accommodates cyclos and our driver was very good. A lot of local cultural aspects were covered. This is a great introduction to Phnom Penh.
"
Christine S
• Submitted 12 Mar 2014





"
I ended up on this tour by myself, just with the guide. Daro was fantastic, and I really appreciated his extensive historical knowledge of PP and Cambodia generally. He was also fun to hang out with!
"
Tracey H
• Submitted 08 Jan 2014





In Brief
Location:
Phnom Penh, Cambodia
More Phnom Penh Day Trips