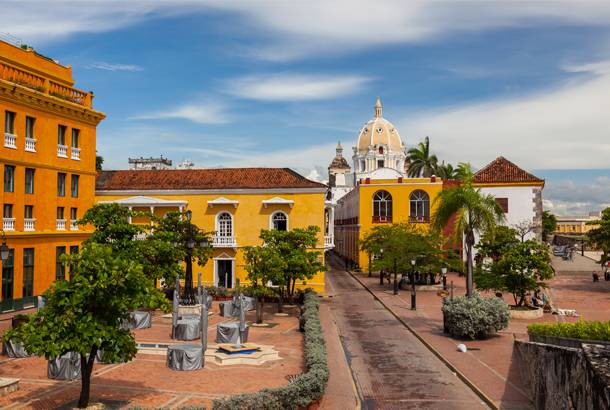 Seasons and Weather
Colombia's location near the equator results in a tropical climate with relatively constant climatic conditions throughout the year. However, the climate does vary across the country due to the variation in topography with tropical rainforests, mountains and savanna all found in Colombia.
The best time for the country as a whole is between December and March as it rains the least during these months, especially in the Andean regions. This is Colombia's peak tourist season and prices soar. The rainy season hits the Andes between May to July and October to December when heavy rains can fall on a daily basis though they're usually followed by bright sunshine. Elsewhere, the Caribbean coast experiences its heaviest rainfall in September and October, and is relatively dry for the rest of the year while the lowlands experience little variation with a tropical climate.
Temperatures remain fairly constant throughout Colombia for much of the year, which makes it a year-round destination. Changes in temperature and rainfall are determined more by region rather than season and it's best to pack for all weather conditions - a sweater is needed along the coast at night and a jacket in the mountains, which includes Bogota, sitting at an altitude of 2,650 metres above sea level.
Thinking of visiting Colombia? Download a copy of our Latin America brochure for inspiration.
Climate | Bogota
| | Jan | Feb | Mar | Apr | May | Jun | Jul | Aug | Sep | Oct | Nov | Dec |
| --- | --- | --- | --- | --- | --- | --- | --- | --- | --- | --- | --- | --- |
| Temp Min °C | 6 | 7 | 8 | 9 | 9 | 9 | 8 | 8 | 8 | 8 | 8 | 7 |
| Temp Max °C | 20 | 20 | 20 | 20 | 20 | 19 | 19 | 19 | 19 | 19 | 20 | 20 |
| Rainfall (mm) | 21 | 32 | 65 | 95 | 92 | 45 | 35 | 32 | 39 | 94 | 78 | 55 |
Climate | Cartagena
| | Jan | Feb | Mar | Apr | May | Jun | Jul | Aug | Sep | Oct | Nov | Dec |
| --- | --- | --- | --- | --- | --- | --- | --- | --- | --- | --- | --- | --- |
| Temp Min °C | 24 | 24 | 24 | 25 | 25 | 25 | 25 | 25 | 24 | 24 | 24 | 24 |
| Temp Max °C | 31 | 32 | 32 | 33 | 33 | 33 | 33 | 33 | 33 | 33 | 32 | 32 |
| Rainfall (mm) | 1 | 3 | 2 | 52 | 63 | 50 | 43 | 70 | 96 | 106 | 80 | 20 |
Upcoming events
To help plan your visit to Colombia, here's an overview of the festivals and events taking place over the next year. This is by no means an exhaustive list so if you are thinking of heading to Colombia outside of these dates and want to know what's on, check out a more comprehensive list here.
2021:
February 13th-16th -
Barranquilla Carnival (Barranquilla)
February 26th-28th -
San Pacho Festival (Quibdó)
March 28th - April 3rd -
Semana Santa (countrywide)
June/July TBC -
Ibague Folk Festival (Ibague)
August TBC -
Wayúu Culture Festival (Uribia)
July 31st - August 1st -
Medellin Flower Festival (
Medellin
)
December 25th-30th -
Cali Fair (
Cali
)
December TBC -
Carnival of Blacks and Whites (Pasto)
There's also a number of national holidays in Colombia and on these dates many businesses and some tourist sites will close for the day so plan your visit accordingly.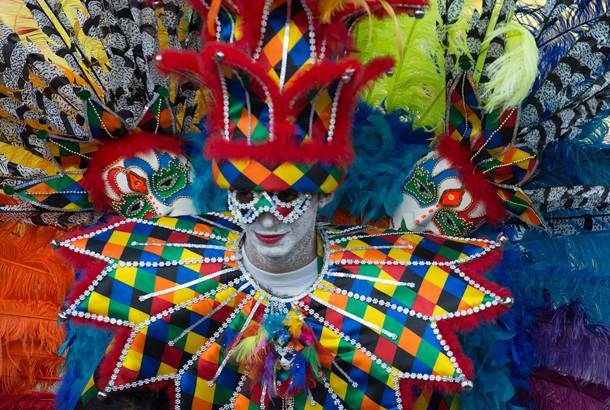 Festivals and Events
With a rich cultural heritage that combines continental Spanish influences with local Afro-Caribbean and native indigenous customs, Colombia is home to a number of colourful and boisterous festivals throughout the calendar year. Here's our selection of the best.
What is Barranquilla Carnival?
Colombia's biggest celebration is up there with the Rio Carnival in terms of size and hedonism with four days of music, dancing and drinking in the city of Barranquilla. Celebrations kick off on the Saturday before Ash Wednesday and feature street dances, colourful floats and masquerades. With roots dating back to the 19th century, the carnival is such a vibrant expression of Colombia's heritage that UNESCO has deemed it a World Masterpiece of the Oral and Intangible Heritage of Humanity.
What is the Festival Iberoamericano de Teatro?
Every two years, Bogota becomes a theatrical wonderland with the 20-day performing arts spectacular of the Festival Iberoamericano de Teatro. Taking place in the weeks leading up to Semana Santa, the festival is one of the largest of its kind and brings together performers from all corners of the globe with dance, circus, puppetry, theatre and music performances held throughout the capital.
What is Semana Santa?
Like the rest of Latin America, Colombia observes the traditions of Holy Week in which Easter falls. The more sombre celebrations of Semana Santa include religious ceremonies and elaborate processions, especially in the city of Popayan and the colonial town of Mompox where the celebrations are particularly fervent.
What is the Wayúu Culture Festival?
Colombia's native cultures are given a chance to shine during the Wayuu Culture Festival in Uribia, a town in the country's northernmost region and often labelled the indigenous capital of Colombia. During the festival dance performances and story-telling competitions are held and regional food celebrated, and it's the perfect time for shopping with locally-made handicrafts taking centre stage.
What is the Ibague Folk Festival?
Also known as the Colombia Folklore Festival, this is one of the most important festivals in the Andean region with local customs and traditions proudly celebrated through dance performances, music performances and cultural shows. The festival was specifically created back in 1959 to showcase local talent and invigorates the city of Ibague every June.
What is the San Pacho Festival?
Every September the Afro-Caribbean city of Quibdó hosts a 20-day celebration of Catholic and African traditions with colourful processions, flag ceremonies, firework displays and street parties. Effigies of the city's patron saint are paraded through the streets while costumed dancers perform on eye-catching floats for a unique amalgamation of Colombia's living cultural heritage.
What is the Medellin Flower Festival?
This week-long festival celebrates all things floral and plenty more beside. Held in the City of Eternal Spring, the Medellin Flower Festival features the Saddler's Parade where local farmers carry beautifully arranged flower displays on basket-like silleteros made of wood and able to hold up to 25 different varieties of flowers. There's plenty of non-flower-related celebrations too with a boozy horse-riding parade, an orchestra festival and fireworks.
What is the Cali Fair?
The sizzling city of Cali is home to one of the world's biggest salsa parties with five days of dance performances and concerts that attract some of the biggest names in Latin music. Starting life as little more than a bull fighting fair in 1957, the Cali Fair is now one of the country's most popular events with large parades, beauty pageants and street parties held between Christmas and New Year.
What is the Carnival of Blacks and Whites?
No festival quite expresses Colombia's unique heritage like the two-day extravaganza known as the Carnival of Blacks and Whites. Held in the Andean city of Pasto located in the southwest of the country, crowds hit the streets to smear one another with whatever is available - as long as it's either black or white. The Grand Parade is the star attraction with a week of fun activities held before the main event, including water fights and kiddie carnivals.
See Also
When planning your trip to Colombia have a look through our handy Travel Guide resources:
Best Places to Visit - where to go and what to see in Colombia
Tourist Visas - entry regulations for visiting Colombia
Top Travel Tips - voltage, health, money and time in Colombia
Style of Travel - what our tours of Colombia involve and what to expect