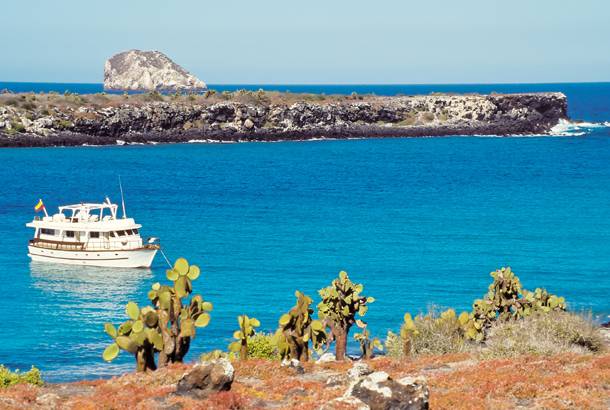 Seasons and Weather
With the Galapagos located Earths equator, there is 12 blissful hours of daylight guaranteed throughout the year.
The climate of the Galapagos Islands is considered to be sub tropical, despite the fact that the islands are located on the equatorial belt. This is due to the confluence of cold water currents from the west and the south, which results in a dry and moderate climate though the region also experiences a warm and wet season. Each distinct season bring its own advantages making the Galapagos a year-round destination.
The dry season in the Galapagos is from late June to early December, during these months the sky is clear, temperatures are cooler and short midday showers are common. The water is also cooler at this time of year, which makes it the ideal for diving.
Late December to early June are the warmest months in the Galapagos and this is the rainy season, with temperatures peaking in February and March. During this time the winds are low, the sea is calm and the climate is more tropical with daily rains. Since the water is warmer, the conditions are perfect for snorkelling.
Micro-climates exist across the islands so when the lower lying islands experience dry and sunny weather the volcanic mountains can be shrouded in mists. This results in an unusual spread of vegetation across the different islands.
Thinking of visiting the Galapagos Islands? Download a copy of our Latin America brochure for inspiration.
Climate
| | Jan | Feb | Mar | Apr | May | Jun | Jul | Aug | Sep | Oct | Nov | Dec |
| --- | --- | --- | --- | --- | --- | --- | --- | --- | --- | --- | --- | --- |
| Temp Min °C | 22 | 24 | 24 | 22 | 21 | 20 | 20 | 19 | 19 | 20 | 21 | 22 |
| Temp Max °C | 30 | 31 | 32 | 31 | 28 | 26 | 26 | 26 | 26 | 26 | 26 | 27 |
| Rainfall (mm) | 25 | 25 | 51 | 38 | 19 | 6 | 13 | 6 | 13 | 6 | 13 | 13 |