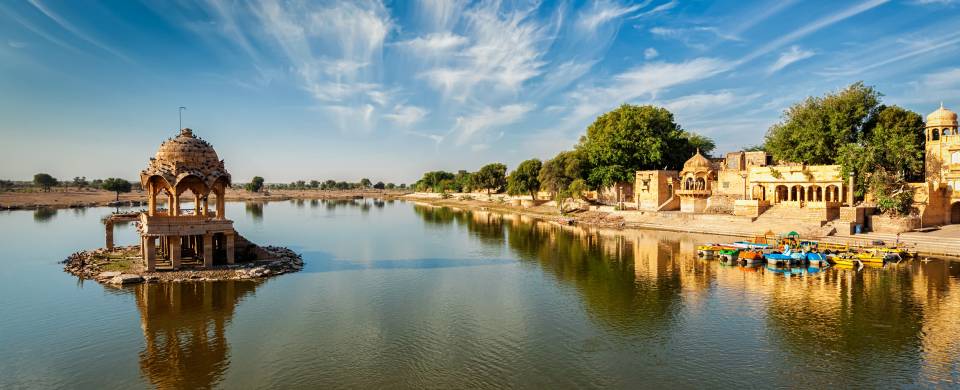 Trips and Tours to Jaisalmer
About Jaisalmer
Located in the heart of the Thar Desert in Rajasthan's more remote northwest corner, sits the former medieval trading centre of Jaisalmer, one of India's most exciting destinations. Surrounded by arid sandy plains, the city is crowned by the imposing and rather spectacular sandstone fort, which helped Jaisalmer earn the nickname 'the Golden City'. Ninety-nine bastions stand amazingly preserved within the walls that encircle the Fort where the ancient labyrinth of narrow streets and alleyways still preserve a traditional way of life with craftsmen weaving and stone carving, shopkeepers trading and housewives gathering as they have done for centuries.
Read More
Jaisalmer was founded and its fortress built on an 80-metre high hill in 1156 AD by Rawal Jaisal to serve as the new capital of his territory. In medieval times, its prosperity was due to its location on the main trade route linking India to Egypt, Arabia, Persia, Africa and the West. A stunning legacy of the city's wealth can be seen in Jaisalmer's exquisite havelis, a traditional Indian mansion-style townhouse with highly decorative interior facades.
Of the city's many havelis, ones worth seeking out include Patwa-ki-Haveli - a towering structure with such intricate stonework that it almost resembles lace, and the 18th century Salim Singh-ki-Haveli, which is noted for its distinctive top-heavy shape. In addition to a visit to the havelis, no trip to Jaisalmer would be complete without a camel ride into the rolling sand dunes of the surrounding desert. Camel rides can range from a few hours in the afternoon to longer journeys out to remote desert camps for a romantic night under the multitude of twinkling stars, shining even brighter thanks to the absence of air pollution.