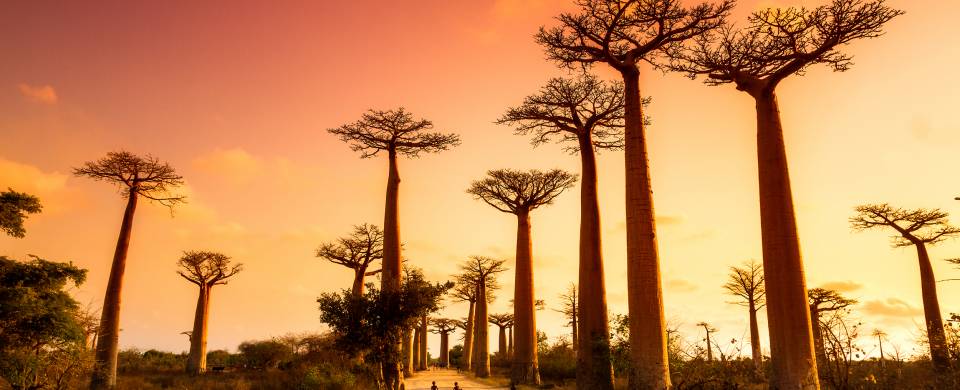 Trips and Tours to Morondava
About Morondava
Sitting in the middle of Madagascar's western coast, Morondava is a laid back sea side town that moves at a leisurely pace, which weary travellers won't hesitate to adopt. While Morondava is blessed with pleasant weather for the majority of the year, it should be avoided during the wet season (December - March) as the roads leading in and out of the town are often impassable. Even during the dry season, people usually choose to go to Morondava by boat rather than travel along the bumpy roads. Don't expect a thriving metropolis when you arrive at the dock in Morondova, this is where travellers come to unwind for a while.
Read More
Aside from the obvious attractions of a sleepy coastal town, what draws travellers into this specific region is its abundance of Baobab trees. One of the most beautiful photo opportunities on the entire island presents itself here in the form of the sun setting behind these enormous trees along what is known as the Avenue of the Baobabs. They might not be the most aesthetically pleasing trees in the world but their grandeur and the fact that some of them are over 800 years old make them a sight to behold.
Once you feel suitably invigorated by your sojourn by the sea, make the most of the rest of your time in Morondava by using it as a base for visiting the nearby Kirindy National Park. Home to a wide range of different lemurs as well as the fossa, Madagascar's largest predator, this park is a haven for nature lovers. Alternatively hop on a pirogue (a small boat) and head across to Belo sur Mer, a tiny fishing village with enough charm to make it worth exploring.