Overland Adventures
Focus on the journey, not just the destination
Discover a new meaning for the word "adventure"
Overlanding is a whole different experience. With a focus on the journey, not just the destination, these tours cross vast distances and take in all the highlights of your destination as well as a variety of hidden gems - truly off the beaten track.

Our Overland Adventures include tours in South America, Central Asia and Ethiopia. From Peru to Kyrgyzstan, Colombia to Azerbaijan and Brazil to Tajikistan, these tours are suitable for anyone with a reasonable level of fitness and a real sense of adventure.

Travel on our overland tours is aboard a purpose-built expedition vehicle and accommodation is a mixture of camping (with and without facilities), basic hotels, guesthouses and cultural experiences such as a night in a hammock on the beach or in a traditional yurt in Central Asia. Fully escorted by a Western crew and including lots of meals and activities, these tours also feature optional extras, allowing you to see a country your way. They are also a team effort, with everyone expected to pitch in with cooking, cleaning and other chores around camp. The more you put into our Overland Adventures, the more you'll get out!

Our overlanding tours also include wildlife safaris in Africa. From Namibia to Tanzania, Kenya to Zimbabwe and Botswana to South Africa, passengers can explore this wildlife-rich continent on an Overland Camping Safari or an Overland Accommodated safari. For those wanting to travel in more comfort, take a look at our range of Lodge Accommodated safaris.
Upcoming Overland Tours
Trip Name
Starts
Departing
Price
Map
Gorilla Trek and Tanzania - 25 days
Nairobi, Kenya
02 Jul 2022
CAD $2,268

was

$4,535

2-for-1



Gorilla and Game Trek - 15 days
Nairobi, Kenya
02 Jul 2022
CAD $1,333

was

$2,665

2-for-1



Best of Kenya & Tanzania - 11 days
Nairobi, Kenya
11 Jul 2022
CAD $2,048

was

$4,095

2-for-1



East Africa Encompassed - 16 days
Nairobi, Kenya
11 Jul 2022
CAD $2,653

was

$5,305

2-for-1



Zebras & Zanzibar - 11 days
Nairobi, Kenya
16 Jul 2022
CAD $1,243

was

$2,485

2-for-1


Our most popular Overland Tours
Below we've displayed some of our most popular Overland Adventures to help you find the perfect trip. Whether you dream about following the ancient Silk Road from Turkey to China, spotting prides of lions in Kenya's Masai Mara or driving around the shore of magical Lake Titicaca in Peru, there's plenty of adventure on offer here! We have lots more choice available, so when you've found your ideal destination, head to the relevant country page for more information.
Local payments to keep costs down


Our Overland Adventures mostly include a local payment - this is paid on day 1 of your trip and covers the cost of everything that the whole group does, such as included activities, meals, hotel accommodation and campsite fees. This payment allows for greater flexibility and is a unique system to overlanding. If there is any money left at the end of the trip, it is divided between the group and refunded. The cost of the local payment is clearly displayed on the tour page for every overland trip.
Highlights of Overlanding
You don't need us to tell you how incredible an African safari is. But a several week expedition across South America or Central Asia? This might sound a bit intimidating, but trust us, these trips unlock a whole new world of discovery. Here are just a few reasons why we love overlanding!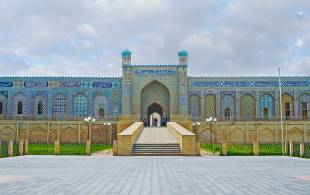 Get off the beaten track
At On The Go Tours we love true adventure and exploration. And what can be more adventurous than discovering a country you may have never even heard of before. The Central Asian countries of Uzbekistan, Kyrgyzstan, Turkmenistan and Tajikistan are a blank space on the map for many travellers, just waiting to be discovered.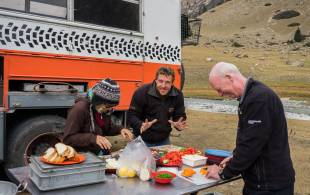 Scenic wild camping
There's quite a lot of camping on some of our Overland Adventures. Some campsites include bathrooms, bars and even swimming pools. But sometimes we'll be camping in the wilderness. The benefits of this are that you get to see the real side of a country, experience its stunning natural beauty and meet the locals who call it home. Sound appealing?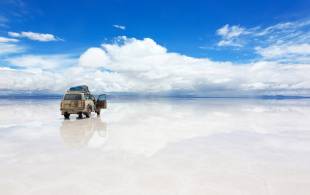 Included sightseeing and optional activities
All of our Overland Adventures take in the main sights of a country with guided tours - from Machu Picchu in Peru to Samarkand in Uzbekistan and Harar in Ethiopia. These tours also include optional activities and free time so you can see more of a destination in a way that suits you. The perfect mix of inclusions and flexibility.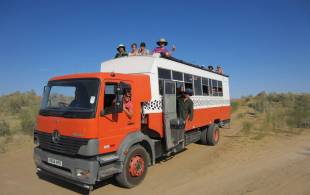 Purpose-built expedition vehicles
When exploring an off the beaten track destination, it's important to have the right vehicle. Our trucks are designed to excel in tough conditions and there's comfortable coach-style seating for up to 22 passengers. All camping and cooking equipment is stored onboard, meaning you can kick back and relax.