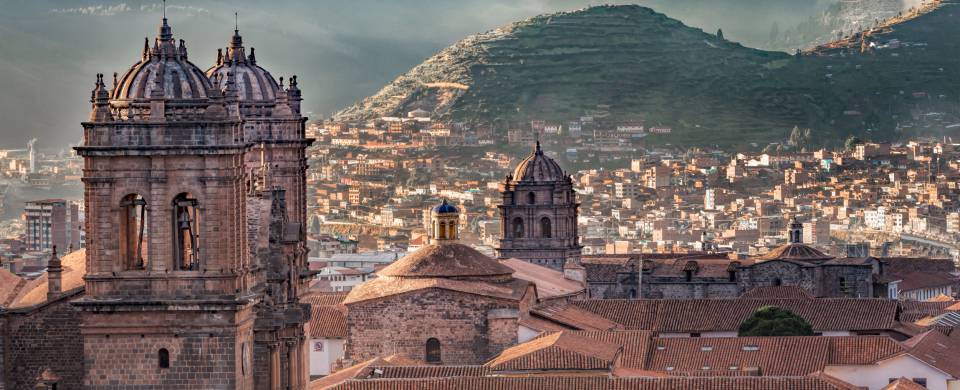 Trips and Tours to Cusco
Standing on the ruins of ancient Inca temples and palaces, the colourful city of Cusco is a captivating blend of traditional Andean culture, architectural wonders dating from the time of the Incas to the colonial era, and a majestic setting in a highland valley. As well as offering exclusive access to Machu Picchu, Cusco has a long list of attractions from the charming Plaza de Armas and imposing Catedral to the masterful stonework ruins of the Koricancha Inca complex. The UNESCO-listed fortress of Sacsayhuaman commands an incredible view across Cusco and is the most impressive of the historical sites dotted across the surrounding hills. The formation of large polished dry-stone boulders is thought to represent the head of a puma and inside the walls are a number of towers and important temples.
Read More
South of Cusco are the impressive Tipón ruins, a complex of Inca temples and aqueducts with amazingly preserved agricultural terraces, watered by channels lined with stone. Hidden in a natural valley shelf, the ruins are practically deserted with no habitation in sight. Perfect as a day trip, on the return journey to Cusco stop at the traditional village of Saylla and try chicharrones, a delicious local pork dish. Nowhere better will you find such a dish and with barely a tourist in sight, it's a chance to see the real Peru. Back in town a range of restaurants, from the cheap and cheerful to the more gourmet establishments, serve a delectable variety of traditional Peruvian dishes including Luna Areja where you can grab a Chicha beer and hang with the locals over a plate of homely Andean food.
Best Time to Visit Cusco
Peru's dry season falls between the months of June and September, and this is the best time to visit Cusco with little chance of rain and generally sunny days. Sitting at an altitude of 3,399 metres above sea level, the sun can feel quite fierce during the day but temperatures drop dramatically once it's gone so expect cold conditions at night and first thing in the morning. This is South America's winter and the absence of rain also means better visibility of the surrounding mountain ranges with blue skies and broken clouds. The high season coincides with this period so it's also the most popular time to visit Cusco and its nearby attractions.