Krakow and Auschwitz 1 Day Tour from Warsaw with lunch included





21 reviews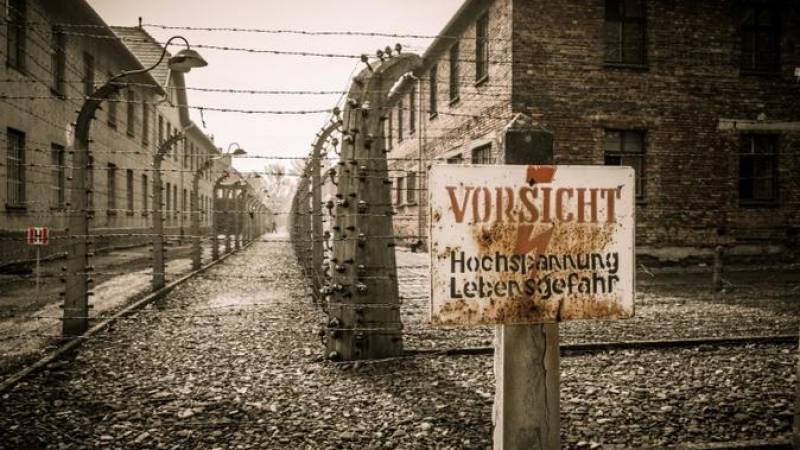 from USD $306.34
- Tickets to the Auschwitz-Birkenau Museum included
- Pick up dropp-off from your hotel/apartment
- Skip the line in Auschwitz
- Lunch included
- Guided tour in Krakow
- Highly experienced touroperator specializing in Holocaust, WWII, Jewish-related tours
BOOK WITH CONFIDENCE:
As members of ABTA and ATAS we are
100% financially bonded
. You can book your day trip with us in absolute confidence, no matter where in the world you are.
Due to the impacts of COVID-19, we are currently not taking new bookings for day tours.
Itinerary
This is a typical itinerary for this product

Stop At: Panstwowe Muzeum Auschwitz-Birkenau, ul. Wiezniow Oswiecimia 20 Entrance to the Museum is located at Stanisławy Leszczyńskiej Str. no. 11, Oswiecim 32-603 Poland

Former German Nazi Camp in Oswiecim

Duration: 3 hours

Pass By: St Mary's Basilica, Plac Mariacki 5, Krakow 31-042 Poland

One of the best examples of Polish Gothic architecture

Stop At: Krakow's Rynek Glowny Central Square, Rynek Glowny, Krakow Poland

The biggest Medieval Market Square in Europe

Duration: 30 minutes

Stop At: Muzeum Krakowa - Barbakan, ul. Basztowa, Krakow 30-547 Poland

Walking tour

Duration: 10 minutes

Stop At: Wawel Royal Castle, Wawel 5, Krakow 31-001 Poland

Our guide will describe the attraction from outside.

Duration: 10 minutes

Stop At: Wawel Cathedral, Wawel 3, Krakow 31-001 Poland

Our guide will describe the attraction from outside.

Duration: 10 minutes


Inclusions
Hotel pickup
Transportation by car/minibus
English-speaking driver
Lunch
Live guided tour in Krakow (2 hours) by an expert guide
Tickets to Auschwitz-Birkenau (skip the line service)
Entry/Admission - Panstwowe Muzeum Auschwitz-Birkenau
Exclusions
Entry/Admission - Wawel Royal Castle
Departure Time
6am – 7am
Exact time to be confirmed 1 day before the tour through email.
Departure Point
Traveler pickup is offered
Please provide pick up address at the time of booking. We pick up in the hotel lobby or outside private apartment.


Additional Information
Confirmation will be received at time of booking
Not recommended for children under 15
Languages other than English are possible on special request. Must be done in advance and upon availability
Please mind that the tour is not private. For private transportation please check "Private 1 Day Tour to Auschwitz and Krakow from Warsaw "
Wheelchair accessible
Stroller accessible
Infant seats available
Due to the new Auschwitz-Birkenau Museum policy, name and surname of each customer are obligatory and need to be provided accurately at the time of booking. In case name or surname is incorrect, this may result in customer paying for their ticket at Auschwitz themselves or even prevent customers from visiting the Museum. Each traveller needs to have valid ID or passport at the Auschwitz Museum.
Most travelers can participate
This tour/activity will have a maximum of 8 travelers
Booking Information
You can present either a paper or an electronic voucher for this activity.
Cancellation Terms
Once booked, this trip is fully non-refundable
Booking Terms and Conditions
When you book this trip, you need to read and accept the
terms and conditions
for booking our day trips in excursions.
Hotel Pickup
When you book, we will ask you to select a hotel to be picked up from. Once your booking is confirmed, we'll send you a confirmation voucher with full contact information (phone number, email address) for our local operator in case you need to update or change your hotel pick-up details.
Here are answers to some commonly asked questions about hotel pickup:
What if my hotel is not listed?
That's okay. When you book you can select an hotel from our list and make your way there on the day of departure; or you can contact our local operator directly to make alternate pick-up arrangements.
What if I have not yet booked a hotel?
Once your hotel arrangements are finalised, you can contact our local operator directly with your hotel details.
What if I live locally, am staying with friends or relatives, and/or don't require pick-up?
Once your booking is confirmed, we'll send you complete details and directions to the tour/activity departure point.
Scoring an average traveller rating of 4.57 out of 5 based on the last 21 recent reviews
"
I knew this day was going to be memorable, but wasn't sure how I would feel once I was there. I'm still not sure I have absorbed what I saw to fully grasp what humans are capable of doing to other humans and how to put my head around it all. This is a full day trip, 16 hours overall between the travel, time at Auschwitz and time in old town Krakow. Old Town is magnificent and a full day or two could be spent just seeing this area, but my main objective was to go to Auschwitz and Birkenau. It's a powerful experience in my opinion, and you have to see the exhibits to begin to understand the scope of what occurred 75 years ago to humanity. There was so many potential contributions lost that we will never know of. The potential future musicians, artists, engineers, scientists, craftsmen... gone, before they had their time. It's a deep and powerful moment in my life to have seen this place, and I intend to share it as often and as best I can with others.
"
Michael A
• Submitted 12 Jul 2019





"
The Krakow and Auschwitz 1 Day Tour was Incredible. The Auschwitz portion of the trip was very humbling and sad since many of my family members were murdered at this camp. The overall tour was very informative. The guide was very good. The Krakow portion of the trip was fantastic. We were lucky to have a guide who really knew and understood Krakow and it's history. This tour was beautiful and fascinating all at the same time. We covered a lot of ground and were very happy that we did the tour. Our driver was very helpful all along the tour. We were extremely lucky.
"
Ruth C
• Submitted 17 Jan 2018





"
Outstanding transportation and driver and wonderful knowledgeable guides that were sensitive to the place and times. Guide for Krakow cultured and very passionate about the history and the experience that you have in Poland - I would highly recommend this tour through AB Poland.
"
Lea B
• Submitted 08 Jan 2018





"
Terrific tour for those that only have limited time in Warsaw. Auschwitz is a must to remember the past and Krakow to help remember the future is brighter : Great trip!
"
Jamin K
• Submitted 19 Nov 2017





"
Wonderful day and top marks to driver Piort.
"
Berneice A. G
• Submitted 08 Oct 2017





"
My dad and I decided to do this day trip and could not have made a better decision...our tour guide Przymek was AMAZING and MADE THE TREK for us...not only did he do the basics like be on time for each event, but he continually went above and beyond in various ways including always being early, making sure we were okay before leaving us with tour guides, making multiple pit stops on the 4 hour drive each way, getting us special pierogis for lunch, showing us sites out of the way, and letting me lay down and sleep in the back while entertaining my dad...we were lucky we even convinced him to join us for dinner after! Awesome guide, awesome day, very accommodating, five stars!!!
"
Blair P
• Submitted 21 Aug 2017





"
Excellent tour. Very Professional.
"
Roberto B
• Submitted 28 Jul 2017





"
This tour was very long but very worth it. The drivers were very professional and both guided tours in Krakow and Auschwitz were exceptional. This tour is highly recommended
"
Helga G
• Submitted 06 Jul 2017





"
For us, more of a pilgrimage than a tour. The visit to Crakow was brief. I wish it had been longer but the peak experience was Auschwitz/Birkenau. It confounds me that anyone could deny the Holocaust after seeing this death camp. The evidence of the deadly activities is there in vivid and stark reality. Our guide, Magdalena, was knowledgeable and conducted the tour with dignity and wisdom.
"
Ross B
• Submitted 05 Jun 2017





"
This is a trip well worth taking. You get to experience and see so much all in one day. The tour company, AB Poland Travel ,does an exceptional job to make sure you are taken care of from beginning to end. I was picked up early in the morning at 7:30am from my hotel in Warsaw by the driver Piotr, who was excellent and assured that all of us were comfortable and had what we needed. He even made sure we had access to the wifi in the very comfortable Mercedes van. Before arriving to Auschwitz, we stopped to have a good lunch consisting of soup Choice of Chicken noodle or tomato and an entree Chicken or Pork, which hit the spot and provided energy for the day ahead. Piotr introduced us to the english speaking guide, who would provide us with all the facts and details of Auschwitz and Krakow. He was great, easy to understand and knew his history. Following the tours of both camps in Aushwitz Camp 1 and Birkenou, we then made our way to Krakow for the 2 hour tour. Krakow is an absolutely beautiful little city and a good way to end the day. I wish I had more time there but a good opportunity to come back again. For this tour, I recommend ensuring you wear comfortable shoes as you will walk a lot and be sure to dress warmly, and in layers and bring an umbrella as the weather can change quickly. I was there towards the end of April..the day started sunny and throughout the day, we experienced a little wet snow and rain. I would recommend doing this tour with AB Poland Travel to anyone that is wanting to experience Auschwitz and Krakow in one day. They make sure you are well taken care of.
"
Selin Y
• Submitted 24 Apr 2017





"
Really enjoyed this full day tour got back to Warsaw at midnight,very well organised. Plenty of time at both Auschwitz and Krakow. All guides were very knowledgeable. Krakow is a very beautiful city.
"
R J A
• Submitted 19 Dec 2016





JOSE S
• Submitted 17 Nov 2016





"
Well organised trip, driver and guide very professional. I would be happy to use this tour company again in the future.
"
Mr Bruce H
• Submitted 14 Sep 2016





"
Great guides, great timing, great experience.
"
Mónica F
• Submitted 12 Sep 2016





"
Krakow was a very long ride with 2.5 hours of a walking tour. Unfortunately, we had three members of our van who opted out. To wit, we had four other travelers who joined our group and were habitually late and ruined our experience. Moving to the death camps our guide Barbara was splendid in bringing these events to life and we left with a sober experience of what the Nazis did to gentiles and Jews.
"
George
• Submitted 15 Jul 2019





"
Piotr was our tour guide driver and was absolutely wonderful! There were 6 of us on the tour. I was very disappointed in the guide who took us through Auschwitz-Birkenau though. He seemed to rush us through the visit and wouldn't let us take pictures in some buildings, although the other guides let their groups take them. However, it was an experience I will never forget. By the time we got to the 2 hour tour of Krakow, I was unable to walk due to leg problems. Piotr took me and my boyfriend to the end of the tour and gave us a small personal tour of old town. He went above and beyond what was expected. He was very nice, funny and knew the history of most of the buildings. I definitely recommend this tour and try to request Piotr.
"
Mary K
• Submitted 17 Jul 2018





"
I had wanted to come to Auschwitz for years simply to pay respects to the millions who were murdered here, firstly our guide Piota was amazing, nothing was too much to ask, we upgraded our car for more comfort and we were on this tour on our own which is how we like it. When at camps 1 and 2 we joined another tour operator who was very good but I just feel as though we were rushed too much, I would have liked a bit of time on my own to ponder and reflect. in Hindsight I would have split the two tours and taken a two day tour with perhaps a night in Krakow. The full day was too much for us physically challenged people. we asked our guide if we could cut our tour of Krakow short so he arranged for us to have some time to ourselves in the City square which was nice, although we invited him along with us for the walk in the cool night air before heading back to Warsaw. I cannot say enough about Piota I hope I have spelled that correctly he was fabulous and highly recommend asking for him as your guide.
"
Europe trip
• Submitted 05 Oct 2017





"
Our driver was excellent. The guide at old town Krakow was adequate--her English vocabulary was limited so that made her explanation a little difficult to follow. The educator guide at Auschwitz was excellent.
"
Alberta C
• Submitted 15 Aug 2017





"
It was a very interesting trip, but also very tiring. Krakow is a wonderful city.
"
Fernando Teixeira
• Submitted 30 May 2016





"
Tour was very interesting.
"
Rita jane D
• Submitted 29 May 2016





"
Too much to squeeze into one day. 3.5 - 4 hours driving without a rest stop from Warsaw to Krakow. The Krakow tour guide was very knowledgeable and really did a nice job showing us around the beautiful city in the time allotted. There was adequate time to get a look at the key sites, but that was all. After Krakow we had a lunch in a decent restaurant but by this time I was realizing the trip to Auschwitz was going to be too short to really take in the history. We didn't arrive at Auschwitz until late afternoon. Our drivers were a bit disorganized and wasted 30-40 minutes talking to assorted tour guides before we were actually assigned a guide and began our tour. Auschwitz was very rushed. The guide was very knowledgable but literally lost people on our tour because he was walking so fast from exhibit to exhibit. We certainly took in the history but there wasn't time to reflect on each of the sites in the camp. We got back to our hotel around 10PM and we did not stop on the drive home for a dinner or break. I would use Viator again but not suggest a day as packed as Krakow and Auschwitz from a Warsaw departure.
"
Thomas L
• Submitted 09 Jul 2017