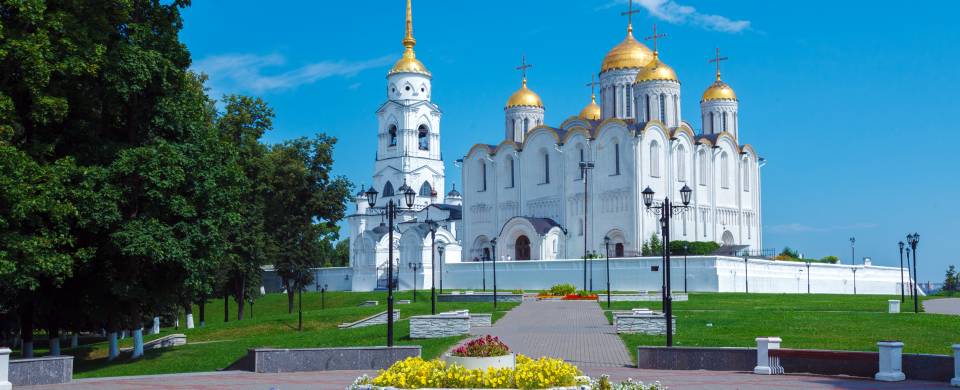 Trips and Tours to Vladimir
About Vladimir
Founded in 1108, the city of Vladimir was Russia's medieval capital for nearly two centuries before giving way to Moscow and is one of the region's most historical sites. It forms part of the famed Golden Ring of ancient towns dating back as early as the 11th century that have great historic, architectural and religious significance in Russia, and like many of its neighbouring counterparts is home to a number of impressive monuments. The city also boasts a host of very good theatres and museums for those who want to spend more than a day here, along with a fast growing nightlife and a good choice of restaurants. If you are short on time, however, it is entirely possible to see the major sites of interest within a few hours, namely three beautiful landmarks - the Golden Gates, the Assumption Cathedral and St Dmitry Cathedral.
Read More
The most prominent symbol of the city is the striking Golden Gate. Built in 1163 to form part of the cities defences, this impenetrable tower with its huge oak doors is located at what was then the main entrance to the city. The Golden Gate now house Vladimir's military museum which has some interesting exhibits, once you've conquered the very steep staircase up there.
The city's cathedrals are arguably amongst the most beautiful buildings in Russia. In Cathedral Square stands the magnificent Assumption Cathedral, which despite being destroyed by fire in 1185, was immaculately restored and is a breathtaking sight with its white stone walls and golden domed roof. The Cathedral of St Dmitry is equally impressive, a white stone-carved masterpiece built by Prince Vsevolod III in the 12th century.