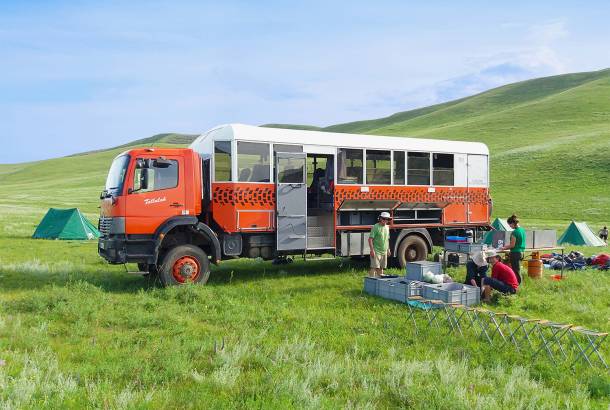 What is overlanding?
Packed full of stunning natural landscapes and incredible wilderness, South America is a continent made for overlanding. Travelling aboard large, purpose-built trucks, with all the equipment necessary for camping and cooking onboard, overlanding is all about the journey and not just the destination. Expect and embrace long days of driving as you travel across vast and expansive South African plains. However, these are broken up with one or two day breaks for you to take part in activities and enjoy each place we visit.
Overland journeys take in the must-see highlights of each country, whether that be the phenomenal Iguazu Falls in Brazil, the incredible Uyuni Salt Flats in Bolivia or the spectacular ruins of Machu Picchu in Peru. But they are far from just sightseeing tours, with many different activities to get involved with along the way. You could be learning to cook in a Quechuan Village, white-water raft in the Sacred Valley or trek an epic journey through the Andes.
By getting off the beaten track and seeing the real destination as well as the highlights, overlanding allows you to truly get under the surface of each place you visit. At its heart, overlanding is about sharing a great travel experience with other like-minded adventurers.
Is overlanding for me?
If you're an adventurous traveller who would rather spend a night roughing it in the jungle than unwinding in a luxury hotel, then overlanding is right up your street. With an open mind, positive attitude and a desire to throw yourself in to the trip, you'll create a truly unforgettable experience journeying through South America.
Overland travel can be demanding, with some early morning starts, long travel days and dusty conditions. Many of the routes have a large degree of flexibility rather than rigid hour-by-hour or even day-by-day itineraries. Therefore, whilst we intend to follow the planned route, there can be changes to our itinerary and exact night stops and inclusions cannot be guaranteed if road conditions or other factors don't allow. Changes can occur with little notice so you should be prepared for modifications to your trip. As South America is a diverse continent, you should also be prepared to deal with a variety of climates ranging from the humid Amazon to the high altitudes of the dry Andes.
You'll also need to be physically fit and of good health in order to fully participate in the trip. You'll be taking part in everyday activities such as putting up and taking down your tent and helping with camp chores such as cooking and washing up. The step into the overland vehicle isn't overly high, however you will need to be able to haul yourself in and out of the truck at least 8-10 times a day. You'll also have time for hiking and other adventure activities such as white-water rafting and horse riding - all of which require a good level of fitness.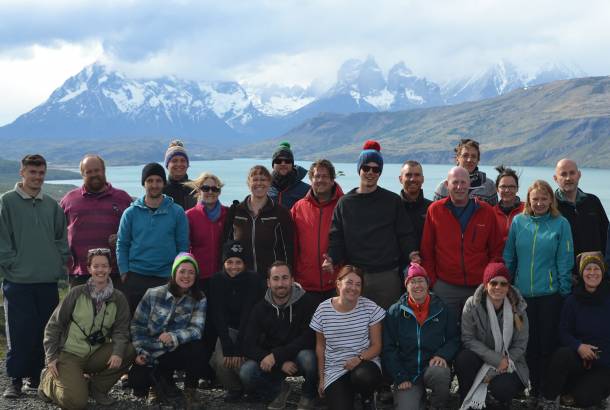 What will the group profile be?
Part of the beauty of overlanding is the camaraderie created along the way. Your companions play as big role in your adventure as the destinations you are travelling through and life-long friendships can be formed on these journeys.
Our overlanding groups in South America consist of people of many different nationalities and ages that all share an open-minded attitude to the world around them. Around 33% of our travellers are aged 25-44 and 42.5% are between 45-64 years old. On average, we have a fairly even split between males and females, as well as between couples, small groups of friends and solo travellers. Depending on the geographical location, we have a maximum group size of 19-22 travellers, however the average number is around 16.
Although we have a minimum age limit of 18, we welcome any adventurous travellers who are fit, healthy and passionate about exploring South America with us! Travellers over 65 are required to have a medical certificate and complete a Tour Suitability form before we can confirm a booking.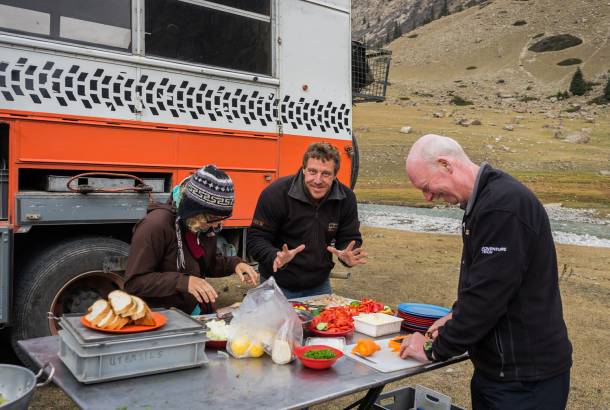 What does it involve?
Group participation is what overlanding is all about. On our South America trips, you're more than just an individual passenger. You're part of the team. You'll be expected to help set up camp, shop for food, cook and generally help out. Overall, our travellers find that the more they put into a trip, the more they get out of it.
During the trip, you'll be assigned a truck job which could be loading the back locker, sweeping out the truck, or collecting water and firewood. When we are camping, meals are included in the kitty and we use a rota system for cooking. You'll be divided into small teams of 3-4 people and take it in turns to prepare meals for the whole group. This involves planning the meal, shopping for ingredients in local markets and supermarkets and then preparing the food. As the camp kitchen will be basic, it's best to keep meals simple!
What's the food like?
A typical camp breakfast might include cereal, fruit, toast with spreads, as well as tea and coffee. We might also have hot dishes such as eggs or pancakes if there's time. For lunch we almost always have sandwiches with an assortment of fillings and plenty of healthy salads, with fruit to follow. Dinner might be a pasta dish, risotto or BBQ and we always have the chance to try some local cooking!
Whilst we can try to cater for any specific dietary requirements or food intolerances, this may not always be possible and the variety of dishes available may be limited in comparison to what's available for the rest of the group. If there is anything you particularly require, we recommend bringing this from home to be on the safe side.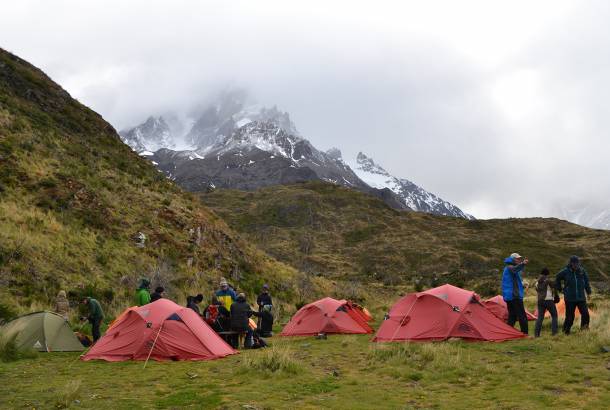 Camping
Depending on the trip, we use a wide variety of accommodation varying from hostels, guest houses and hotels to tents and even hammocks in Tayrona National Park. We also include homestays, so you'll be able to gain an authentic insight into the local culture and communities we visit, as well as ensure that the economic benefits of tourism stay with the local people.
If you've never camped before, overlanding is a fantastic introduction. All of our overland trucks are fully equipped with dome-shaped or A-frame tents with integrated mosquito nets, as well as cooking and camping equipment. You'll just need to bring a sleeping bag, sleeping mat and pillow with you. It's as easy as that. On the first night's camping, our crew leaders will give you a full briefing about setting up so it can be a quick and easy process. Our campsites range from being fairly basic to those with facilities such as bars, restaurants and swimming pools. We also take the opportunity to wild camp in some of the more remote areas we visit, where we have no access to any toilet or bathroom facilities. Wild camping is a highlight of our trips as it offers the opportunity to truly get off the beaten track and connect with our surroundings.
Whether we're camping, staying in hostels or hotels, our South America overland trips are designed for shared accommodation and do not involve a single supplement. We pair up people who are travelling together and we pair solo travellers with a person of the same sex. In some locations, we stay in multi-share dorm accommodation in hostels. This can involve sharing with 3-6 other travellers, including independent travellers on occasion or staying in mixed sex dorms. Please check the inclusions to see the ratio of accommodation on each trip. In some cases, it may be possible to upgrade locally to bungalows, lodges or even tree-houses rather than camp.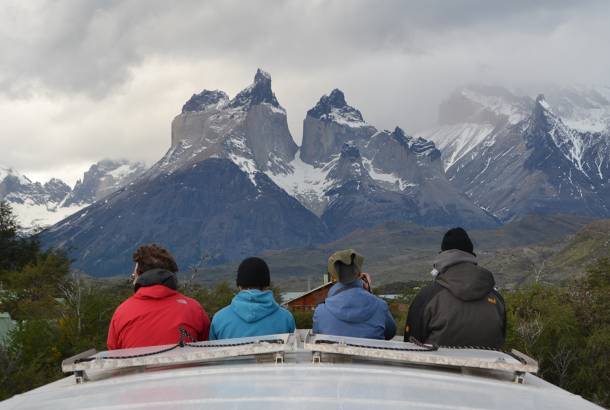 Our expedition vehicles
Our overland vehicles are sturdy Mercedes Benz trucks which are known for their durability and have been specially modified in the UK to include our custom features. They each have long range fuel tanks and a unique integrated cab so that our travellers aren't separated from the crew and can easily communicate. A side awning offers cover from the rain or shade from the sun, with camping stools and tables stored on-board.
Inside, they feature comfortable, coach-style seats for up to 22 passengers. These are all forward-facing except for four seats facing backwards around two tables. Other key features include 12v charging points, a bookshelf and audio equipment with an MP3 player connection. There's also a hidden safe to keep money and passports secure, and a luggage locker. Large storage areas contain the camping and expedition equipment, food, cooking equipment and utensils, with each vehicle featuring an integrated fridge and a drinking water tank of approximately 250 litre capacity. We also have a full range of tools and spares in case of any mechanical problems and an emergency medical kit on-board.
Please note that the overland trucks do not have WiFi and are not air conditioned. This helps to avoid illness from the sudden changes in temperature and humidity that you can experience with air-conditioned vehicles on long overland journeys and it also helps to speed up the process of acclimatisation to the climate.
Our Crew
On all of our South America overlanding trips, we have two western crew members who are trained as both drivers and tour leaders. They ensure the smooth running of the trip and undergo the most intensive training program of all the overland tour operators, first spending 8 weeks learning the ropes in the UK followed by up to 6 months on the road as a trainee. Alongside planning the trip according to the itinerary, our crew drive and maintain the truck, are trained in health and safety and offer advice and support to our travellers when needed.
Our crew are passionate about travel and always up for an adventure. Whilst they have basic knowledge of the places we visit and can offer suggestions of what to do and see, we also employ local guides in specific locations to give our travellers a deeper understanding of points of interest. These guides can join us for time frames ranging from just a few hours to several days. Due to the seasonality of travel, there may also be times when a member of our crew is new to a particular region or training other crew members.
Our crew have a duty of care to all members of the group and therefore have the authority to ask you to leave the trip if you refuse to comply with local laws and customs, are behaving in an antisocial manner or require serious medical assistance. In ALL matters relating to the trip's running, the leader's decision will be final.
Luggage
During our overland trips your main bag will be kept in the truck's luggage locker, so you won't need to carry it for long distances. However, as this will be inaccessible when driving, you will also need a small daypack to carry your camera, water bottle and any other items you might need during the day. You will also be helping load and unload bags onto the truck and, for this reason, we recommend using a backpack or soft bag rather than a heavy suitcase as your main baggage.
The size of baggage that can be brought on the overland vehicle is limited by the size of the locker space. We recommend bags no larger than a rucksack with a capacity of about 80 litres (approximately 70cm high, 40cm wide and 40cm deep). There is also a weight limit of 20kg maximum. Note that due to the constant vibrations of the truck and dust, your bag will be subject to extreme wear and tear. Please refer to the trip notes for a packing list.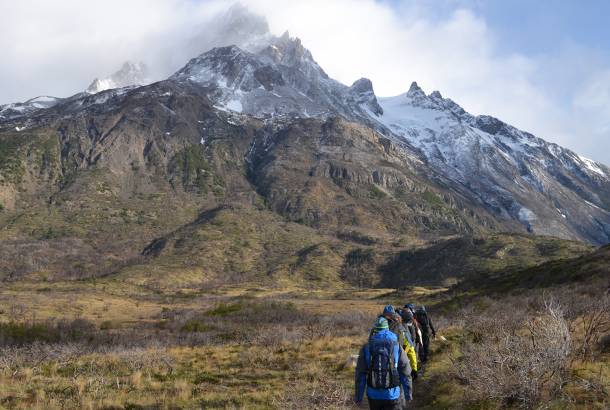 Optional Activities
We offer plenty of exciting activities and excursions on our overland tours, some of which are included and others are optional. Optional activities are taken at your own expense and if you do not wish to participate in an included activity, we can't guarantee that this will be refunded and is something you will have to discuss with your tour leader.
As some of the activities require a certain level of fitness or have higher risks than you are used to, it's important that you read through the itinerary fully. That way, you can make your own decision about whether you would like to take part and if you have the physical ability to enjoy the trip and its activities to the fullest. Please ensure that your personal travel insurance covers you for any activities you would like to take part in.
Whilst the list of optional activities in the Trip Notes demonstrates what is on offer in each destination, it should be seen as a guide rather than a fixed list. Unfortunately, we cannot guarantee that each activity will be available on your particular visit or that you will have time to do all of the activities listed during your stay. In joining or ending cities we recommend giving yourself some extra time in order to fully enjoy the optional activities available there.
If you do take part in any optional activities, be aware that prices listed are an approximation and don't include transport or local guides unless indicated. It must also be clearly understood that participation is done at your own risk and doesn't form part of your contract with us. You may need to sign a waiver or optional activity form for some activities.
Local Payment/Kitty
In addition to the price of our South America Overlanding trips, you will be required to pay a local payment referred to locally as the kitty. Each traveller joining the trip pays their kitty into a central fund which is managed by the crew. This covers the cost of everything that the whole group does including hotel accommodation and campsite fees, meals whilst camping and included activities such as National Park entrances.
The kitty allows for greater flexibility and transparency on our trips and is a unique system to overlanding. Kitty accounts can be viewed by everyone throughout the trip so you can see exactly how your money is being spent and ensure you are getting the best value by buying locally. Our savings on administration costs are passed on to you and, as the kitties are the group's fund, no profit is made from them. If there is any money left in the kitty at the end of the trip, it will be divided between the group and refunded.
The kitty is payable on day 1 of your overland trip in cash. Please remember to bring sufficient cash USD with you and note that we cannot accept traveller's cheques. Alternatively, you can pay 3-4 weeks in advance of your trip via bank transfer. If you wish to do this, instructions and bank details will be given to you when we issue vouchers.
Exchange rate fluctuations can affect costs and prices can change with no notice, therefore the kitty amount can change and the price on our website includes a buffer to cover this. The actual amount you will be asked to pay locally could be less than the amount quoted on your tour voucher or trip notes.