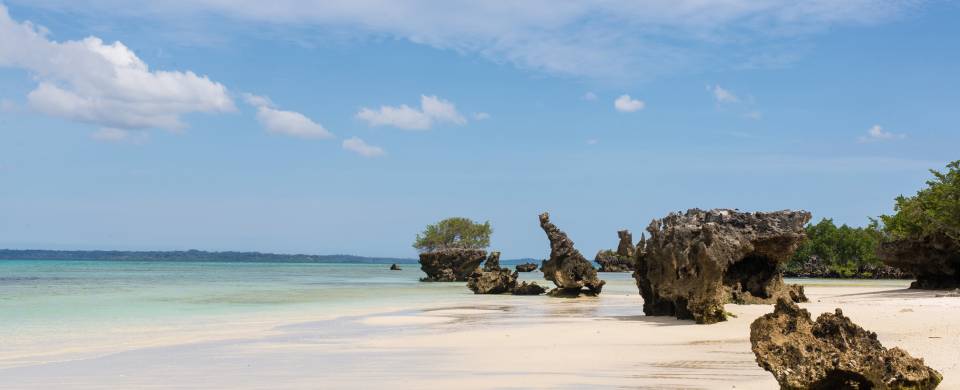 Trips and Tours to Pemba Island
About Pemba Island
Untouched and rugged, Pemba Island is blessed with a wealth of natural beauty, making it one of the best beach holiday destinations in Tanzania. With the warm Indian Ocean lapping at its pristine sandy shores and the endless African sunshine warming the air, it is hard to see why Pemba Island has remained such a hidden gem over the course of history. Despite being just over 100km from the famous traveller hotspot Zanzibar, the two islands are vastly different. The shores of Pemba Island are fringed with mangroves and lagoons and further inland the terrain becomes hilly and rocky, unlike the flat Zanzibar.
Read More
With beautifully warm water that stays at around 26 degrees Celsius, it goes without saying that the area around the island is perfect for diving. Aquatic explorers will discover a vast array of stunning marine life as well as vibrant coral reefs and possibly some larger creatures if the season is right. You'll also have the benefit of having the entire area to yourself as there are usually very few other divers in these waters. Misali Island, in the Pemba archipelago, is one of the prime spots for diving and snorkelling.
For those who prefer to keep their feet on terra firma there are a number of different things to do on the island itself. A trip to the Kidike Sanctuary for Flying Foxes gives travellers the opportunity to get up close and personal with these huge bats. Alternatively, you might want to check out the Essential Oil distillery, a true olfactory delight, or take a walk through the island and learn about its history of voodoo and witch doctors.