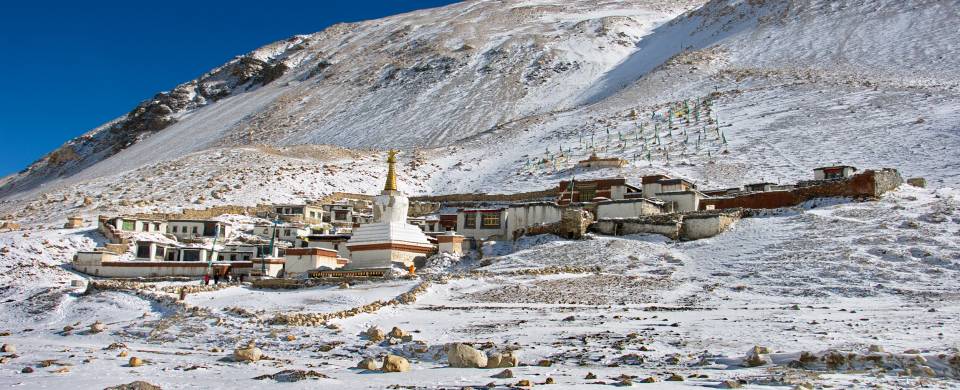 Trips and Tours to Rongbuk (EBC)
About Rongbuk (EBC)
For serious mountaineers the main drawcard of Tibet is the base camp of Mount Everest, one of the most exhilarating places on the planet. Situated at almost 5,000m above sea level, this lofty location is the kind of place that has to be seen to be truly understood. While the air here is thin and the conditions are less than ideal, the staggeringly beautiful scenery, consisting of rugged slopes leading to snowy peak, is unrivalled anywhere else in the world, making everything you might suffer on your journey more than worthwhile.
Read More
At the foot of Mount Everest sits the Rongbuk Monastery, allegedly the highest monastery in the world. It can be reached by driving for a few hours along the Friendship Highway, an 800km scenic route that goes from Tibet's capital, Lhasa, all the way to the Chinese/Nepalese border. The monastery is a popular accommodation for those thinking of spending the night at the Everest Base Camp. It was built in 1899 by a local lama and, today, only two of its 5 tiers are in use.
From the monastery, the Rongbuk Glacier Zone can be seen. This is the largest of all the glaciers formed around Mount Everest, of which there are hundreds, and is an absolute treat for the eyes. With plenty of warm clothes in tow, visitors to this region will be able to make the most of everything this rather desolate, yet beautiful, area has to offer. For the best experience, the surroundings here should be viewed in the first light of day. This will give them an intriguingly mystical feel that will stay with you forever.