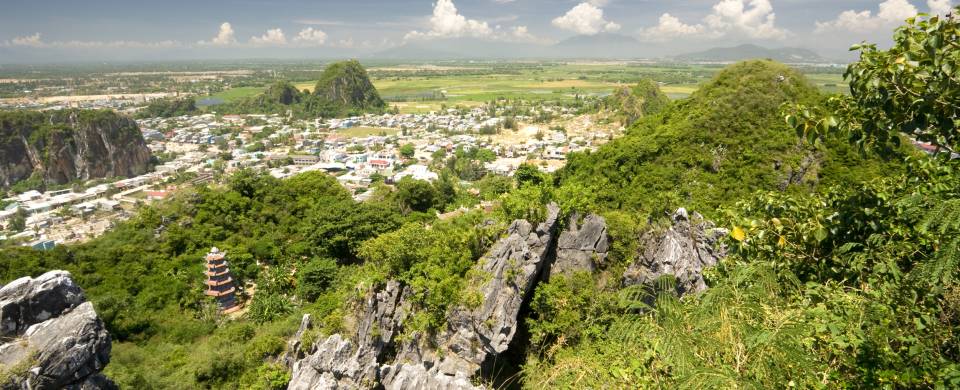 Trips and Tours to Danang
About Danang
Situated in Central Vietnam between Hue and Hoi An, Danang is Vietnam's fourth largest city and something of an economic powerhouse. Sitting at the mouth of the Han River with 150km of coastline, it's also something of a charmer with beautiful sand beaches backed by verdant mountains. Add to this tree-lined boulevards, great restaurants, glittering shops and striking bridges that come alive at night with neon lights and you have one of Vietnam's more attractive cities.
Read More
Danang has plenty to keep travellers of all ages entertained from the enormous Danang Waterpark to the candy-pink Danang Cathedral and a number of elegant pagodas. Some 9km south of the city stand the Marble Mountains, a group of five marble and limestone mountains named after the elements. Featuring a complicated system of caves and tunnels, these mountains were used as a secret base by the country's revolutionaries. Visitors can climb the highest mountain, Thuy Son, and explore the many caves and Buddhist temples dotted across the mountain. The 18th century Vong Giang Tower offers breathtaking views out across the surrounding mountains and to the coast in the distance. Those who love the outdoors will also enjoy a trip to the mountain resort of Ba Na, home to the world's longest and highest non-stop cable car. Covered in forests, this is the ideal spot to enjoy a breath of fresh air and natural beauty.
For history buffs and anyone interested in Vietnam's fascinating ancient history, a visit to the Museum of Cham Sculpture is a must. Here you'll find the largest collection of Cham sculpture and artefacts dating as far back as the 5th century all housed in lovely buildings that combine French-colonial style with Cham elements.