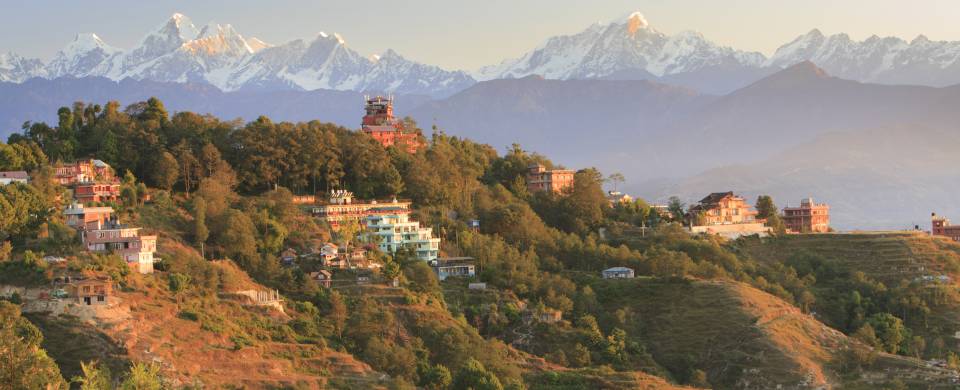 Trips and Tours to Nagarkot
About Nagarkot
Perched on a ridge northeast of Kathmandu, the town of Nagarkot offers a lovely retreat from the city for those looking for the classic panorama of the Himalayas. The view tower on the ridge is a great place to watch the dawning light of day illuminate the Himalayan peaks. This sunrise activity is popular among visitors, especially due to the easy access from the capital - for those without enough time to make it to Annapurna then the views in Nagarkot are the next best thing. Other activities include hiking and biking as there are a number of easy routes from Nagarkot.
Read More
A good selection of hotels line the 2km ridge that forms Nagarkot with many properties providing decent views from the guestrooms. These views primarily consist of the Langtang mountain range with the tallest of its peaks reaching an altitude of 7,234 metres above sea level. Views are weather dependent, however, and the dramatic dark rock ridge can often be obscured by haze. On a clear day, however, visitors are rewarded with panoramas that extend as far as Everest, the most famous of all the Himalayan mountains. At other times Nagarkot appears to float above the clouds as slivers of fluffy clouds roll across the lower elevations.
It's possible to hike from Nagarkot to the beautiful medieval Newari town of Bhaktapur and well worth the time and sweat of the journey. The 3-4 hour route passes the ancient temple complex of Changu Narayan, which commands impressive valley views and has a history dating back to the 5th century AD. Adrenaline junkers may prefer to make their way to Bhaktapur by mountain bike. With its stunning scenery and plethora of options for travellers to connect with nature, Nagarkot is a must.