CAMPING SAFARI: Starting off at the magnificent Victoria Falls in Zimbabwe, travel through Botswana's legendary Chobe National Park, Livingstone in Zambia and explore the beaches of Lake Malawi, before sun, sea and more sand on the tropical island of Zanzibar!
Trip Highlights
Zimbabwe - begin your adventure in Victoria Falls, with free time to visit the thundering cascades
Zambia - take in the Zambian side of Victoria Falls at Livingstone and spot iconic African wildlife in South Luangwa National Park
Zanzibar - unwind on the pristine sandy beaches, explore historic Stone Town and opt for a sunset dhow cruise or visit to a spice plantation
Botswana - camp out in the wilderness of the national park, listening out to the sounds of the nocturnal animals
Malawi - spend three days exploring the shore of Lake Malawi, stopping at various bays, beaches and communities
Tanzania - drive through Mikumi National Park and end your adventure by the sea in Dar es Salaam
Included
Arrival transfer from Victoria Falls Airport on day 1
A fully equipped overland truck for transportation and game drives
All camping fees and appropriate equipment
Park entry and game drive in Chobe National Park and South Luangwa National Park
All road taxes and tolls
1st night dorm/camping in Victoria Falls and 11 nights camping. Tents and sleeping mats provided
Services of 3 person crew (leader, driver, cook)
14 breakfasts, 9 lunches, 10 dinners
3 night Zanzibar Excursion including ferry transfer, accommodation, Spice Tour and Dhow Sunset Cruise
Not Included
International flights and visas
Tipping - an entirely personal gesture
Local Payment: $980pp paid in USD
Sleeping bag - please bring your own
Optional activities
Saturday. Welcome to Zimbabwe. Upon arrival at Victoria Falls Airport you will be met and transferred to Shearwater Explorer Village. There will be a meeting at 17.00hrs today. Day 2 is a free day to explore the town, visit the mighty Victoria Falls or participate in a myriad of optional excursions. At 1700m wide and around 100m high, Victoria Falls is one of the most memorable sights on this African safari.
Overnight: Victoria Falls
Victoria Falls - Chobe NP (Botswana). Today we cross the border into Botswana and the town of Kasane on the banks of the Chobe River. After lunch we head into Chobe National Park, where we spend the afternoon in search of wildlife en route to our camp, where we spend the night.
Overnight: Chobe National Park | Breakfast, Lunch, Dinner
Chobe NP - Livingstone. After our night in the bush, we head out early to continue our search for wildlife, before packing up the camp and heading back to Kasane. From here we continue our journey to Livingstone in Zambia, where we'll have the opportunity to view Victoria Falls from Mosi-oa-Tunya National Park or enjoy a sunset boat cruise on the Zambezi River.
Overnight: Livingstone | Breakfast, Dinner
South Luangwa National Park
Livingstone - Lusaka - South Luangwa. An early morning start sees us head north through southern Zambia. As we drive, we pass through a few of the villages and towns of Zambia along the way. Prosperous during the copper boom in the 60's, Zambia was able to build infrastructure at the main mining and farming communities. After the fall of the copper industry, the country was left virtually bankrupt and existing infrastructure was left to fall to ruin. Due to foreign investment and a rise in the mining industry, Zambia is today once again starting to prosper. The difference is evident in the cities with the availability of foreign stores, banks and imported cars, while the villages and smaller towns are still to catch up. Our campsite is home to some local wildlife including the largest antelope – Eland

This breath taking park is situated on the Luangwa River in the Eastern part of Zambia, and it is the southernmost of three national parks in this region. South Luangwa was founded in 1938 as a game reserve, 1972 was the year it was declared as a national park, and today it covers over 9000 kilometres squared. Animals such as Giraffe, buffalo and Elephants can be found in abundance. The Luangwa river is home to many a hippo and croc.
Overnight: Lusaka Area (1) South Luangwa (2) | Breakfast x 3, Lunch x 3, Dinner x 3
Lake Malawi
South Luangwa - Lake Malawi. Leaving Zambia we cross into Malawi, the 'Warm Heart of Africa'. We stop off in the capital, Lilongwe, a small city distinctively divided into the old town and the new administrative centre. Malawi is a landlocked country with 20% of its total area made up of beautiful Lake Malawi. We camp first at the central Lake, and then in the northern area over the next 3 days.

Spend the days learning the game of bao from the locals, scour the markets for a bargain or simply relax on the pristine beaches. Malawi's temperate climate allows for swimming in the clear blue fresh-water lake all year round. Explore the beautiful shore where you'll happen upon the local fishermen sorting their catch. Traditional fishing techniques are still practiced and to appreciate their boating skills, try to paddle a dugout canoe yourself! At night you'll see the 'fairy' lights of the fishermen out on the lake. The various beachside campsites along Lake Malawi's shores offer many optional excursions including a variety of water sports, horseback rides and a visit to the local village and school.
Overnight: Lake Malawi (3) | Breakfast x 3, Lunch x 3, Dinner x 3
Iringa
Lake Malawi - Iringa (Tanzania). After a relaxing 3 days, we leave Malawi, entering Tanzania through the border post at Songwe. Winding our way through the beauty of the Tukuyu tea and banana plantations, we head towards Iringa where we spend the night in the beautiful rustic 'Farmhouse' campsite famous for its Amarula Hot Chocolates and its steamy showers!
Overnight: Iringa | Breakfast, Lunch, Dinner
Iringa - Dar es Salaam. This morning we make our way to Dar es Salaam. We pass through the Mikumi National Park where it is possible to view a range of wildlife from the roadside, totally impervious to the passing traffic. On arrival in Dar es Salaam, we make our way to our lovely seaside campsite and prepare for our departure to Zanzibar the next morning.
Overnight: Dar es Salaam | Breakfast, Lunch, Dinner
Dar es Salaam - Zanzibar. A ferry from Dar es Salaam takes us to the "Spice Island," where we spend the next 3 nights. Zanzibar is steeped in history and offers a wealth of experiences for the visitor. You can explore historic Stone Town or opt to visit the islands famous spice plantations. Other options include a trip to the beautiful beaches and giant tortoises of Prison Island, a full day scuba dive in Nungwe or a fishing trip in a traditional dhow.
Overnight: Zanzibar | Breakfast x 3
Sunday. Zanzibar - Dar es Salaam. Leaving Zanzibar in the afternoon, return to the mainland where our adventure ends.
Breakfast
Prices & Dates
Departure dates are guaranteed with a minimum of 4 persons. Prices are per person when there are 2 people sharing a tent. Solo travellers will be matched up and share a tent with another solo traveller of the same gender.
Read More
Local payment - $980pp paid in USD 
Please note that this is payable locally on day 1 of your trip in the currency specified.
2023
Twin Share
Single Room
The hotels listed below are ones which we frequently use on this tour. We reserve the right to substitute these hotels to ones of a similar standard.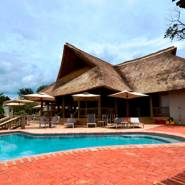 Shearwater Explorers Village, Victoria Falls
Situated in the bohemian town of Victoria Falls, and 400m from the Falls themselves, the affordable accommodation at the Shearwater Explorers Village consists of 5 campsites with modern bathroom facilities, and 16 chalets with en-suite showers and A/C. Shearwater operates a range of activities at the Falls, from bungee jumping to river rafting - and when the day is over, guests can wind down with Wi-Fi in the lounge areas, a drink by the pool, or even a back rub in the massage tent.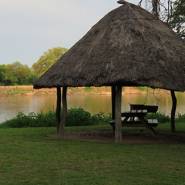 Croc Valley Camp, South Luangwa National Park
Croc Valley Camp is located on the banks of the Luangwa River, and provides accommodation ranging from riverfront tents to ensuite chalets, built on stilts to avoid the off-season floods. Watch elephants roam across the campsite, experience a game drive through South Luangwa National Park, or relax with a gin & tonic at the bar. The camp also features a large outdoor pool, kitchen facilities, and daily laundry service.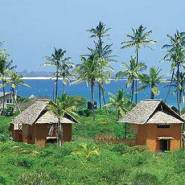 Kipepeo Beach Village , Dar es Salaam
The Tanzanian bush meets the blue waters of the Indian Ocean at Kipepeo Beach & Village, situated on the south coast of Dar Es Salaam. The campsite is right on the beach itself and is a popular destination for watersports adventures or simple relaxation. Facilities include a beach bar and restaurant.Upgrades are available to the twenty elevated ensuite chalets, built in the bush and decorated in traditional Swahili style, provide a stunning ocean views.
Reviews
Travellers have rated this tour as 4.4 out of 5 based on 5 recent reviews
"
Our guide was superb, he was honest, considerate and full of excellent advice on travelling through the areas we were going. In the same way our cook, Peter was fantastic - every meal was exceptionally good and the team was completed by a fantastic driver Peterson, who made sure that we were always comfortable on the bus, despite the pot holes. We visited some fantastic places and the included game drives and activities were excellent - the local guides used were always top quality.
The long days driving through Tanzania were challenging, although we were expecting this but leaving one place in the dark and arriving in the dark at the next, travelling all day on two consecutive days was tedious. "
Lisa Cashmore
• Submitted 30 Jul 2019
Tour





Guide





Country





"
Our tour was very well organised and Hesbon the tour leader along with Milinga the cook and Stevie the driver were outstanding. Their attention to detail and organisation made our trip seamless and a real adventure. Hesbon was great at giving us all the details of our daily initnery and the highlights along the route. He was also very good at accommodating all of our individual needs and issues.We went on the trip with our 2 teenage children who were warmly welcomed and included by all of the group.The truck and equipment was of a good standard and the daily menu was outstanding.The only critiscism I would have is that there were 4 days of travel that was over 12 hours on the road and this was quite tough. It may be worth considering making the trio 2 days longer and breaking up the long drives in Zambia and Tanzania as there was little opportunity to stop an experience these locations"
Anthony Pinder
• Submitted 07 Jan 2018
Tour





Guide





Country





"
Tour was fun, first time for us doing this sort of a trip. Highlights for me were the game drives in Chobe and South Luangwa. Really enjoyed the optional extra's of horse riding and snorkelling. Some of the days on the truck were as advertised but felt much longer than we anticipated. Our guide, cook and driver were faultless, a fantastic team of truly lovely people. They took great care of us, told us interesting and entertaining info about the places we were visiting. I do not think I have ever eaten so well and have tried to recreate some of the meals since coming home.
Thank you. "
Kathryn Scotter
• Submitted 16 Oct 2017
Tour





Guide





Country





"
The tour was very good indeed and the team worked well. There were some very long drives and I wonder whether these could be broken down. It is difficult as the tour length was perfect for someone like me who works and so the 14-16 day trip works well.
The camps were all good and there was not one that I felt was poor or not very nice.
The guide was good if a little laid back. "
Luke Telford
• Submitted 19 May 2016
Tour





Guide





Country





"
Awesome trip; and I'm glad I did it. In addition to tour lead, both the Driver (James Loronyokwe) and cook (John Mwai Murigu) both did a sterling job: journey was smooth everyday, despite the long hours, and food was delicious everyday!
Only minor flaw was the long days on the road, and some destinations on route were more of a stopover, rather than somewhere to see local life - but I guess we'll always have these when travelling over long distances."
Visva Thevar
• Submitted 11 May 2016
Tour





Guide





Country





At a Glance
Range
Trip Type
Starts
Victoria Falls
Ends
Dar es Salaam
Departs
Saturdays
Group Size
Min 4 / Max 30
Hotel Rating
Camping
Local Payment
$980pp paid in USD
Tour Guide
Yes - escorted by a tour leader
Meals
Breakfast: 14, Lunch: 9, Dinner: 10
Countries
Minimum Age
15 yrs, accompanied by an adult
Arr. Transfer
Yes
Dep. Transfer
No
Updated
27th March 2023
"
Our guide was superb, he was honest, considerate and full of excellent advice on travelling through the areas we were going. In the same way our cook, Peter was fantastic - every meal was exceptionally good and the team was completed by a fantastic driver Peterson, who made sure that we were always comfortable on the bus, despite the pot holes. We visited some fantastic places and the included game drives and activities were excellent - the local guides used were always top quality.
The long days driving through Tanzania were challenging, although we were expecting this but leaving one place in the dark and arriving in the dark at the next, travelling all day on two consecutive days was tedious. "
Lisa Cashmore
OTG000980
Zimbabwe to Zanzibar - 16 days
Africa
Overlanding
Africa
false
0
Zimbabwe
https://www.onthegotours.com/ie/Zimbabwe/Zimbabwe-to-Zanzibar-16-days
https://www.onthegotours.com/repository/Zimbabwe-to-Zanzibar-main-image--lion-cubs-773681580827875_crop_flip_300_300_f2f2f2_center-center.jpg
Overland_Camping_Safaris