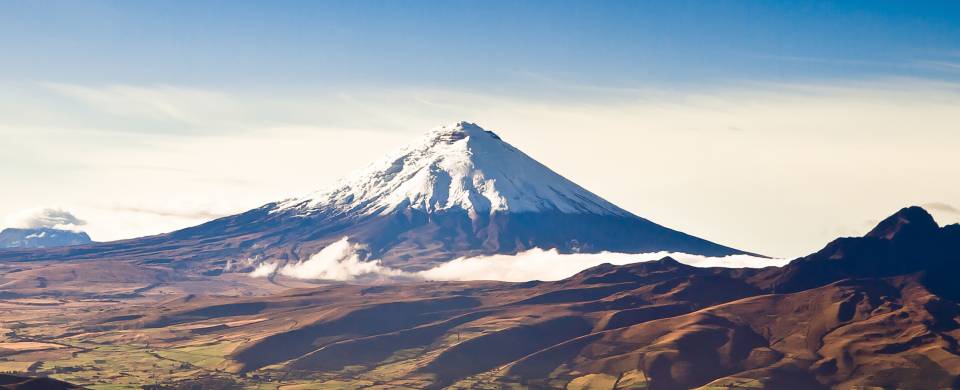 Trips and Tours to Cotopaxi National Park
About Cotopaxi National Park
As one of Ecuador's most popular adventure destinations, the Cotopaxi National Park attracts hikers and climbers from all over the world. The park is home to the perfectly symmetrical Volcán Cotopaxi, the second highest summit in the country and one of the world's highest active volcanoes. The conical shape of the volcano, with slopes covered in snow and glaciers, is the classic image of a volcano and every year hundreds of mountaineers scale its summit. It's picture-perfect in every sense of the word and on a clear day Cotopaxi's image dominates the skyline, sometimes even visible from Quito.
Read More
The park offers excellent hiking opportunities with an abundance of local wildlife ranging from the Andean condor of the skies to the Andean fox and pumas on terra firma. The land is a picturesque combination of rolling moorland and alpine tundra (known in Spanish as páramo) interspersed with pristine lakes and roaming wild horses and llamas. Lago Limpiopungo is one of the more outstanding lakes of the park with the peak of Rumiñahui reflected beautifully in its waters. Santo Domingo Lake is also worth visiting for the ancient Incan stone wall ruins that surround it.
Not far from the main entrance to Cotopaxi National Park is the Museo Mariscal Sucre where visitors can learn about the geology, archaeology and ecology of the area. It's a great introduction to the park and well-worth visiting before you head out to explore the superb scenery. There are a number of refuges and camping spots within the national park for those considering climbing the volcano though for those simply visiting, outside of the park is a wider choice of good hotels and haciendas.