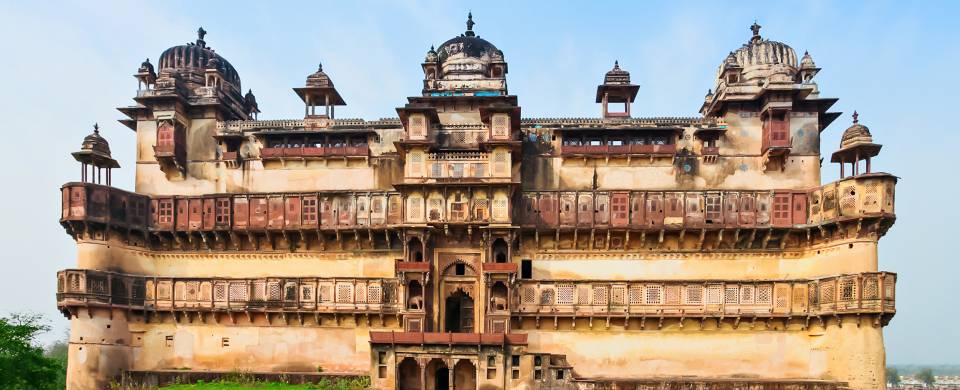 Trips and Tours to Orchha
About Orchha
Filled with ancient buildings, casting long and imposing shadows across the land, Orchha is a historical village that has maintained a strong cultural identity and is representative of what the Mughal Empire once was. The town was founded in 1531 by Rudra Pratap Singh and it sits on the banks of the Betwa River, which splits in to 7 channels in this precise location. With its faded grandeur and sleepy atmosphere, Orchha is a beautiful destination for anyone who wants a change of scenery, some time to relax and to travel back in time to when legend and mystery pervaded every corner of life.
Read More
One of the most prominent structures in Orchha is the eponymous Orchha Fort. It houses numerous temples and palaces including the impressive Raj Mahal and Rai Parveen Mahal. While some of the buildings within show notable signs of wear and tear, the exquisiteness of them is just as overpowering as it must have been when they were first constructed. The Jhansi Fort is slightly smaller yet equally worth visiting, if only for the fascinating museum located in its interior.
One of Orchha's most popular destinations if the Orchha Wildlife Sanctuary. Established in 1994, it stretches over a mere 46 sq km and yet it is home to a wonderful selection of animals including tigers, leopards, monkeys, sloths and jackals. For those more interested in our airborne friends, this park is a haven for bird watchers as it boasts over 200 different species of permanent and migratory birds such as kingfishers, geese, woodpeckers and owls.