TREKKING HOLIDAY: Come to Morocco and take the road less travelled on our unique bi-annual Migration of the Berbers trek, where you will accompany a traditional nomadic family on their fascinating bi-annual migration with their livestock from the high to the low Atlas Mountains.
Trip Highlights
Tamada - Meet a local Berber family and their livestock, your trekking companions for the multi-day trek through Morocco
Marrakech - Start and end your trip in this iconic city, with plenty of free time to delve into Djemaa el Fna and the medina
Cascades D'Ouzoud - Marvel at this stunning three-tiered waterfall and follow the trails which wind around the cascade
Nomadic Migration - Trek for 4-5 hours per day, following historic Berber routes through the High Atlas Mountains and into Dades Valley
Ait Benhaddou - Take in this UNESCO-listed fortified kasbah, which has featured in many blockbuster movies
Dades Gorge - See this impressive gorge and spend the final night of your trek camping in the picturesque surroundings
Included
Breakfast daily, 8 lunches and 9 dinners
Whilst trekking – Services of a guide, cook and mules or camels to carry rucksacks
Services of a driver and an English speaking tour leader
All entrance fees included
7 nights Berber camping and 3 nights 2-3 star hotel in Marrakech
Guided by a Nomadic Berber family
Arrival transfer from Marrakech Airport on day 1
All transportation and transfers in private 4x4 or mini van/touring vehicle
Not Included
International flights and visa
Tipping Kitty: USD$65pp, paid in USD or local currency

Tip for your tour leader. We recommend you allow USD$2-3 per day, per traveller. Tipping your guide is an entirely personal gesture
Welcome to Morocco! Arrive Marrakech airport and transfer to our hotel. Be sure to arrive in time for the welcome meeting at 18:00.
Overnight: Marrakech | Dinner
Marrakech
Cascades D'Ouzoud
Marrakech – Tamada. This morning we travel by minivan/4x4 to see the magnificent Cascades D'Ouzoud. The three tiered waterfall, drops an impressive 110 metres into the river below, where there is a small foot bridge at its base and it's possible to follow one of the many trails along the river or paddle in the small pools. After lunch in Azilal we continue on to the nomad's camp in Tamada, to meet the Berber family with their sheep, goats and mules, that we will be travelling with for the next 7 days of their bi-annual migration from the High Atlas to the lower Dades Valley.
Overnight: Tamada Camp | Breakfast, Lunch, Dinner
The Nomadic Migration
Tamada – Central High Atlas – Dades Valley. On the morning of day 3 we begin our nomadic adventure! Leaving Tamada we trek for 4 to 5 hours a day, the pace and distance covered each day will be dependent on the movement of the herd of livestock and the route is not set in stone. The pastoral nomadic Berbers have been making this journey all their lives and have an excellent knowledge of the area and the best routes to take dependent upon the conditions.

The beauty of this experience is that we do not follow a rigid itinerary. Our journey starts in the majestic High Atlas, which is the highest mountain range in North Africa, with several peaks over 4000 metres and breathtaking scenery. We will trek through rugged terrain, crossing steep passes with spectacular panoramic views and passing Berber villages tucked away in picturesque valleys. Camping each night in rustic Berber tents, we'll have time to relax and enjoy our amazing surroundings, whilst a cook prepares tasty traditional Moroccan food for us. We will continue our gradual daily descent towards the Dades Valley, until we reach Ait Youl in the beautiful Dades Gorge on day 8, where we'll camp for the final night. This signals the end of our incredible trek and the Berber family will settle in the lower valleys for the winter, where they are not exposed to the freezing temperatures of the High Atlas.
Overnight: Berber Camps | Breakfast x 6, Lunch x 6, Dinner x 6
Dades Valley – Ouarzazate - Ait Benhaddou - Marrakech. Bidding farewell to the Berber family, we head back to Marrakech today stopping en route at Ouarzazate, which African traders once used as a resting point, on their journey up to Europe. Ouarzazate has been used as a setting for several films including, Alexander the Great, The Last Temptation of Christ and The Living Daylights.

Our second stop is at the remarkable Ait Benhaddou, a 'fortified city', situated along the former caravan route, between the Sahara and Marrakech. Ait Benhaddou is one of the best preserved ancient Kasbahs in the Atlas region. Granted UNESCO World Heritage listing, some Kasbahs date back to the 16th Century and the site had been the setting for many famous films including Lawrence of Arabia and Gladiator. Enjoy the comfort of a bed tonight as we return to the riad in Marrakech for some well earned rest and relaxation.
Overnight: Marrakech | Breakfast, Lunch, Dinner
Ait Benhaddou
Enjoy a free day exploring incredible Marrakech. Set within the rose-coloured walls of the medina is a reality that is not that far removed from an exotic film set – a tangle of winding streets that open onto verdant gardens and dark alleyways that lead to bustling souks. The focal point is the central square, the Djemaa el Fna, an extraordinary gathering and market place. Full of colour, spicy aromas and traders, it is best seen in the evening, when overflowing with food stalls, dancers, acrobats, fortune tellers, musicians and henna artists. Towering above the bustling square is the beautiful Koutoubia Mosque.
Overnight: Marrakech | Breakfast
The trip concludes after breakfast.
Breakfast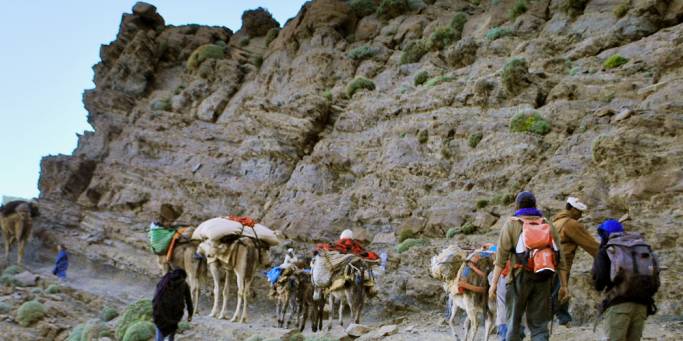 Trek Info
Area Covered : High Atlas, Dades Valley
Grade : Moderate
Walking Duration : 4 - 6 hours daily
Altitude : Max. 3200m
Trek Accommodation : Basic Berber camps
Average Group Size : 2 - 8

September itinerary above. Please note, days 3 - 8 of this itinerary run in reverse on our May departure, trekking from the Dades Valley to Tamada in the High Atlas.
Prices & Dates
Departures are guaranteed to operate with a minimum of 4 persons. 'Twin Share' prices are per person when there are 2 people sharing a room / tent. 'Single Room' prices are applicable to those who don't have anyone to share a room with or anyone wanting the privacy of a single room / tent.
Read More
The hotels listed below are ones which we frequently use on this tour. We reserve the right to substitute these hotels to ones of a similar standard.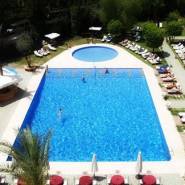 El Andalous Hotel & Spa, Marrakech
Just 10 minutes from the airport, the El Andalous Hotel and Spa offers a welcome respite from the hubub of the city. Evoking the golden age of Arab-Andalusian culture; exotic and romantically rich. Guest rooms are well furnished with excellent en suite facilites as well as private balconies. The hotel pool is great place to relax by and enjoy a tasty beverage or two. The medina is just a 20 minute walk from here or a cab can get you there in a few minutes!
Reviews
Travellers have rated this tour as 5 out of 5 based on 1 recent reviews
"
This tour was off thecharts fantastic, the best tour I've ever been on. Aissa, our kind, informative, professional and fun guide certainly made this tour memorable. My daughter and I hiked up the High Atlas Mountains with Aissa, our cook Omar and a local nomadic Berber family, with their goats, donkeys and mules, for 7 days. Each day was an adventure of a hugely interesting and highly appealing, experiencing different a culture, stunning views and delectable food. We didn't want the experience to end."
Linda Soekoe
• Submitted 06 Jun 2018
Tour





Guide





Country





"
This wasn't a touristy experience, it was very authentic! Once again on the go have provided an excellent experience - this trip was truly amazing - the pace was great and the guide (Ibrahim) was awesome!! Cheers"
Amanda Hossack
• Submitted 01 Oct 2010
"
How lucky we were to experience such a trip with such a wonderful crew. Ibrahim was the best guide I could of had. Always helpful and knowledgable and also fun. Our cook Lahson was also very good, always preparing exciting and healthy food, presented in a beautiful way. Everyone had pride in their work, pride in their culture and pride in their country. All the staff are a credit to your company. I would love to come again!"
Karen Anderson
• Submitted 01 Oct 2010
"
I was on the first Migration of the Berbers tour that ran and found it fascinating - a very different experience and certainly one which opens your eyes to a totally different way of life. Be prepared for tough morning treks but long afternoons of 'chill time' (take a good book - I'd left mine in Marrakesh!), but maximise your experience by interacting with the nomadic people as much as you can and learning about their life."
Andrea
• Submitted 14 May 2009
At a Glance
Range
Starts
Marrakech
Ends
Marrakech
Departs
18 Sep 2022
Group Size
Min 4 / Max 16
Hotel Rating
3 star and camping
Tour Guide
Yes - escorted by a tour guide
Meals
Breakfast: 10, Lunch: 8, Dinner: 9
Countries
Minimum Age
15 yrs, accompanied by an adult
Arr. Transfer
Yes
Dep. Transfer
No
"
This tour was off thecharts fantastic, the best tour I've ever been on. Aissa, our kind, informative, professional and fun guide certainly made this tour memorable. My daughter and I hiked up the High Atlas Mountains with Aissa, our cook Omar and a local nomadic Berber family, with their goats, donkeys and mules, for 7 days. Each day was an adventure of a hugely interesting and highly appealing, experiencing different a culture, stunning views and delectable food. We didn't want the experience to end."
Linda Soekoe
OTG000480
Migration of the Berbers - 11 days
Middle East & North Africa
Active
Middle East & North Africa
false
Morocco
https://www.onthegotours.com/in/Morocco/Migration-of-the-Berbers-11-days
https://www.onthegotours.com/repository/MigrationOfTheBerbersItineraryMainTrekkingAdventuresMorocco-48471241805425_crop_flip_300_300_f2f2f2_center-center.jpg