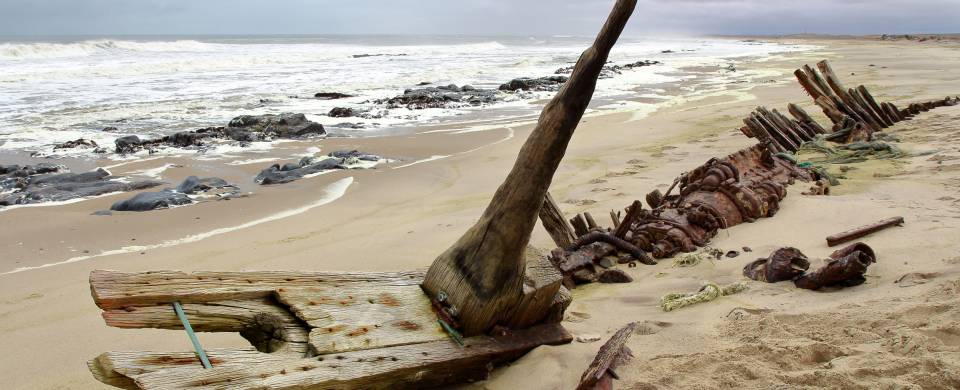 Trips and Tours to Skeleton Coast
About Skeleton Coast
While its name seems forbidding and unappealing, Namibia's Skeleton Coast is one the most pristine sections of raw, untouched nature in the entire country. Whale and seal bones litter the beaches, remnants from what was once a flourishing whaling region. Shipwrecks also pepper this landscape and lie in decay between the jagged rocks along the coastline. With so much natural history on display and such a fascinating back story, the Skeleton Coast is an excellent addition to any Namibian itinerary. It also acts as a good route for seeing a number of stunning national parks and interesting towns.
Read More
Although the Skeleton Coast used to take up the entirety of the Namibian coast, nowadays it has been condensed into the Skeleton National Park, which spans roughly a third of the shoreline and is the home to a vast array of different animals including elephants, big cats, black rhinos and more. Despite the harsh conditions here, this selection of wildlife has been able to adapt in order to survive. The Namib-Naukluft National Park is also along this route and is worth visiting for its impressive game.
In addition to the national parks that appear along the Skeleton Coast, there are several important towns that feature. Animal enthusiasts should certainly consider a stop at the Cape Cross Seal Colony, a breeding ground for the Cape fur seal. For something a bit more lively, Swakopmund is one of the country's premier beach resort locations and is ideal for soaking up sunshine and indulging in a spot of relaxation. Smaller and more quaint, Luderitz also makes an appearance along the coast and is brimming with colonial history.