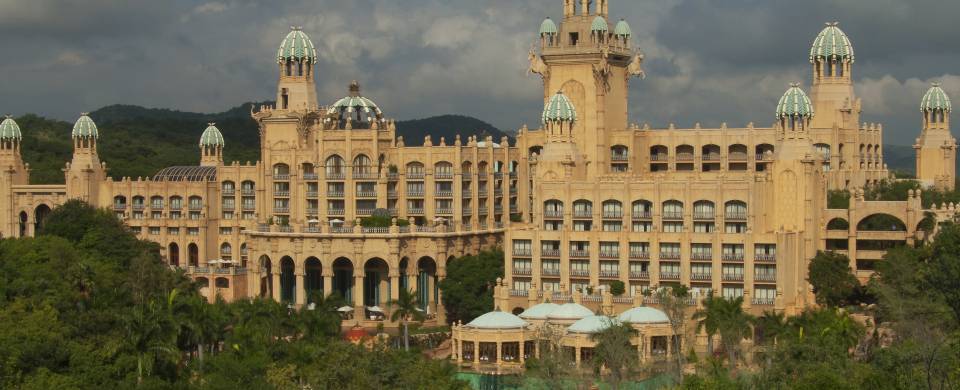 Trips and Tours to Sun City
About Sun City
Sun City offers a myriad of different entertainment and relaxation opportunities as well as plenty of attractions and activities to keep the whole family entertained. It combines golf, game-viewing and gambling, making sure everyone's tastes are catered to. Sun City is also a malaria free region, meaning you can enjoy your vacation without the hassle of having to take preventative medication every day (and deal with the side effects). It has two international-standard 18-hole golf courses, the Gary Player Country Club and the Lost City Golf Course, both designed by Gary Player.
Read More
It is situated within close proximity to some prime wildlife hotspots - the Pilanesburg Game Reserve and Madikwe Game Reserve. Situated adjacent to Sun City, the Pilanesberg Game Reserve is home to the Big 5 of elephant, leopard, lion, buffalo and rhino, as well as a multitude of other species ranging from hippo to giraffe to hyena. The large reserve has a variety of wildlife-filled habitats that should be explored by anyone visiting the region.
Just an hour and a half from Sun City is the Madikwe Private Game Reserve. Regarded as one of the finest conservation areas in Africa, its vast plains of open grasslands and woodlands cover some 750 square kilometres and its rich diversity of vegetation ensures a wide range of game, with 66 large mammal species and over 300 species of birds. It has the Big 5 as well as cheetah and wild dog, hyena, sable, eland, gemsbok and giraffe. Once the safari excursions have been well and truly exhausted, there are plenty of pools and evening activities on offer at the resort where guests can relax.