Exploring Beijing's grand Tiananmen Square, Forbidden City and the scenic Great Wall at Badaling and Juyongguan Pass, Xi'an's warriors and mighty medieval fortress, the Giant Pandas of Chengdu before continuing to the roof of the world, Tibet - a spiritual land that has exerted its magnetic pull over travellers for centuries.
Trip Highlights
Beijing - Tiananmen Square, Forbidden City, Pearl markets, Jade Carving Factory, Hutong area of Beijing and Chinese Acrobatic Show
Xi'an - UNESCO - listed Terracotta Warriors, Clay warrior workshop, Big Wild Goose Pagoda, City Wall and bike ride, Muslim Quarter.
Yamdrok Lake and Kamba-la Pass - cradled by snow capped mountains
Leshan – marvel at the iconic stone Buddha standing over 71 meters tall
Badaling and Juyongguan - 2 UNESCO listed sections of Great Wall of China
Lhasa – Potala Palace, Norbulinka Palace, Jokhang Temple, Drepung Monastery, Sera Monastery, Barkhor Bazaar. Yamdrok Lake, Kamba-la pass
Chengdu – visit the famous Panda Conservation centre and get up and close with China's national symbol
Wenshu Monastery - built during the Qing Dynasty
Included
11 breakfasts, 4 lunches and 2 dinners (1 is a Peking Duck dinner in Beijing)
1 overnight train: Beijing - Xi'an (4-berth soft sleeper cabin):
1 Economy class flight: Chengdu - Lhasa
Rickshaw ride through the Hutong area of Beijing
4x4 drive to Yamdrok Lake
Tour Guide escorted for groups of 6 or more (days 1 - 6)
Beijing Capital Airport arrival transfer on day 1 and departure transfer day 12 from Lhasa Airport
Tibet Travel Permit (given to you in China)
10 nights 3 - 4 star hotels
Chinese Acrobatic Performance
High speed train: Xi'an - Chengdu
Xi'an - bike ride on medieval City Wall
Touring of Beijing, Badaling, Juyongguan, Chengdu, Xi'an and Lhasa
English speaking specialist guides at local sights and for sightseeing in Tibet
All relevant transfers and transportation in private vehicles
Not Included
International flights and visa
Entrance Fees: USD$170-190pp, paid in local currency
Tip for your tour guide is not included in the Tip Kitty. We suggest USD$3-5 per day, per traveller for a job well done, however the amount is up to you
Tipping Kitty: USD$80-90pp, paid in local currency

Saturday. Huan ying, welcome to China and the start of your holiday! Airport arrival transfer from Beijing Capital Airport to your hotel for check-in. The remainder of the day offers free time for you to independently explore this astonishing city.
Overnight: Beijing
Huan ying
Today we explore the heart of Beijing - Tiananmen Square where Chairman Mao's tomb and various monuments to the people are located. Dominating the city's heart is the Forbidden City, a centre of power for five centuries and seat of the emperors. Entering through the Gate of Heavenly Peace (replete with Chairman Mao's portrait), we enjoy a guided tour of the old city, within the imperial city. This evening, we enjoy an eye boggling Chinese acrobatic performance. Swinging ropes, juggling hoops, spinning plates and human pyramids are just a few tricks these show stoppers pull out followed by a Welcome Dinner of Peking Duck.
Overnight: Beijing | Breakfast, Dinner
After a free morning to further explore the city, we drive beyond Beijing to Badaling, to walk a section of the famous Great Wall. Built in the Ming Dynasty, a 6m wide pathway makes a formidable defence, following the highest contours of a steep range of hills. This evening we spend the night at our quaint hotel near Juyongguan Pass, which offers views of the Great Wall.
Overnight: Juyongguan Pass | Breakfast
Beijing - Xi'an. We rise early this morning and head (5 min bus drive) to the Great Wall at Juyongguan Pass when it opens to beat the crowds. We have time to enjoy and explore the wall before visiting a Jade Carving Centre to learn about this ornamental rock and its importance in Chinese culture. After lunch we head back to Beijing. Free time is offered in the cavernous Pearl Market - an Aladdin's Cave of clothing, jewellery and electronic gadgets, before travelling by express soft sleeper train to Xi'an in Shaanxi Province.
Overnight: Sleeper Train | Breakfast, Lunch
Arrive Xi'an. This morning we visit the Terracotta Warrior archaeological site. Standing in battle-ready formation and numbering into the thousands, the Terracotta Army is Xian's most popular sight and was designated a UNESCO World Heritage Site in 1987, 13 years after the army was discovered. Built by local craftsman during the 3rd century BC for emperor Qinshihuang, the life-sized warriors and horses were designed to offer protection in the afterlife. After we visit to a clay workshop specialising in making replica figurines of the Terracotta Warriors, followed by the Muslim Quarter. Tonight, we welcome you to join the optional Tang Dynasty Show, which includes dinner, a traditional performance and transfers (bookable locally).
Overnight: Xi'an | Breakfast, Lunch
Terracotta Warriors
Xi'an – Chengdu. This morning we enjoy a bike ride atop the Xi'an City Wall (electric car option available). Dating back to 1370 the 12m-high walls are some of the few remaining urban fortifications still standing in China today and after extensive restorations the City Walls offer ample opportunities from which to explore Xian. We then visit one of Xian's most iconic landmarks, the Big Wild Goose Pagoda. Late this afternoon we take a high speed train to Chengdu. Reaching speeds of up to 300km per hour the journey is an experience in itself!
Overnight: Chengdu | Breakfast, Lunch
Today's highlight is the famous Chengdu Research Base of Giant Panda Breeding. Opened in 1993 it is fast becoming one of China's must see places. The centre has been created to help and imitate the pandas' natural habitat in order that they might have the best possible environment for rearing and breeding. Later we visit the Wenshu Monastery, built during the Qing Dynasty. The temple is a hidden gem with few tourists visiting and a stop must be made at the delightful teahouse located inside the temple grounds which serves a fine cup of green tea and some of the best vegetarian food in the city. The evening is spent at leisure. On most nights Sichuan Opera is performed at the Shufengyayun Theatre and tickets can be booked locally or in advance.
Overnight: Chengdu | Breakfast
Driving to Leshan our morning is spent exploring the UNESCO World Heritage Listed Dafo (Great Buddha), which is carved into the red sandstone face of Lingyun Hill overlooking the treacherous confluence of the Min, Qingyi and Dadu rivers below it. Dafo has huge 8m feet, his ears droop 7m, his shoulders span 28m and his nose measures a whopping 5.6m! Evening at leisure.
Overnight: Chengdu | Breakfast, Lunch
Chengdu - Lhasa. Spend the morning at leisure before our noon flight to Lhasa (please note this is an unescorted flight. Upon arrival to Tibet you will drive (aprox 1.5 hours) to the fabled city of Lhasa. Once we reach our destination we kick off our sightseeing with a visit to Lhasa's most enduring image, the Potala Palace - the winter home of the Dalai Lamas and a masterpiece in design. The Dalai Lama's Summer palace, Norbulingka, is our next place of pilgrimage. However, it is the Jokhang Temple which will be the most enlightening stop of the day. The holiest shrine in Tibet, it houses a solid gold shrine of the enlightened Buddha.

Note: Travellers will fly without tour guide accompaniment to Tibet. Upon arrival to Tibet you will meet with our local guide who will conduct sightseeing arrangements throughout your stay.
Overnight: Lhasa | Breakfast
Our exploration of Lhasa continues today as we take the short journey to the 15th century Drepung Monastery. Formerly one of the central monasteries of Tibet it was torn asunder during the Cultural Revolution and continues to rebuild is walls and status today. Just north of Lhasa is the Sera Monastery, still a working retreat 600 years after its foundation as a main teaching monastery and one of the three great Gelukpa 'Universities' once housing more than 5500 monks. You will see young novices learning scriptures in the Debating Garden and being rewarded for a correct answer with a resounding hand-clap from their master. Returning to Lhasa we will experience the Barkhor markets which surround the Jokhang temple and sell all things Tibetan.
Overnight: Lhasa | Breakfast, Dinner
An early morning start as we drive out toward the Himalayas. From Lhasa, itself at 3500m, we travel over the Kamba-La pass and reach 4794m above sea level. As we journey along the winding road, weaving our way through the rocky mountains and valleys, in the far distance on a very clear day it maybe possible to catch a glimpse of the High Himalayan Peaks of Everest and Lhotse.

From the top of the pass we can look down on the deep azure waters of Yamdrok Lake, cradled by snow capped mountains before dropping down to the shores itself. One of Tibet's 3 holy lakes, nomadic tents, pilgrims prostrating and children hunting with sling shots on the stony beaches make this something you are likely to have never experienced before. Rising back into these vivid and rugged mountains we head back to Lhasa, looking for hoards of Yak along the way.
Overnight: Lhasa | Breakfast
Wednesday. Hotel check out and included onward transfer to airport.
Breakfast
Prices & Dates
Departure dates marked with a 'G' are operating. All dates are guaranteed to operate when there are 2 persons booked on the tour. 'Twin Share' prices are per person when there are 2 people sharing a room. 'Single Room' prices are applicable to solo travellers or anyone wanting the privacy of a single room.
Extra Prices
Twin Share
Single Room
Pre-Tour Accommodation - Beijing
USD $75
USD $135
Post-Tour Accommodation - Lhasa
USD $55
USD $105
The hotels listed below are ones which we frequently use on this tour. We reserve the right to substitute these hotels to ones of a similar standard.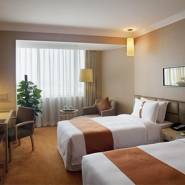 Holiday Inn Temple of Heaven, Beijing
The Beijing Holiday Inn Temple of Heaven is an elegant and comfortable hotel with well-furnished and spacious rooms. Practical in design, the guestrooms feature internet access and the hotel also boasts a range of restaurants and bars, as well as an indoor swimming pool. Located just a 10 minute walk from the Temple of Heaven, the hotel is the perfect base from which to explore this fascinating city.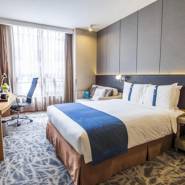 Holiday Inn Express Beijing Minzuyuan, Beijing
Located just a stones throw from the Beitucheng Subway station, with access to Line 10 & Line 8, the Holiday Inn Express Beijing Minzuyuan is a perfect base to explore the many amazing highlights of Beijing. Within walking distance of the hotel you'll find the famous Birds Nest Olympic Stadium. The hotel boasts a stylish restaurant offering breakfast, lunch and dinner.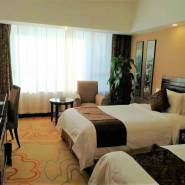 Grand Dynasty Culture Hotel, Xi'an
Located a stone's throw away from the Ancient City Wall and Islamic Mosque, is the Grand Dynasty Culture Hotel. The hotel offers modern comforts in the heart of the city. Each air-conditioned guestroom features WiFi, a minibar and satellite TV. There is an onsite restaurant which serves a daily buffet or a la carte breakfast as well as a variety of Asian and Western dishes. During free time, guests can enjoy a relaxing massage or work out in the fitness centre.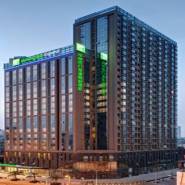 Holiday Inn Express West Gate, Chengdu
The newly opened Holiday Inn Express West Gate is a bright and modern hotel in downtown Chengdu. Guest rooms are clean and stylish with excellent amenities. Wi-Fi is available and complimentary wired internet is available in all rooms. Breakfast is served buffet style in the restaurant with a delicious array of Western and Chinese dishes. There is also an onsite bar available for refreshing beveradges. Located in the north of Chengdu and a 20 minute walk from Baiguolin Subway Station.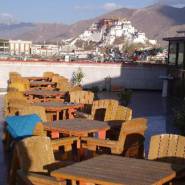 Yak Hotel, Lhasa
In the heart of the old part of Lhasa, the Yak Hotel offers clean comfortable accommodation decorated in a classic Tibetan style. Guest rooms are simply furnished with authentic Tibetan artwork and decent amenities - including local tea - great for warming up with after a day's activities. The hotel also boasts a roof top terrace where you can sit and relax and admire stunning view of the Potala Palace! Well located just a short walk from the Jokhang Temple and Ani Tsankhung.
Reviews
Travellers have rated this tour as 4.67 out of 5 based on 3 recent reviews
"
Jason made the whole tour safe, accessible, attentitive and pulled the whole group together with his cheerful and possitive attitude. He was always around to assist at all time no matter what time. He is a massive asset to your company and made the trip a huge success. Thank you Jason, you are a star!"
Jacqueline Sutherland
• Submitted 30 Sep 2019
Tour





Guide





Country





"
We booked the Take Me To Tibet tour (April/May2018 ) as well as adding on Datong before the longer tour started. Matthew collected us from the airport and took us to our hotel providing a constant stream of information as we travelled the motorway to our first hotel in Beijing.
We left the next evening for our overnight train journey to Datong arriving in Datong the next morning where we were met by Jack who escorted us to the hotel ,organised breakfast for us, checked us into the room and then picked us up an hour and an half later to commence our city tour of Datong. As we were the only two on this part of the tour we received his full attention and enjoyed his commentaries on the area and the Buddha rock sculptures. He was very informative about his Chinese heritage and we even managed to understand some mandarin because of his explanation of the writing system and the import of the symbols.
We returned to Beijing on a day train and were met, on the train platform by Feng, our next tour guide. In meeting the rest of our tour group the next morning, we were pleased to note that there was a range of interesting, lively folk. It was enjoyable to be with them over the length of our tour.
In China, we enjoyed the best service, great guides, wonderful organisation and many laughs.
China is fascinating and our tour highlighted so many amazing aspects and sights. Each day was another awesome sight - Forbidden Palace,Chinese acrobats. Great wall, Terracotta Warriors, Pandas and the cuisine throughout wonderful.
Flying into Lhasa was such a wonderful sight as we saw the Himalayas from above. As throughout our tour, the guide was waiting for us as we exited the airport ready to escort us into Lhasa. She took us for lunch in such an authentic local restaurant where the basic food was delicious and the locals were as intrigued by us as we were by them. Such a different way of life but yet communication is always easy when you exchange a smile.
This tour was fantastic and we were really pleased with everything .This was our second tour with On The Go Tours and we are already thinking of our next excursion. We highly recommend this tour and believe anyone will be very pleased with this adventure."
Mary Milne
• Submitted 25 May 2018
Tour





Guide





Country





"
There were two guides Feng for Beijing and Torgee for Tibet, both were very knowledgeable and friendly. My wife and I are in our mid seventies and consider ourselves pretty fit. The tour is an "On the go tour" and we found that to be the case, never a dull moment and quite physical with a lot of walking, which we were able to cope with, maybe better than some of the younger members of the group. When we arrived in Tibet, Lhasa we were not prepared for the altitude, we had been told but did not realise how debilitating it would be. A well run tour with lots of exciting things to see and do. Thank you"
Robert Armitage
• Submitted 13 Dec 2016
Tour





Guide





Country





"
We have had an incredible time in china. Our guide, Mandy was extremely organized and very nurturing and accommodating to our individual needs. Her knowledge of the various sites we visited, as well as her additional knowledge of the country in general is exceptional. "
Marc Peverett
• Submitted 24 Jul 2014
"
I had a lot of fun with a good group of people. Stephanie was excellent and we really appreciated her great manners. Thank you. "
Graeme Thorn
• Submitted 09 Jun 2014
"
Lisa was an excellent guide. Always there to help everyone when needed. Her knowledge was excellent. I was happy with overall experience. "
Travis Keen
• Submitted 09 Jun 2014
"
Stephanie is an excellent guide, careful, caring. She ran the tour at an excellent pace and gave very good explanations."
Elizabeth Dhar
• Submitted 25 Apr 2014
"
Everything was so well organised and our tour leader Feng was a complete treasure. I can't stop raving about the time we had in China, I think my friends are getting annoyed. I can't help singing your praises on the go, recommending to everyone. Tibet is a must see."
Karen Shaw
• Submitted 08 Jun 2011
"
Going into Tibet made me feel humbled – it's like the land that time forgot. Such a touching experience and beautiful as well. "
John Gunns
• Submitted 09 Nov 2009
"
Dear Ryan
I can't believe that it is nearly 6 weeks since we returned from our trip. I have been meaning to email you ever since to tell
you that we had the most wonderful trip - Tibet in particular was a never to be forgotten experience and we are both
determined to go back.
I guess you know that there were 8 of us to start but we lost 5 within the first two days - taken off by the Chinese authorities and put in quarantine because someone on their flights had tested positive for swine flu. We were very lucky to escape.
Your tour guides were as usual fabulous. In particular Pembe in Tibet was unbelievable - what a wonderful man we learnt so much from him. Tibet really made us feel very humble - difficult to put into words how special we found it.
Anyway suffice to say that next year we intend motorbiking in the USA but future trips lined up include a return to Tibet; Vietnam and Cambodia; Peru; Chile and Mongolia so you shall be seeing us again. We cannot speak highly enough of On the Go!!
Many thanks for all your help and good advice.
Kind regards
Jenny and Pete "
Jenny and Pete
• Submitted 25 Jul 2009
At a Glance
Range
Trip Type
Starts
Beijing
Ends
Lhasa
Departs
Saturdays
Group Size
Min 4 / Max 24
Hotel Rating
3 - 4 star
Tour Guide
Yes - escorted by a tour guide
Meals
Breakfast: 11, Lunch: 4, Dinner: 2
Countries
Minimum Age
15 yrs, accompanied by an adult
Arr. Transfer
Yes
Dep. Transfer
Yes
Updated
20th December 2019
"
Jason made the whole tour safe, accessible, attentitive and pulled the whole group together with his cheerful and possitive attitude. He was always around to assist at all time no matter what time. He is a massive asset to your company and made the trip a huge success. Thank you Jason, you are a star!"
Jacqueline Sutherland
OTG000371
Highlights of China & Tibet - 12 days
Far East
Signature
Far East
false
0
Tibet
https://www.onthegotours.com/in/Tibet/Highlights-of-China-and-Tibet-12-days
https://www.onthegotours.com/repository/GatewayToTibetItineraryMainGroupToursChina-48281241803103_crop_flip_300_300_f2f2f2_center-center.jpg
Group_Tours