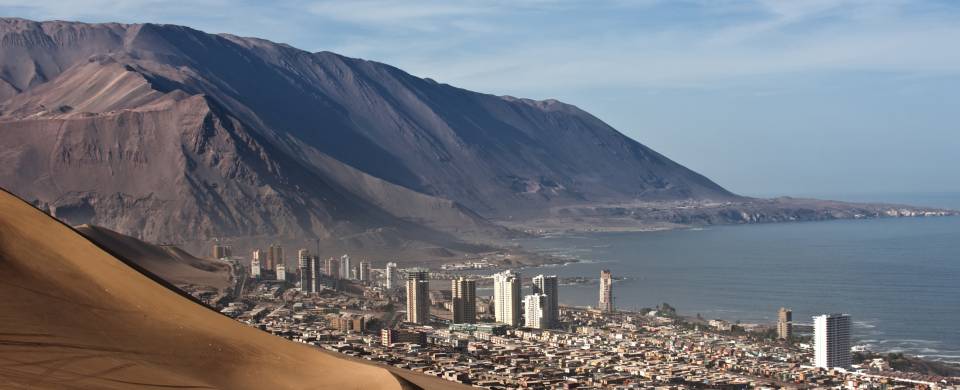 Trips and Tours to Iquique
About Iquique
Located between the ocean and the dramatic coastal cordillera, the sprawling and cosmopolitan city of Iquique is fast becoming Chile's premier beach resort. Divided into the downtown area and the oceanfront, Iquique is an attractive mix of glitzy shopping malls, excellent beaches and well-preserved 19th century architecture, a left-over relic from the mining boom.
Read More
The focus of Iquique's downtown area is the pleasant Plaza Prat with a number of notable buildings lining its sides. The magnificent facade of the Teatro Municipal hides a grand auditorium with lavish furnishings whilst the city's symbol, the tall white clock tower of Torre Reloj, sports beautiful Moorish arches. Leading south from the main plaza is the pedestrianised street of Baquedano, beautifully lined with 19th century timber houses and charming wooden sidewalks. Designated a national monument, these houses all display porches and balconies with fine wooden balustrades. A slow wooden tram rides from the plaza all the way to the seafront and makes for an excellent photo opportunity.
From Iquique's pier, known as Caleta Pesquera, it's possible to join a boat tour around the harbour to enjoy the dramatic views of the chocolate-coloured desert mountains that rise above the city in the distance. The large, strutting pelicans also make the pier an interesting place for a stroll. Within easy distance of the city centre are two beaches - the popular Playa Cavancha and windswept Playa Brava where daring surfers head.