Setting out from Beijing uncover some of China's most famous and ancient sites, from the legendary Great Wall, to Xi'an's Terracotta Warriors and Leshan's Giant Buddha, plus meet the country's cuddly mascot, walk the Dragon's Backbone and enjoy some free time in spectacular Yangshuo.
Trip Highlights
YANGSHUO - Free time to explore these spectacular surroundings at your own pace
CHENGDU - Giant Panda Research Base - one of the best places in the world to see the Giant Panda and pioneers of panda research and conservation in China, Jinji Old Street and Wuhou Memorial Temple
BEIJING - Tiananmen Square, Forbidden City, Silk Alley markets, Jade Carving Factory, Hutong area of Beijing, Chinese Acrobatic Show
XI'AN - UNESCO listed Terracotta Warriors, Clay warrior workshop, Big Wild Goose Pagoda, City Wall and bike ride and Muslim Quarter
LONGSHENG - The Dragon's Backbone rice terraces.
LESHAN - Leshan's Giant Buddha. Carved into the rockface, standing at 71m tall, its one of the world's largest Buddhas
BADALING and JUYONGGUAN - 2 UNESCO listed sections of Great Wall of China
SHANGHAI - free time to explore
Included
13 breakfasts, 4 lunches and 1 Peking Duck dinner
1 overnight train: Beijing - Xi'an (4-berth soft sleeper cabin):
High speed train journey: Xi'an - Chengdu
Chinese acrobatic performance
Xi'an - bike ride on medieval City Wall
Beijing Capital Airport arrival transfer on day 1 and departure transfer day 14 from Shanghai Airport
All relevant transfers and transportation in private A/C vehicles
12 nights 3 - 4 star hotels
2 economy class one way flights: Chengdu - Guilin and Guilin - Shanghai
Touring of Beijing, Badaling, Juyongguan, Xi'an, Chengdu, Longsheng and Yangshuo
Rickshaw ride through Beijings' Hutongs
Tour Guide escorted for groups of 6 or more
English speaking specialist guides at local sights
Not Included
International flights and visa
Entrance Fees: USD$110-120pp, paid in local currency
Tip for your tour guide is not included in the Tip Kitty. We suggest USD$3-5 per day, per traveller for a job well done, however the amount is up to you
Tipping Kitty: USD$100-110pp, paid in local currency

Saturday. Huan ying, welcome to China and the start of your holiday! Airport arrival transfer from Beijing Capital Airport to your hotel for check-in. The remainder of the day offers free time for you to independently explore this astonishing city.
Overnight: Beijing
Beijing
This morning, we tour the centre of Beijing, China's magnificent capital, including the massive Tiananmen Square and the sprawling Forbidden City. Boasting some 9999 rooms, the city within a city was once the sole preserve of the Chinese emperors. This afternoon we take a rickshaw ride through the Hutongs of Beijing and this evening, we enjoy an eye boggling Chinese acrobatic performance. Swinging ropes, juggling hoops, spinning plates and human pyramids are just a few tricks these show stoppers pull out followed by a Welcome Dinner of Peking Duck.
Overnight: Beijing | Breakfast, Dinner
After a free morning to further explore the city, we drive beyond Beijing to Badaling, to walk a section of the famous Great Wall. Built in the Ming Dynasty, a 6m wide pathway makes a formidable defence, following the highest contours of a steep range of hills. This evening we spend the night at our quaint hotel near Juyongguan Pass, which offers views of the Great Wall.
Overnight: Juyongguan Pass | Breakfast
The Great Wall
Morning at the Great Wall
Beijing - Xi'an. We rise early this morning and head (5 min bus drive) to the Great Wall at Juyongguan Pass when it opens to beat the crowds. Explore and enjoy the spectacular scenery in peace as this section sees far fewer tourists.After we visit a Jade Carving Centre and have lunch before returning to Beijing. Free time is offered in the cavernous Pearl Market, a one stop shop for souvenirs, handbag, silk and more. In the evening we board our train to Xi'an.
Overnight: Sleeper Train | Breakfast, Lunch
Arrive Xi'an. This morning we visit the Terracotta Warrior archaeological site. Standing in battle-ready formation and numbering into the thousands, the Terracotta Army is Xian's most popular sight and was designated a UNESCO World Heritage Site in 1987, 13 years after the army was discovered. Built by local craftsman during the 3rd century BC for emperor Qinshihuang, the life-sized warriors and horses were designed to offer protection in the afterlife. After we visit to a clay workshop specialising in making replica figurines of the Terracotta Warriors, followed by the Muslim Quarter. Tonight, we welcome you to join the optional Tang Dynasty Show, which includes dinner, a traditional performance and transfers (bookable locally).
Overnight: Xi'an | Breakfast, Lunch
Terracotta Warriors
Xi'an - Chengdu. After breakfast, we enjoy a bike ride atop the Xi'an City Wall (electric car option available). Dating back to 1370 the 12m-high walls are some of the few remaining urban fortifications still standing in China today and after extensive restorations the City Walls offer ample opportunities from which to explore Xian. We'll then visit the Big Wild Goose Pagoda, one of Xian's most iconic landmarks. Late this afternoon we take a high speed train to Chengdu. Reaching speeds of up to 300km per hour the journey is an experience in itself!
Overnight: Chengdu | Breakfast, Lunch
Today's highlight is the famous Chengdu Research Base of Giant Panda Breeding. The centre has been created to help and imitate the pandas' natural habitat in order that they might have the best possible environment for rearing and breeding. Later we visit the Wenshu Monastery, built during the Qing Dynasty. The temple is a hidden gem with few tourists visiting and a stop must be made at the delightful teahouse located inside the temple grounds which serves a fine cup of green tea and some of the best vegetarian food in the city. The evening is spent at leisure. On most nights Sichuan Opera is performed at the Shufengyayun Theatre and tickets can be booked locally or in advance.
Overnight: Chengdu | Breakfast
Driving to Leshan our morning is spent exploring the UNESCO World Heritage Listed Dafo (Great Buddha), which is carved into the red sandstone face of Lingyun Hill overlooking the treacherous confluence of the Min, Qingyi and Dadu rivers below it. Dafo has huge 8m feet, his ears droop 7m, his shoulders span 28m and his nose measures a whopping 5.6m! Evening at leisure.
Overnight: Chengdu | Breakfast, Lunch
Chengdu - Yangshuo. Early this morning we fly to Guilin where we'll drive out to Longsheng for a tour of the spectacular terraces of the Dragon's Backbone. Taking a walk along the stone paths no more than a metre wide, we'll pass many of the Yao and Red Yao minority women. Reaching the 'Seven Stars accompanying Moon' lookout, soak up the spectacular views.

Later, we head to Yangshou for the night. The remainder of our time here is at leisure. Choose to hike, hire a bicycle or motorbike and head off on one of the many mountain trails or stop to watch the local fishermen use their trained cormorants to catch fish. Time can also be spent exploring the ancient alley of West Street. Maybe enjoy a morning class at the 'Cloud 9' cooking school. By nightfall, visit any of the cafes, pubs or bars or attend the nightly 'Impression Liu Sanjie' musical, with a cast of 500 singers and dancers.
Overnight: Yangshuo | Breakfast x 3
Guilin & Yangshuo
Yangshou - Shanghai. In the afternoon on day 12, we drive to Guilin and fly onward to Shanghai. Upon arrival we transfer to our hotel. Shanghai is a city where old meets new with the former French concession and traditional Chinese buildings standing beside gleaming modern skyscrapers and neon lights. Spend the next day at leisure, independently exploring this cosmopolitan city. Head to the attractive Bund waterfront area and take in the spectacular Pudong skyline, stroll around the beautiful Yuyuan Garden and explore the picturesque Old Town.
Overnight: Shanghai | Breakfast x 2
Shanghai
Friday. Our time in China comes to an end today. Following breakfast and hotel check-out a transfer will take you to the airport for your onward travels.
Breakfast
Prices & Dates
Departure dates marked with a 'G' are operating. All dates are guaranteed to operate when there are 4 persons booked on the tour. 'Twin Share' prices are per person when there are 2 people sharing a room. 'Single Room' prices are applicable to solo travellers or anyone wanting the privacy of a single room.
The hotels listed below are ones which we frequently use on this tour. We reserve the right to substitute these hotels to ones of a similar standard.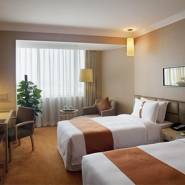 Holiday Inn Temple of Heaven, Beijing
The Beijing Holiday Inn Temple of Heaven is an elegant and comfortable hotel with well-furnished and spacious rooms. Practical in design, the guestrooms feature internet access and the hotel also boasts a range of restaurants and bars, as well as an indoor swimming pool. Located just a 10 minute walk from the Temple of Heaven, the hotel is the perfect base from which to explore this fascinating city.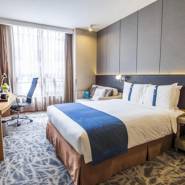 Holiday Inn Express Beijing Minzuyuan, Beijing
Located just a stones throw from the Beitucheng Subway station, with access to Line 10 & Line 8, the Holiday Inn Express Beijing Minzuyuan is a perfect base to explore the many amazing highlights of Beijing. Within walking distance of the hotel you'll find the famous Birds Nest Olympic Stadium. The hotel boasts a stylish restaurant offering breakfast, lunch and dinner.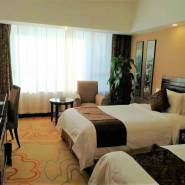 Grand Dynasty Culture Hotel, Xi'an
Located a stone's throw away from the Ancient City Wall and Islamic Mosque, is the Grand Dynasty Culture Hotel. The hotel offers modern comforts in the heart of the city. Each air-conditioned guestroom features WiFi, a minibar and satellite TV. There is an onsite restaurant which serves a daily buffet or a la carte breakfast as well as a variety of Asian and Western dishes. During free time, guests can enjoy a relaxing massage or work out in the fitness centre.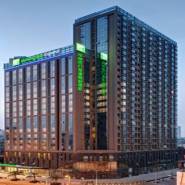 Holiday Inn Express West Gate, Chengdu
The newly opened Holiday Inn Express West Gate is a bright and modern hotel in downtown Chengdu. Guest rooms are clean and stylish with excellent amenities. Wi-Fi is available and complimentary wired internet is available in all rooms. Breakfast is served buffet style in the restaurant with a delicious array of Western and Chinese dishes. There is also an onsite bar available for refreshing beveradges. Located in the north of Chengdu and a 20 minute walk from Baiguolin Subway Station.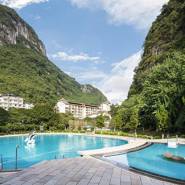 New West Street International Hotel, Yangshuo
Boasting a stunning setting surrounded by mountains, this modern-style hotel offers an array of facilities spread over a 60-acre area. Alongside the fantastic outdoor swimming pool, guests can enjoy tennis and badminton courts, a golf driving range, sauna and fitness centre. When it comes to dining, there is a choice between Chinese and Western cuisine, as well as a coffee shop. Guestrooms are spacious and well-equipped, with extra amenities including a small refrigerator and complimentary Wi-Fi, with some offering mountain views.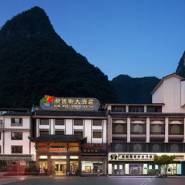 New West Street Hotel, Yangshuo
Offering a fantastic location in the very centre of Yangshuo, the New West Street Hotel is set just opposite Yansghuo Park. Its guestrooms are well-equipped with modern amenities including air conditioning, a flat-screen TV and an electric kettle, with some providing views over the surrounding mountains. Free WiFi is available throughout the hotel and for an additional fee, guests are able to enjoy the rejuvenating spa and massage treatments in the wellness centre.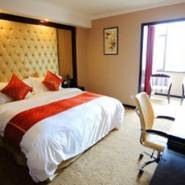 Ramada Encore Shanghai Hotel , Shanghai
Ideally located close to several plazas and shopping centres, this modern hotel offers you a comfortable stay in one of China's fastest growing cities. Guestrooms are equipped with all the essential amenities, with free WiFi and access to the breakfast buffet included. The onsite Dakang Restaurant also serves lunch and dinner, and you can expect a tasty menu featuring both Western and Chinese cuisine. Other amenities include a fitness centre, coffee shop and small convenience store.
Reviews
Travellers have rated this tour as 4.6 out of 5 based on 5 recent reviews
"
The tour exceeded our expectations. The tour guide was very professional and made sure we were well looked after everywhere we went. "
Jacqui Robinson
• Submitted 26 Sep 2018
Tour





Guide





Country





"
All aspects of the trip were great. One suggestion from us to fly into Guilin, go to rice paddy trip after landing and stay overnight in Guilin. Then take boat cruise to yanshoo next morning book into hotel then do the small walk up mountain to see lookout. Other things we enjoyed were the bike ride and the brilliant light show. Shopping down west street was good and lots of things to see and do along in that area not too far from where we stayed. Not many tourists here yet show not realty busy. There was also heaps more things we could have done as we passed many things on bike ride like caves to visits and abseiling etc. I also enjoyed rafting but could have gone to a better venue. "
Laura Nott
• Submitted 22 Apr 2018
Tour





Guide





Country





"
Stephanie was an excellent guide. Organised, experienced, patient and with a great sense of hunour. I learned a lot about China from her and really enjoyed the experience. I wouldn't hesitate in nominating her for a tour leader award.
I'd also like to commend Shannon, our guide in Chengdu. She was brilliant too. Very flexible, knowledgable and enthusiastic.
Both girls deserve special recognition (they knocked the socks off the boys!)"
Susan Finch
• Submitted 24 Sep 2016
Tour





Guide





Country





"
Feng was a very competent guide who had a lovely nature and spoke excellent English. She was very caring and went out of her way to ensure everyone was looked after and knew what was happening. Every part of the trip was well organised and went like clockwork. Our grouped gelled well together, sharing lots of laughs thanks to Feng. She provided us with wonderful commentary and interesting facts about China that made our trip worthwhile and interesting. I had a wonderful trip to China and enjoyed every minute of it. One of our group had an accident and she was calm and thorough in dealing with the situation. I can not speak more highly of her as a guide. "
Jan Cooke
• Submitted 21 Apr 2015
Tour





Guide





Country





"
We thought this was a great tour. We had a great time as there was so much to see and do. The main highlights for me were climbing the Great Wall, visiting the Terracotta Warriors and experiencing the delight of seeing the Giant Pandas - not just one or two, but lots of them. I also really enjoyed the cycling tour in Xi'an. I felt this tour provided a great deal of variety, it gave us an insight to life in China, and all the guides were informative, particularly Feng, as she was our main guide. She was very informative and handled the situation well when one of our party had an accident on the cycling tour. The tour was well organised, as always, as this is my third tour with your company. Thanks for a great experience and I would highly recommend this tour."
Julie Capil
• Submitted 21 Apr 2015
Tour





Guide





Country





At a Glance
Range
Starts
Beijing
Ends
Shanghai
Departs
Saturdays
Hotel Rating
3 - 4 star
Tour Guide
Yes - escorted by a tour guide
Meals
Breakfast: 13, Lunch: 4, Dinner: 1
Countries
Minimum Age
15 yrs, accompanied by an adult
Arr. Transfer
Yes
Dep. Transfer
Yes
Updated
13th October 2021
"
The tour exceeded our expectations. The tour guide was very professional and made sure we were well looked after everywhere we went. "
Jacqui Robinson
OTG001457
Best of China - 14 Days
Far East
Signature
Far East
false
China
https://www.onthegotours.com/nz/China/Best-of-China-14-Days
https://www.onthegotours.com/repository/PandasChina-ToursOn-The-Go-Tours-265911436539218_crop_flip_300_300_f2f2f2_center-center.jpg