Discover the icy wonders of Greenland on this 6-day expedition cruise which takes in magical fjords, rumbling glaciers and remote towns. Cruise past giant icebergs in Disko Bay, look out for whales and other marine life breaching the waves and sail up close to the Eqip Sermia Glacier. Explore Ilulissat, the tiny settlement of Itilleq and Greenland's 'second city' of Sisimiut.
Trip Highlights
Disko Bay - look out for whales and dolphins as we pass giant icebergs which have calved from the Ilulissat Icefjord
Ilulissat - explore the lively town at your own pace or opt for a thrilling helicopter ride over the sprawling Icefjord
Sisimiut - take a guided tour of Greenland's second city, which was founded in 1756 by Count Johan Ludvig Holstein
Kangerlussuaq - discover the small town which is nestled between Greenland's giant ice sheet, the Fjord and imposing mountains
Eqip Sermia Glacier - sail as close as possible to this living wall of ice and watch as colossal icebergs crash into the waves below
Sarfannguit - learn about the traditional Inuit way of life and see the hardy villagers who call this isolated settlement home
Qeqertarsuaq - join a friendly community gathering in this tiny settlement on Disko Island
Ocean Atlantic - spend your days at sea aboard our expedition cruise ship with amenities including a swimming pool, restaurant, two bars, gym facilities and a library
Included
5 breakfasts, 4 lunches and 5 dinners
Return flights from Reykjavik or Copenhagen - Kangerlussuaq
Services of the ship captain and crew, expedition team and English-speaking guides at sights of interest
Full board on the ship, afternoon snacks, free tea and coffee daily
5 nights aboard the Ocean Atlantic expedition cruise ship in a shared outside double cabin with private facilities
Transfer from Kangerlussuaq airport to the port on day 1
All guided sightseeing and excursions as per itinerary
Taxes and tariffs
Not Included
International flights and visa
Any meals not onboard the ship & any drinks (excluding tea and coffee)
Optional excursions
Tipping - an entirely personal gesture
Pre and post tour accommodation, plus any airport or port transfers
Keflavík or Copenhagen to Greenland
Keflavík or Copenhagen - Kangerlussuaq (Greenland). Board a charter flight from Keflavík or Copenhagen airport bound for Kangerlussuaq, one of the main settlements on Greenland, with a population of around 500.

On arrival, you'll be transferred to the port where our ship, Ocean Atlantic, is waiting. After embarkation, there's time to settle into your cabins before we set sail through the Kangerlussuaq fjord.

Facilities aboard the Ocean Atlantic include a spacious restaurant serving international cuisine, two bars, a comfortable lounge area, and a library. Relax in the sauna or work out in the gym. There is also a lecture theatre where you can learn more about this part of the world. All of your meals onboard are included, and you can enjoy free snacks, tea and coffee. From the top deck you can keep your eyes peeled for marine life and watch sea birds swooping and wheeling over the ship.
Overnight: Ocean Atlantic ship | Dinner
Exploring Sisimiut
Kangerlussuaq - Sisimiut. This morning we dock at Sisimiut, Greenland's 'second city'. Enjoy a guided tour to highlights of the settlement including the historical colonial quarter, 18th century Blue Church and the oldest house in town, which dates back to 1756, when Count Johan Ludvig Holstein established a colony here.

After our tour, we set sail, heading north towards Disko Bay. Cruising on magical fjords, we pass small villages and towns on the coast. Keep your eyes peeled from the observation deck in search of whales and dolphins. As we are now in the Arctic Circle, the nights will be bright, and you can spot gigantic icebergs from the nearby Ilulissat Icefjord floating by in the midnight sun.
Overnight: Ocean Atlantic ship | Breakfast, Lunch, Dinner
Disko Island & Eqip Sermia Glacier
Sisimiut - Qeqertarsuaq - Eqip Sermia Glacier. Today we dock at the southern tip of Disko Island, in the natural harbour of Qeqertarsuaq. The town has a rich history, and was once an economic hub for the now-banned whaling industry. During our visit, we wander through town, taking in the octagonal church and a local community centre where we join a traditional Greenlandic "kaffemik" - a friendly gathering of the locals with coffee, cake and traditional music.

After a day of exploring Qeqertarsuaq, we set sail once again and head to the impressive Eqip Sermia Glacier, as far north as we will go on our trip. We'll get as close as we can to this giant sheet of ice, wary of giant icebergs breaking off and crashing into the sea below.
Overnight: Ocean Atlantic ship | Breakfast, Lunch, Dinner
Ilulissat
Eqip Sermia Glacier - Ilulissat. This morning we dock at Ilulissat, which literally translates to 'icebergs' in Greenlandic. There's an optional excursion to the UNESCO-listed Icefjord, where the enormous Sermeq Kujalleq Glacier calves icebergs at a rate of around 20 million tonnes per day. You may instead choose to take a helicopter ride over the Icefjord, which must be booked in advance.

Alternatively, you can explore Ilulissat, which is more than 250 years old. Approximately 4,500 people call the town home and it is a very welcoming and lively place to explore. Later in the day we leave Ilulissat behind and head out of Disko Bay to begin our return journey south.
Overnight: Ocean Atlantic ship | Breakfast, Lunch, Dinner
The tiny settlement of Sarfannguit
Ilulissat - Sarfannguit. Our port of call today is the tiny remote settlement of Sarfannguit. The hardy inhabitants here maintain a traditional Inuit lifestyle of hunting, trapping and fishing, although modern amenities such as internet and smartphones have made life easier.

Colourful houses covering the hillside with views across the water make this a little town a beautiful place to stop and thanks to good caribou hunting and fishing opportunities the settlement is relatively well off. Sarfannguit means 'small streams' in Greenlandic and is located on an island of the same name. On a walk though the village we will discover more about rural life in this challenging part of the world before returning to the ship. Setting sail, we head back towards Kangerlussuaq, taking in amazing views of the surrounding high mountains and steep valleys.
Overnight: Ocean Atlantic ship | Breakfast, Lunch, Dinner
Kangerlussuaq
Kangerlussuaq - Reykjavik or Copenhagen. During the night, complete our passage through the 160-kilometer/100 mile Kangerlussuaq Fjord. After breakfast aboard the ship, we will bid farewell to the ship's staff and the Zodiac boats will shuttle us to shore.

In Kangerlussuaq, we offer an optional excursion to the beautiful Reindeer Glacier. The duration of the excursion is approximately four hours. See the trip notes for details. Then we fly from Kangerlussuaq back to Keflavik Airport, Iceland or Copenhagen, Denmark where our tour comes to an end.
Breakfast
Prices & Dates
The prices shown are per person based on twin occupancy sharing a Category D Porthole Cabin with beds on the Ocean Atlantic ship. 'Single Room' prices are applicable to those who don't have anyone to share a room with or anyone wanting the privacy of a single cabin. 'Single Room' prices are based on Category G Outside Single Cabin aboard the Ocean Atlantic ship.
Read More
The hotels listed below are ones which we frequently use on this tour. We reserve the right to substitute these hotels to ones of a similar standard.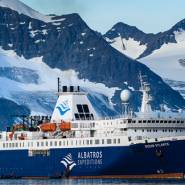 Ocean Atlantic, Greenland Expedition Cruising
Renovated in 2016, the Ocean Atlantic is the perfect vessel for exploring the Atlantic and Arctic Oceans. With an international ice class-rating of 1B, this cruise ship is one of the strongest operating in this region. At 140-metres in length, a total of 198 passengers are accommodated across multiple decks. Each cabin features an ensuite bathroom, individual temperature controls and a TV, with either portholes or windows. Indoor lounges offer large panel windows, where you can easily look out for passing whales and other sights. Passengers can enjoy shore landings, with a fleet of 20 motorized rubber 'Zodiac' boats, taking you to exciting areas that the larger vessel can't reach. Upon your return, perhaps enjoy a dip in the pool or sauna, or curl up with a book in the onboard library. There's also a spacious restaurant serving 4-star international cuisine and a bar offering an assortment of beverages.
At a Glance
Range
Starts
Keflavík or Copenhagen
Ends
Keflavík or Copenhagen
Departs
August 2022
Hotel Rating
Ocean Atlantic expedition ship in 2022
Tour Guide
Services of ship captain and crew
Meals
Breakfast: 5, Lunch: 4, Dinner: 5
Countries
Minimum Age
15 yrs, accompanied by an adult
Arr. Transfer
Yes in Greenland
Dep. Transfer
Yes in Greenland
OTG002284
Greenland Disko Bay Discovered - 6 Days
Europe
Handpicked
Europe
false
Greenland
https://www.onthegotours.com/nz/Greenland/Greenland-Disko-Bay-Discovered-6-days
https://www.onthegotours.com/repository/Greenland-Disko-Bay-Discovered-main-image--Eqip-Sermia-glacier-764131571066940_crop_flip_300_300_f2f2f2_center-center.jpg