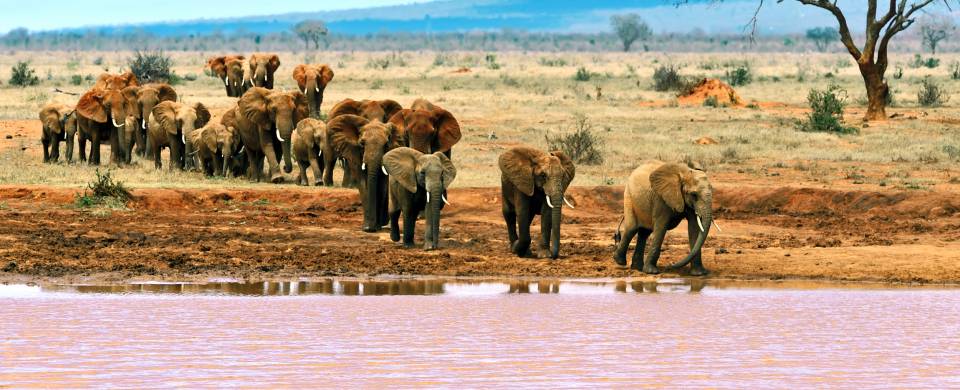 Trips and Tours to Tsavo National Park
About Tsavo National Park
Divided by the A109 road into a West and East section in the south of Kenya, the Tsavo National Park is one of the largest parks in the country and indeed the world. At almost 22,000 km² Tsavo's diverse habitats, which range from forests and volcanic hills to vast open plains, savannah, waterholes and rivers, are home to a wonderful variety of wildlife including the Big Five. The Tsavo West National Park is covered in volcanic cones, rocky outcrops and lava flows. Tall vegetation makes game spotting here a little trickier than in some of the other parks but don't let that deter you from visiting.
Read More
Across the highway is Tsavo East, famous for its large numbers of elephant and spectacular herds of up to 1,000 buffalo. Tsavo East is characterised by semi-arid grasslands and savanna. The scrub-covered hills of the southern park below the Tsavo River have a very remote feel and the best game viewing is along the watercourses and at the Kanderi swamp, which is not far from the main Voi gate. With several airstrips within the park a number of chartered light planes operate between key destinations in Kenya and the Tsavo National Park on a regular basis.
For a number of years only the southern third of the park was open to the public because of the danger posed by poachers, which hit the park hard in the past. Today, however, the poaching has been controlled and you can be treated to the sight of large herds of 50 or more elephants. There is also a black rhino sanctuary in Tsavo West National Park. Other places to visit include the Chaimu Crater and the Roaring Rocks viewpoint, which can be climbed in roughly 15 minutes and offers sensational views over the plains.