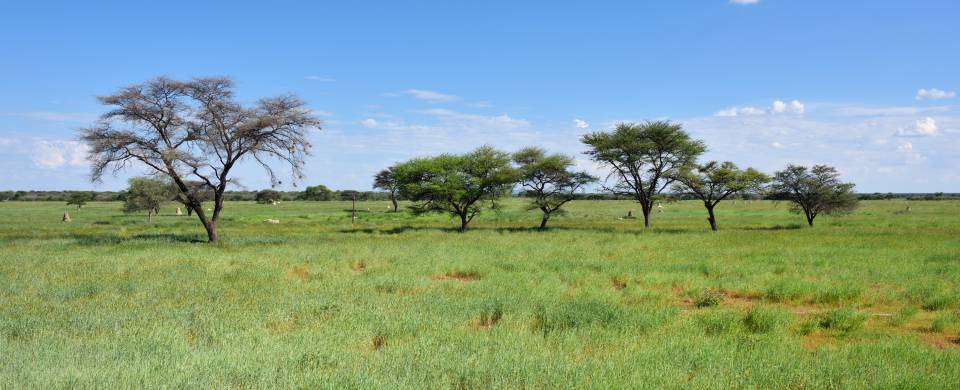 Trips and Tours to Grootfontein
About Grootfontein
Located in Namibia's lush north-east region, the beautiful town of Grootfontein is the centre for a large cattle farming community. Like all the towns in the fertile Otavi triangle, Grootfontein, which means 'big spring' in Afrikaans, is very green and in springtime the Jacaranda and Flamboyant trees bathe the town in a swathe of flowers of purple, blue and red hues. Rolling hills also make up some of this striking landscape. This small city of about 23 000 inhabitants is an ideal overnight stop for travellers to the Zambezi Region and Bushmanland.
Read More
The main attraction in Grootfontein is the Hoba West meteorite. Weighing in at over an estimated 60 tons it is the largest known meteorite on earth and its story is one that is still being discovered by scientists to this day. It is flat on both sides, an unusual shapes for something of this nature, and it is said that this may have caused it to skip over the earth's atmosphere in the same way a flat stone skips over water. Where ever it came from and however it got here, this huge iron-based rock is certainly a sight to marvel at.
As the name suggests, Grootfontein is located near a collection of natural hot springs that draw in travellers and locals from all over. With its small size and peaceful atmosphere, this city is one of the best places in the country to escape the chaos of the cities and the thrill of the national parks. Excursions into the local wilderness either on foot or by bike are easy to do and popular among visitors here. Alternatively, meander through the streets and soak up some of the African sunshine as you take a breather before continuing your Namibian adventure.