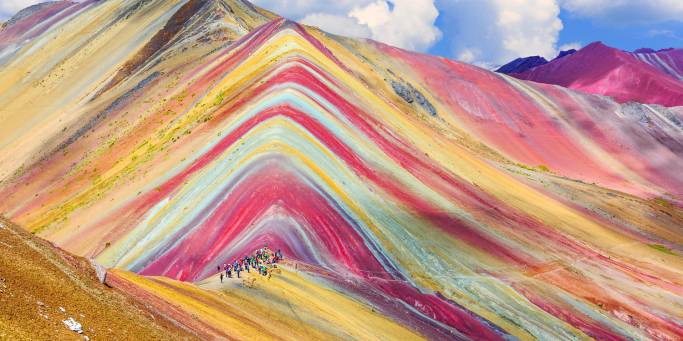 Embark on a full-day guided excursion to discover the natural wonder of Rainbow Mountain, also known as Vinicunca, located in the Andes of Peru. Trek to the summit and marvel at the vibrant colours of the mountain's layered sedimentary rocks, ranging from deep reds to vibrant yellows and mesmerizing blues, creating a unique and unforgettable sight. With a knowledgeable guide to lead the way and a delicious lunch included.

The tour begins with an early morning pickup from your hotel in Cusco. Enjoy a scenic 2 - 2.5 hour drive through the stunning landscapes of the Andes, passing by traditional Andean villages and picturesque valleys, until we reach Phulawasipata (4,625m / 15,173 feet). Upon arrival at the trailhead you will begin the trek. The uphill walk is challenging but rewarding, and the stunning vistas of the surrounding landscapes make it all the more worthwhile. It takes approximately 1 hour 45 minutes to reach the summit of Vinicunca (5,036m / 16,522 feet). You will also have the opportunity to appreciate the Red Valley from a beautiful viewpoint.

At the summit there's time to take photos and enjoy the views before trekking back down to the vehicle, following the same route. After the trek, you will stop in the town of Cusipata for lunch before returning to Cusco.
| Prices | Dates | Price/Person | Single Supp. |
| --- | --- | --- | --- |
| Rainbow Mountain Trek | All Dates | $205.00 | - |
Additional Information
Starts/Ends: Cusco
Operates: March to November
Prices shown are 'per person', based on 2 or more persons travelling.
Duration of hike: approx 3 hours
Hotel pick-up time: 04:30 to 04:40
Hotel drop-off time: 16:00-16:30
Minimum Group Size: 2
Maximum Group Size: 22
What to Bring: Comfortable walking boots/trekking shoes, waterproof jacket, a hat to protect from sun or rain, sunglasses, protective sunscreen lotion, bottled water and a small backpack.
Please Note: This optional excursion is not operated by On The Go Tours and you will join travellers who have booked through other operators.
You need to have a good level of fitness to partake in this trek
This optional Add-on can be booked in conjunction with all Peru Signature tours. Offered day 9 of Machu Picchu by Train, Amazon, Incas & Titicaca and Lima to La Paz. Day 7 of Machu Picchu & Lake Titicaca and Incas, Titicaca & La Paz and Day 5 of Machu Picchu Express
What's Included
Private transportation in a Sprinter Renault or similar
A la carte lunch (choice of 3 options)
English and Spanish speaking local guide
Rainbow Mountain entrance fee
First Aid Kit
Oxygen
Available On: