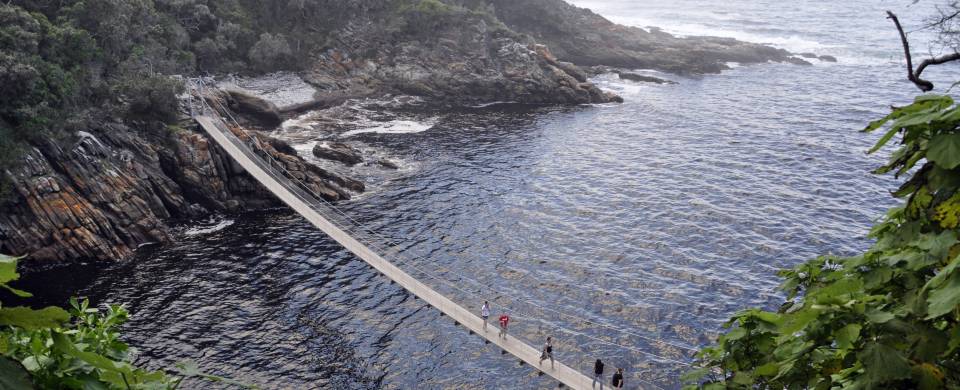 Trips and Tours to Tsitsikamma National Park
About Tsitsikamma National Park
With a dazzling shoreline and miles of dense, green forest, the Tsitsikamma National Park is a veritable labyrinth of ecosystems and beauty. Its coastal location has made it even more desirable as a traveller destination due to its extensively diverse landscape, ranging from towering mountains to stunning coral reefs, which house thousands of delights for scuba divers and snorkellers to discover. Rocky creeks and powerful rivers are in abundance throughout the park and provide fantastic opportunities for adrenaline-seekers to explore some of the less well-known areas of Tsitsikamma.
Read More
Of all the paths that run through the park, it is the Otter Trail that really takes the spotlight at Tsitsikamma. The trail is just over 40km in length and takes roughly 5 days to complete. Given its length and relatively low level of difficulty, it is considered by far the best way to make the most of this incredible park. Huts have been erected along the way and provide shelter for adventurers during the nights although individuals are expected to bring along their own gas cookers and utensils.
Another popular path that runs through the park is the luxurious Dolphin Trail, which provides those who hike it with top tier accommodation and transportation for their luggage. Along the trail there are several opportunities to take in some stunning vistas of the coastline as well as the chance to do some whale and dolphin watching. Alternatively, the Storms River Mouth hike takes you across the suspension bridge which stretches 77m above the river, offering up some spectacular views.