CAMPING SAFARI: From Dar es Salaam, enjoy sun, sea and sand on the tropical island of Zanzibar and the beaches of Lake Malawi, travel through Livingstone in Zambia and camp out in the wilds of Botswana's legendary Chobe National Park, then discover the magnificent Victoria Falls.
Trip Highlights
Tanzania - begin your adventure by the sea in Dar es Salaam and game drive through Mikumi National Park
Malawi - visit Lilongwe and spend three days exploring the shore of Lake Malawi, stopping at various bays, beaches and communities
Botswana - camp out in the wilderness of the national park, listening out to the sounds of the nocturnal animals
Zanzibar - unwind on the pristine sandy beaches, explore historic Stone Town and opt for a sunset dhow cruise or visit to a spice plantation
Zambia - spot iconic African wildlife in South Luangwa National Park and take in the Zambian side of Victoria Falls at Livingstone
Zimbabwe - finish your adventure in Victoria Falls, with free time to visit the thundering cascades
Included
Arrival transfer from Dar es Salaam Airport on day 1
A fully equipped overland truck for transportation and game drives
All camping fees and appropriate equipment
Park entry and game drive in Chobe National Park and South Luangwa National Park
All road taxes and tolls
1st night Banda (beach hut) at Kipepeo Campsite (upgrade available), 11 nights camping. Tents and sleeping mats provided
Services of 3 person crew (leader, driver, cook)
15 breakfasts, 9 lunches, 10 dinners
3 night Zanzibar Excursion including ferry transfer, accommodation, Spice Tour and Dhow Sunset Cruise
Not Included
International flights and visas
Tipping - an entirely personal gesture
Local Payment: $960pp paid in USD.
Sleeping bag - please bring your own
Optional activities
Friday. Welcome to Tanzania! Upon arrival at Dar es Salaam Airport you'll be met and transferred to our campsite on the coast. . There will be a predeparture meeting at 17:00 hours today where you will meet your tour leader.
Overnight: Dar es Salaam
Dar es Salaam - Zanzibar. Today we take the ferry from Dar Es Salaam over to the 'Spice Island' of Zanziabr, where we spend the next three nights. Stroll through the streets of Stone Town, visit a spice plantation or simply laze on one of the pristine white sandy beaches, the choice is yours!
Overnight: Zanzibar | Breakfast x 3
Mikumi & Iringa
Zanzibar - Mikumi - Iringa. Leaving Zanzibar in the morning, we return to the mainland and head west, passing through the Mikumi National Park where it is possible to view a range of wildlife from the roadside, totally impervious to the passing traffic. We will stop in the town of Mikumi for our overnight stay. Arrival to camp is usually in the late afternoon, or early evening. On day 6, Departing early this morning we continue towards Iringa where we spend the night in a beautiful rustic campsite famous for its Amarula Hot Chocolates and its steamy showers! Be sure to keep a good book, music and a pack of cards handy as we are covering around 200 km's today.
Overnight: Mikumi (1), Iringa (1) | Breakfast x 2, Lunch x 1, Dinner x 2
Lake Malawi
Iringa - Lake Malawi (Malawi). Leaving Tanzania we enter Malawi the 'Warm Heart of Africa' through the border post at Songwe. During our time in Malawi we will travel the length of the western side of the lake, stopping off at various bays and inlets on the way.

Our time here will be spent relaxing on the beach, horse riding in the lake or haggling for bargains at the local markets. At night you'll see the 'fairy' lights of the fishermen out on the lake.
Overnight: Lake Malawi beaches | Breakfast x 3, Lunch x 3, Dinner x 3
South Luangwa National Park
Lake Malawi - South Luangwa (Zambia). Today we depart Malawi for neighbouring Zambia with a stop in Malawi's capital Lilongwe en route. Crossing into Zambia we head for South Luangwa National Park.

South Luangwa National Park is on the Luangwa River, the southernmost of three national parks in this region. Animals such as giraffes, buffalos and elephants can be found in abundance. The Luangwa river is home to many a hippo and croc.
Overnight: South Luangwa National Park | Breakfast x 2, Lunch x 2, Dinner x 2
South Luangwa - Lusaka - Livingstone. Our journey continues to take us south as we head to the impressive Mosi Oa Tunya - the Smoke that Thunders or most commonly known as Victoria Falls. On the evening of day 13 we have the option of enjoying a sunset dinner cruise on the mighty Zambezi.
Overnight: Lusaka (1) Livingstone (1) | Breakfast x 2, Lunch x 2, Dinner x 2
Livingstone - Chobe (Botswana). Leaving Zambia behind we cross into Botswana and the town of Kasane, on the banks of the Chobe River. Departing after lunch, we head into the bush for our overnight experience in the wilds of the Chobe National Park. We spend the afternoon in search of wildlife while we game drive to our camp within the park where we spend the evening surrounded by the night-time noises of the local wildlife.
Overnight: Chobe National Park | Breakfast, Lunch, Dinner
Chobe - Victoria Falls (Zimbabwe). After our night in Chobe we leave early to continue our search for wildlife. We return to Kasane to before crossing the border into Zimbabwe and back to Victoria Falls - bu this time on the other side. The town of Victoria Falls is situated on the Zambezi River and surrounded by the Victoria Falls National Park. We enjoy our last day in the adrenaline playground of Africa, where there are optional activities aplenty here including Zambezi white water rafting, bungy jumping from 111m and flights over the Falls in a variety of airborne machines!
Overnight: Victoria Falls | Breakfast
Saturday. After breakfast, we exchange addresses and part ways, having just experienced a trip of a lifetime! We suggest booking additional days after your trip to take advantage of the optional excursions available at Victoria Falls.
Breakfast
Prices & Dates
Departure dates are guaranteed with a minimum of 4 persons. Prices are per person when there are 2 people sharing a tent. Solo travellers will be matched up and share a tent with another solo traveller of the same gender.
Read More
Local payment - $960pp paid in USD. 
Please note that this is payable locally on day 1 of your trip in the currency specified.
2023
Twin Share
Single Room
The hotels listed below are ones which we frequently use on this tour. We reserve the right to substitute these hotels to ones of a similar standard.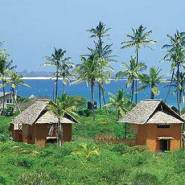 Kipepeo Beach Village , Dar es Salaam
The Tanzanian bush meets the blue waters of the Indian Ocean at Kipepeo Beach & Village, situated on the south coast of Dar Es Salaam. The campsite is right on the beach itself and is a popular destination for watersports adventures or simple relaxation. Facilities include a beach bar and restaurant.Upgrades are available to the twenty elevated ensuite chalets, built in the bush and decorated in traditional Swahili style, provide a stunning ocean views.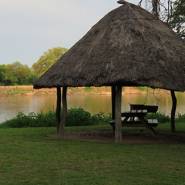 Croc Valley Camp, South Luangwa National Park
Croc Valley Camp is located on the banks of the Luangwa River, and provides accommodation ranging from riverfront tents to ensuite chalets, built on stilts to avoid the off-season floods. Watch elephants roam across the campsite, experience a game drive through South Luangwa National Park, or relax with a gin & tonic at the bar. The camp also features a large outdoor pool, kitchen facilities, and daily laundry service.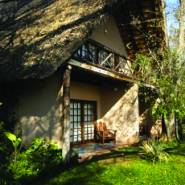 Zambezi Waterfront, Livingstone
The Zambezi Waterfront is a comfortable lodge with 16 standard twin chalets, six units of which overlook the river. There are also three Executive rooms and four Family rooms.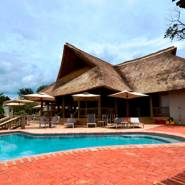 Shearwater Explorers Village, Victoria Falls
Situated in the bohemian town of Victoria Falls, and 400m from the Falls themselves, the affordable accommodation at the Shearwater Explorers Village consists of 5 campsites with modern bathroom facilities, and 16 chalets with en-suite showers and A/C. Shearwater operates a range of activities at the Falls, from bungee jumping to river rafting - and when the day is over, guests can wind down with Wi-Fi in the lounge areas, a drink by the pool, or even a back rub in the massage tent.
Reviews
Travellers have rated this tour as 4.33 out of 5 based on 3 recent reviews
"
We had a great time but there were a lot of long travel days. From dar es Saleem to Malawi was two very long days on the truck the first being 15 hours which included two stops by seemingly corrupt police pulling over the tourist trucks in Tanzania. The food was really great by our cook Joseph and our driver Stephen was lovely and did a great job. 6 years ago we did a tour with you also in Africa and the local payment covered the tips for our included activities. This time we were asked to give tips however we much preferred the way it was organised by our guide last time. There was a lot more upgrade options this time which was nice to get some much needed rest when needed. It would be great to get curtains on the truck as it gets very very hot in the window seats with the sun coming in. Overall we had a great trip and look forward to exploring other countries with you. Thank you to Nicola for promptly handling any requests or questions during the booking process."
Nicole Newell
• Submitted 13 Aug 2018
Tour





Guide





Country





"
Tour was great! Staff were great also. "
Katie Huyton
• Submitted 13 Nov 2017
Tour





Guide





Country





"
I just returned back from this tour in August 2015 and think it was fantastic.
There was a great mix of safari, beach and more safaris! It was a great way to see some animals, chill out at the beach and then head back inland and see more animals. It was great to finish up at Victoria Falls and spend some extra time there.
Our guide made us feel very welcome and was very knowledgeable about the areas we visited. He went out of his way to ensure everyone was kept happy on our tour and was adaptable and flexible to the group. Our driver was also fantastic and ensured we got to our places on time and safely. Our cook was also great and did a good job to mix up the food and ensure we were all kept extremely full! Overall the three of them made sure we were happy and safe and all took the time out to talk to us about their homelands and growing up in Africa which was a highlight.
There was ample opportunity to upgrade along the way, although the company provides sleeping mats so the camping is fine and comfy.
There was a stack of optional extras which are all worthwhile doing, especially at Antelope Park in Zimbabwe and in Vic Falls.
Overall this tour is really great value for money and is a great way to see some of Africa "
Kara
• Submitted 22 Sep 2015
Tour





Guide





Country





"
Hey Kell,
Firstly I want to say and HUGE, HUGE, HUGE thank-you to yourself, Louise, Emma and everyone else who made my free trip possible. I have just returned from the Wildlife, Beach and Falls and I had the most incredible, fantastic and memorable trip! We only had a small group, but I have met some wonderful people a couple of whom I hope will be life long friends. I am actually catching up with these two for Rio Carnival next year and they are coming to visit me in Chicago!
I didn't catch the surnames of our guide, chef and driver, but I wish to pass on my thanks again and recommendations for all three. Collin our guide was fantastic! His knowledge was incredible. He was considerate to all travellers, answered all questions when and where possible and really went above and beyond!
Calisto our driver kept us amused and entertained at all times. Even when we where bogged in Mozambique you could still hear him chuckling away! Avil our chef made fantastic meals everyday and was always considerate to the vegetarian on board. I am sure I have returned a few kilos heavier, but it was well worth it!!
I honestly can not express enough how fantastic these three where.
Again THANK YOU THANK YOU THANK YOU for this opportunity. It was truly one of my most memorable holidays and I can not wait to return to Africa and explore it more. The team made us feel part of one big family and I can not stop talking about my trip. FANTASTIC! "
Kim Briggs
• Submitted 08 May 2013
At a Glance
Range
Trip Type
Starts
Dar es Salaam
Ends
Victoria Falls
Departs
Fridays
Group Size
Min 4 / Max 30
Hotel Rating
Camping
Local Payment
$960pp paid in USD.
Tour Guide
Yes - escorted by a tour leader
Meals
Breakfast: 15, Lunch: 9, Dinner: 10
Countries
Minimum Age
15 yrs, accompanied by an adult
Arr. Transfer
Yes
Dep. Transfer
No
Extra Tour Info
Updated
10th May 2022
"
We had a great time but there were a lot of long travel days. From dar es Saleem to Malawi was two very long days on the truck the first being 15 hours which included two stops by seemingly corrupt police pulling over the tourist trucks in Tanzania. The food was really great by our cook Joseph and our driver Stephen was lovely and did a great job. 6 years ago we did a tour with you also in Africa and the local payment covered the tips for our included activities. This time we were asked to give tips however we much preferred the way it was organised by our guide last time. There was a lot more upgrade options this time which was nice to get some much needed rest when needed. It would be great to get curtains on the truck as it gets very very hot in the window seats with the sun coming in. Overall we had a great trip and look forward to exploring other countries with you. Thank you to Nicola for promptly handling any requests or questions during the booking process."
Nicole Newell
OTG000981
Zanzibar to Zimbabwe - 16 days
Africa
Overlanding
Africa
false
0
Tanzania
https://www.onthegotours.com/nz/Tanzania/Zanzibar-to-Zimbabwe-16-Days
https://www.onthegotours.com/repository/SimplyZanzibarMainTailormadeHolidaysAfrica-92921277299424_crop_flip_300_300_f2f2f2_center-center.jpg
Overland_Camping_Safaris