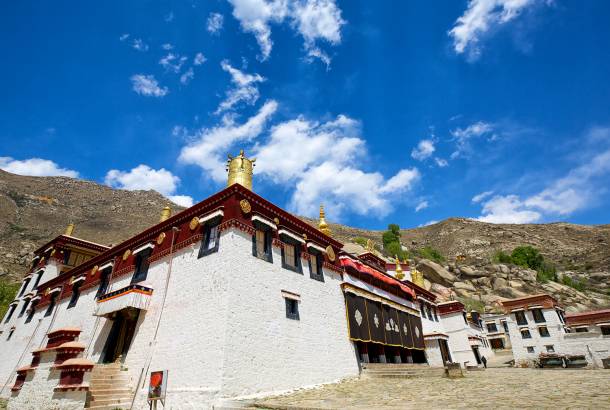 If a trip to the 'roof of the world' is looming on your horizon, start preparing with our top travel tips. Here you can find out what currency is used in Tibet, what the food is like and whether you can get online easily plus much more including health advice.
What vaccinations do I need for Tibet?
You should seek medical advice from your local health practitioner before travelling to Tibet and ensure that you receive all of the appropriate vaccinations. As a guide Diphtheria, Tetanus, Typhoid, Hepatitis A, Rabies and Polio are strongly recommended.
Do I need anti-malaria tablets for Tibet?
There is a risk of malaria along the valley of the Zangbo River in the extreme southeast. For many years, the drug of choice has been chloroquine, which is inexpensive and generally well-tolerated. Avoiding mosquito bites in general is also very important and this can be achieved by wearing long sleeves and trousers at night, sleeping under a mosquito net and wearing a strong insect repellent containing at least 50% DEET. The majority of visitors to Tibet will not require malaria medication. For more information on the malaria risk in Tibet visit the
NHS Fit to Travel
page or the
CDC Traveler's Health
page.
Is it safe to drink tap water in Tibet?
The tap water in Tibet is not safe for human consumption, so make sure you drink only bottled mineral water. Ensure bottles are sealed before you consume water from them. Bottled water is readily available in shops, restaurants and hotels. Avoid ice and salad if you want to be extra careful, as they may have been prepared or washed in dirty water.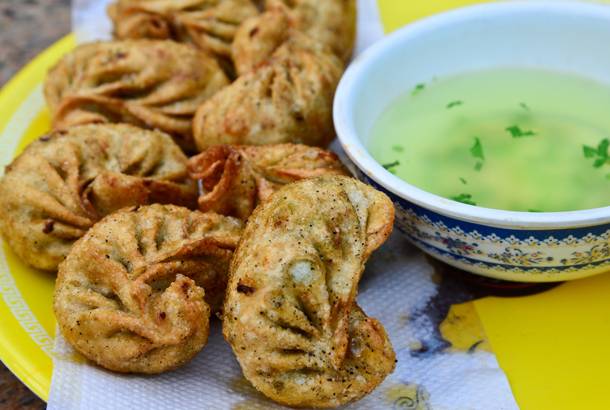 What's the food like in Tibet?
Tibetan food consists mainly of barley, meat and dairy products. Staple foods include yak butter, which is refined from the milk of cattle and goats, and tsamba, which is made of roasted barley, ground with flour and mixed with a little tea, butter, curds and sugar to add flavour. Tubo is a common evening dish - a type of gruel made from dried meat, tsamba and wheat flour. The high elevation of the Tibetan Plateau means that it is near impossible to grow many vegetables, and people rely a lot more on meat than in other places - this is important to bear in mind if you are vegetarian or vegan, as it can be hard to cater to these diets in Tibet. Beef and mutton is air dried and preserved for the winter, when it is often barbecued or eaten raw.
In Lhasa there are numerous restaurants and noodle places serving national dishes and also Indian, Western and Nepali cuisine. A tasty speciality is momos, which are tiny steamed or fried dough parcels containing meat or vegetables. Chinese food is widely available in Tibet's larger towns.
Safe eating while travelling in Tibet
Tibet is still a long way from being as developed as the West and, as a consequence, food hygiene standards may be inferior to what you are used to at home. Ensuring your food is piping hot is a good policy to adopt when eating in Tibet. If somewhere looks like it might have questionable hygiene, don't eat there - instead look for somewhere that is filled with locals as they know where the best food is. Avoid anything that might have come into contact with the tap water, such as salads, as these could make you unwell if the water is unsanitary.
Is it standard to tip in Tibet?
While tipping is not expected in most parts of China, people in the service industry in Tibet will be expecting a small gratuity to be paid for their assistance. Tour guides, sherpas and personal drivers should all receive the equivalent of around USD $5-10 per day. When eating out, a tip of between 5-10% is a generous gesture if the service has been up to scratch. A dollar or two per day for housekeeping staff in hotels and the same per bag for bellboys is an appropriate tip.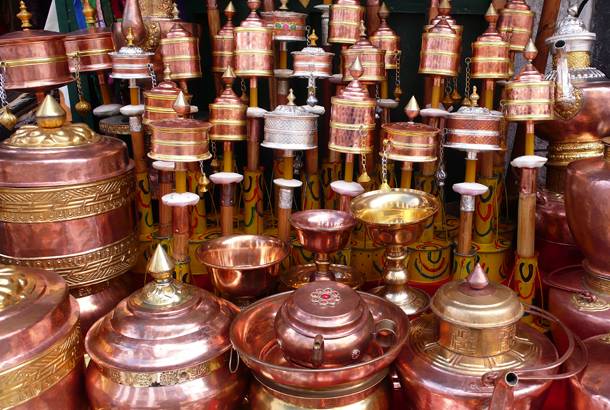 What is good to shop for in Tibet?
Shopping in Lhasa is a popular tourist activity and Barkhor Street Bazaar is the best place for it. In Barkhor there are lots of stalls selling a wide range of goods including Yak wool jumpers, silver ornaments, jewellery and handicrafts. Tibetan incense is a good souvenir - Tibetans use it to worship Buddha and drive away evil spirits. Thangkas (religious scrolls) are also very popular - the higher quality ones have a hand-painted image (rather than printed) in the middle, with very detailed backgrounds. The quality of thangkas can vary dramatically, so take care when purchasing one.
It is a good idea to buy any practical items you may need in Lhasa before you travel to more remote towns. There are department stores that will supply all of your everyday goods.
Is bargaining acceptable in Tibet?
Generally, haggling is accepted anywhere in Tibet as long as your purchase doesn't already have a fixed price tag on it. Markets are the best place to try your hand at bargaining and in most cases you can end up paying a fraction of the original asking price. While travellers should not feel like they are being ripped off, it is likely that you will still end up paying a slightly inflated price. Don't let this bother you - that extra dollar or two is much more useful to them than it is to you.
Is it safe for a single woman to travel in Tibet?
Despite the numerous problems Tibet faces, its people are peaceful, warm, welcoming and friendly. Although few speak English, most will go out of their way to try and help you. Women generally find that they are treated respectfully here and won't attract too much attention, especially because the climate does not permit anyone to be scantily clad.
What is the duty free allowance for Tibet?
Travellers are permitted to bring the following into Tibet:
400 cigarettes, 100 cigars and 500g of tobacco
1.5 litres of alcoholic beverages with 12% or more alcoholic content
Personal articles up to a value of ¥5,000 (USD $50) for Chinese residents
Personal articles which will be left in China up to a value of ¥2,000 (USD $20) for non-residents
The following are banned from being imported into Tibet: Arms and ammunition, imitation arms, narcotics, fruit, animals and animal products, and any publication (print, audio or video) directed against the public order and the morality of China.
Customs officials may seize audio and videotapes, books, records and CDs to check for pornographic, political or religious material. You must complete baggage declaration forms upon arrival noting all valuables (such as cameras, watches and jewellery) as this may be checked on departure. You should keep receipts for items such as jewellery, jade, handicrafts, paintings, calligraphy or other similar items in order to obtain an export certificate from the authorities on leaving. Without this documentation, you cannot take such items out of the country.
Additionally, you may not import pictures of the Dalai Lama, political or other publications by either the Dalai Lama or the exiled government in Dharamsala or even travel guidebooks that obliquely refer to Tibetan independence.
What is the currency in Tibet?
The currency is Tibet is the Chinese Yuan. Check OANDA for the latest exchange rates.
Pound Sterling, US Dollars or other major currencies can be exchanged locally at the Bank of China in Zhangmu, Shigatse and Lhasa. Many hotels also have exchange facilities. We don't recommend exchanging currency in the airport, as rates offered here are generally uncompetitive.

There are ATMs in Lhasa and Shigatse and credit cards may be accepted in large hotels, shops and restaurants. It's advisable to request bank notes in smaller denominations, as it can sometimes be hard to get change from large notes and smaller notes are handy for smaller purchases and gratuities.
Traveller's Cheques are not recommended as they're often difficult to exchange and incur high fees.
What do things cost in Tibet?
There are numerous costs associated with travelling to Tibet, the main one being the cost of the tour you go with. Everyone who travels to Tibet is required to be part of a tour, which will cover accommodation, transport and travel permits. This leaves the main expense being food. Eating out at restaurants that serve international cuisine can cost between USD $15-20 but if you don't mind sticking to local eateries serving Tibetan and Nepali food you can fill up for as little as USD $6 or so.
What sort of plugs do I need for Tibet and what is the voltage?
Standard voltage is 220 volts, 50Hz AC. Primary sockets generally require Continental or European plugs of the two round pin variety, or 2 flat pin similar to those found in America. We recommend that you pack a universal travel adaptor. You will need a voltage converter and plug adaptor in order to use U.S. appliances.
Is WiFi widely available in Tibet?
Although internet access is becoming more common in Tibet, it is perhaps unsurprising that it is still not as reliable as the internet connection you are probably used to back home. However, there is a good chance your hotel will have connection (in the lobby at least) and if not, then there are numerous internet cafes, particularly in Lhasa. Remember that internet usage in Tibet is closely monitored and numerous commonly used Western sites are blocked.
What time zone is Tibet on?
Tibet is 8 hours ahead of Greenwich Meantime (GMT) and does not observe Daylight Saving.
See Also
For further help planning your visit to Tibet take a look at our handy Travel Guide resources:
Best Time to Visit - climate and seasons in Tibet Best Places to Visit - what to see and where to go in Tibet Tourist Visas - strict regulations apply so make sure you know before you go