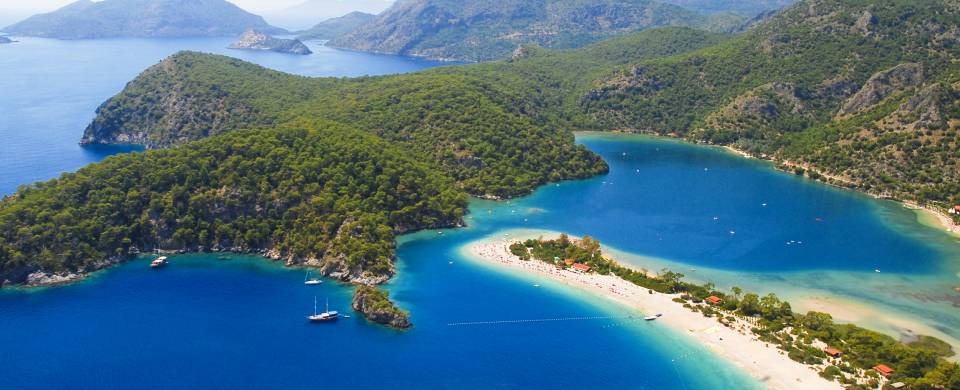 Trips and Tours to Oludeniz
About Oludeniz
The azure lagoon, white beaches and forested hills make Oludeniz a stunning destination. Meaning dead sea in Turkish, Oludeniz is a popular holiday stop for people from all over the world and it isn't hard to see why. With the calm waters of the lagoon on one side of the pristine beach and the clear sea on the other side, Oludeniz is the ultimate beach getaway and one of the best places in the country for unwinding in the sunshine. The nightlife in Oludeniz is lively, with plenty of restaurants and clubs, with many open very late and even a bowling alley.
Read More
Water sports abound here, although motorised water craft are not allowed on the lagoon, only on the sea side. Paragliding is a popular activity and takes place from the peak of the hills behind the beach for easy launching. Once you are in the air, the scenery is beyond belief. There are many walks in the area, the most well known of which is the Lycian Way, which starts in Oludeniz and continues nearly all the way to Antalya. With stop off points of interest along the way at Roman and Byzantine ruins, the path meanders along the coastline and to walk the full route would take 3-4 weeks.
For those seeking to reconnect with nature, no trip to Oludeniz would be complete without spending a few hours at the magnificent Butterfly Valley. Hop on a water taxi and sail past numerous, dramatic mountains until you eventually arrive at the canyon that houses some of the most gorgeous butterflies in existence. Yet, ogling these stunning insects is just one of the many activities on offer here. Visitors can also hike through the valley, visit a waterfall or go for a swim in the crystal clear water. In the evenings BBQs and bonfires on the beach are the norm.
Oludeniz Tours
Here are some popular itineraries that include a visit to Oludeniz. Alternatively, if you would like to include a visit to Oludeniz on a bespoke touring itinerary to Turkey, take a look at our tailor-made holiday planning section.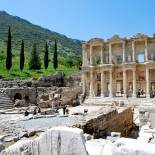 Show All Tours