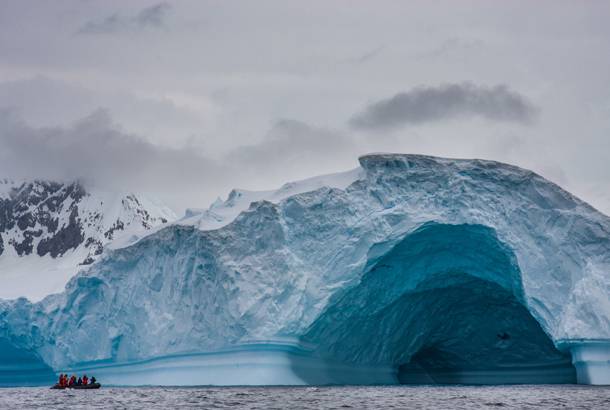 Seasons and Weather
Located in the southernmost point of the southern hemisphere, Antarctica experiences its summer season between the months of October and March and this is the only time of year that expedition cruises are possible.
Deciding what time is best to visit Antarctica really depends on your particular interests - for untouched landscapes November is the best month while wildlife enthusiasts would be better off visiting in December or January though keen whale watchers should wait until February and March.
What's Antarctica like in spring?
Spring in Antarctica lasts from October to November. In late October the ice that normally covers the waters starts to break up meaning boats are given access to the islands around the tip of the Antarctica Peninsula. Most cruises start operating in November when icebergs are at their largest and the scenery is spectacular with pristine ice and snow. Elephant seals begin their breeding season with the large animals actively courting in South Georgia.
What's Antarctica like in summer?
Antarctica's summer lasts from December to January. The months of December and January are considered high summer with the warmest temperatures the south pole will see all year. Daylight hours are at their longest with an average of 20 hours of light each day so it's the best time of year for photography though it's peak season with Christmas and New Year particularly busy. In the early weeks of December cute penguin chicks begin hatching in the Falklands followed by hatchings along the Antarctic Peninsula later in the month. At the end of January, it's possible to witness parent penguins returning to their chicks after replenishing their food supplies. Sightings of whales and seal pups are also good at this time of year. Landing areas start to get muddy as the expedition season picks up so the landscape is less pristine than in November.
What's Antarctica like in autumn?
Antarctica's short autumn lasts from February to March. Temperatures are still warm in February with excellent opportunities for whale watching with humpback, sperm and orca all likely to be spotted. Penguin colonies are very active and fur seals are a common sight along the Peninsula. It starts to get a little colder in March with many of the penguin chicks now grown enough to fledge and an increasing number of animals make their way out to sea so wildlife sightings are less abundant on the now-exposed edges of land as the snow melts.
What's Antarctica like in winter?
Antarctica's winter lasts from April to September. Expedition cruises stop operating during these months as temperatures plummet, winds become treacherous and daylight diminishes. The seas are at their stormiest and it's not possible for vessels to visit Antarctica.
Climate | Antarctic Peninsula
| | Jan | Feb | Mar | Apr | May | Jun | Jul | Aug | Sep | Oct | Nov | Dec |
| --- | --- | --- | --- | --- | --- | --- | --- | --- | --- | --- | --- | --- |
| Temp Min °C | 0 | -1 | -3 | -6 | -8 | -13 | -16 | -17 | -13 | -9 | -5 | -1 |
| Temp Max °C | 5 | 4 | 2 | 0 | -4 | -6 | -7 | -8 | -4 | -2 | 2 | 4 |
| Rainfall (mm) | 9 | 57 | 64 | 86 | 77 | 62 | 72 | 80 | 73 | 65 | 46 | 27 |
Climate | Ushuaia
| | Jan | Feb | Mar | Apr | May | Jun | Jul | Aug | Sep | Oct | Nov | Dec |
| --- | --- | --- | --- | --- | --- | --- | --- | --- | --- | --- | --- | --- |
| Temp Min °C | 6 | 6 | 5 | 3 | 1 | -1 | -1 | 0 | 1 | 3 | 4 | 5 |
| Temp Max °C | 15 | 15 | 13 | 10 | 7 | 5 | 5 | 6 | 9 | 11 | 13 | 14 |
| Rainfall (mm) | 43 | 31 | 49 | 47 | 39 | 52 | 34 | 34 | 41 | 37 | 39 | 47 |
See Also
To help you plan your voyage to Antarctica's frozen landscapes, take a look at the rest of our handy resources:
Best Places to Visit - our top five destinations in Antarctica
Tourist Visas - details on visa procurement
Top Travel Tips - local customs, what to pack and more
The Ushuaia - everything you need to know about the expedition vessel