Best of Buenos Aires Six-or-less-people Walking Tour





51 reviews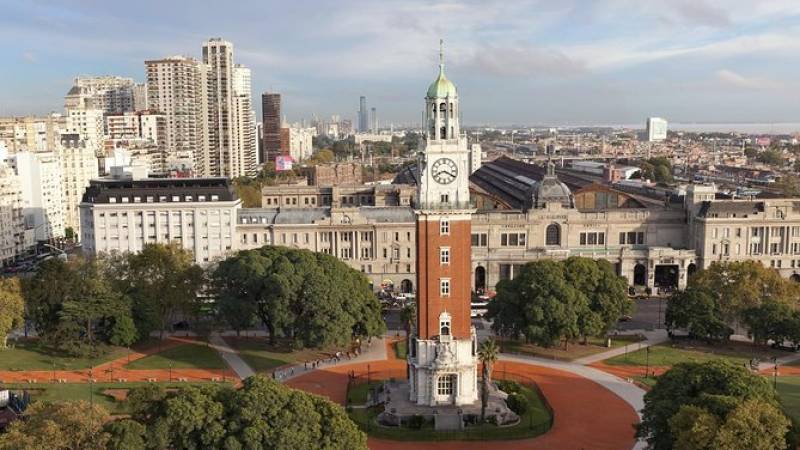 from £43.40
Discover the friendly and fascinating city of Buenos Aires on foot. This 2 mile (3.2km) morning walking tour of Buenos Aires is a pleasant way to experience the unique culture of Argentina, its history, customs, buildings and monuments. An educational and fun way to explore Argentina's capital city!
BOOK WITH CONFIDENCE:
As members of ABTA and ATAS we are
100% financially bonded
. You can book your day trip with us in absolute confidence, no matter where in the world you are.
Due to the impacts of COVID-19, we are currently not taking new bookings for day tours.
In Brief
Location:
Comuna 1, Argentina
Duration:
2 hours 30 minutes
Itinerary
This is a typical itinerary for this product

Stop At: Buenos Aires Walking Tours, 899 Florida St. Meet at corner door Florida is the main pedestrian street downtown., Buenos Aires C1005AAQ Argentina

This is where we meet and start our tour NO LATER than 10am: Please look for the guides that have a (small) BA Walking Tours sign in their hands or clothes. We meet OUTSIDE the cafe corner door (corner with Paraguay St.).

Duration: 5 minutes

Stop At: Calle Florida, Buenos Aires Argentina

As we walk we explain Florida Street (Spanish: Calle Florida): one of the oldest in town and a popular shopping street downtown. It communicates the foundational area (Plaza de Mayo) with Plaza San Martin (San Martin Park) and is chock-full of history and stories.

Duration: 5 minutes

Stop At: Basilica del Santisimo Sacramento, San Martin 1050, Retiro, Buenos Aires Argentina

Built by Lady Mercedes Anchorena for her family in 1916 it is astonishingly beautiful and has part in many peculiar stories (love/hate/power) we will tell you about.

Duration: 5 minutes

Stop At: Edificio Kavanagh, Florida 1065, Retiro Retiro, Buenos Aires Argentina

Tallest Art Deco skyscraper in Buenos Aires overlooking Plaza San Martín. It was the highest skyscraper in Latin America and declared UNESCO heritage building. Its construction took only 14 months and was commissioned in 1934 by Corina Kavanagh, a millionaire woman of Irish descent who sold two ranches at the age of 39 to erect her landmark skyscraper

Duration: 5 minutes

Stop At: Torre Monumental, Av. Dr. Jose Maria Ramos Mejia 1315, Buenos Aires C1104 Argentina

We will explain the strong legacy of England in Argentina contemplating this British Clock Tower (now Torre Monumental) and we will also see and explain the monument to the 1982 South Atlantic war (Malvinas/Falkland) just opposite the tower.

Duration: 5 minutes

Stop At: Monumento a Combatientes de Malvinas, Plaza General San Martin, Buenos Aires Argentina

We will thoroughly explain our long standing love/hate relationship with England and the unsuspected British presence in our economy while looking at the memorial monument commemorating the 1982 South Atlantic war (Malvinas/Falkland) just opposite the British tower.

Duration: 5 minutes

Stop At: Plaza San Martin, Av. Santa Fe, Buenos Aires 1006 Argentina

Chock full of history, this park, close to the old slave depots, housed a fort, a bullfight ring and much more. Today it boasts the magnificent monument to our maximum independence hero: Gral. Jose de San Martin. We will tell you his full story.

Duration: 5 minutes

Stop At: Palacio Paz, Avenida Santa Fe 750, Buenos Aires C1059ABO Argentina

Impressive city-palace, built 1914 for José C. Paz, the proprietor of the city's then-second most-circulated newspaper and aspiring President. Built entirely with material imported from France. 120 rooms for a family of four!

Duration: 5 minutes

Stop At: Palacio San Martin, Arenales 761, Buenos Aires Argentina

It is really the Anchorena Family Palace, now called San Martin for political reasons. We will explain all about the amazing woman (Mercedes Anchorena) who built it and its nearby fabulous church for her family.

Duration: 5 minutes

Stop At: Palacio Estrugamou, Calle Esmeralda 1351, Buenos Aires C1007ABS Argentina

Beautiful parisian buildings fill the flamboyant, unique and unforgettable Barrio Norte neighbourhood that gives Buenos Aires its reputation for being the Paris of the South. Amazing mansions, elegant streets. Immigration explained (Spanish, Italians, French, British, etc.).

Duration: 15 minutes

Stop At: Israeli Embassy Plaza, Arroyo 916, C1007AAD, C1007AAD CABA, Argentina

In 1992 a single bomb blast destroyed the local Israeli embassy murdering 24 people. We will explain all that happened: why, how, who. Also we will explain a bit about politics and justice in Argentina.

Duration: 5 minutes

Stop At: Embajada de Francia, Calle Cerrito 1399 Esquina Arroyo, Buenos Aires C1010ABA Argentina

Originally the Ortiz-Basualdo Palace, this beautiful building is full of historical gossip you'll enjoy, including, for example, when Edward the 7th of England came to visit with his American wife-to-be.

Duration: 5 minutes

Stop At: Avenida Alvear, Buenos Aires Argentina

We will stroll shortly along this most elegant of avenues in Argentina and explain its lavish mansions and 1880-1930 immigration in Argentina.

Duration: 10 minutes

Stop At: Embajada De La Santa Sede Nunciatura Apostolica, Alvear 1605, Buenos Aires Argentina

Why is there an Argentine Pope? What relationship is there between Argentina's ultra rich women (Anchorena/Harilaos/Alvear) and the church? Why did Adelia Harilaos donate her palace to the Vatican? We will tell you the amazing stories behind this beautiful palace and gardens.

Duration: 5 minutes

Stop At: Recoleta, Junin y Guido, Buenos Aires Argentina

The Recoleto Franciscan Monks where given this land as a gift. Nowadays Recoleta is a strollable, affluent area known for Paris-style townhouses, lavish former palaces and posh boutiques.

Duration: 10 minutes

Stop At: Basilica de Nuestra Senora Del Pilar, Junin 1998, Buenos Aires Argentina

Beautiful colonial Basilica of Our Lady of the Pillar in Recoleta, Buenos Aires was built as part of the Franciscan Recoletos monastery, completed in 1732 it is the second-oldest church in Buenos Aires

Duration: 5 minutes

Stop At: Cemiterio de Recoleta, Junin 1760, Buenos Aires C1113 Argentina

To end our walk, we will give you a short introduction to this amazing cemetery--but we will not visit inside it.

Duration: 5 minutes

Stop At: La Biela, Av. Pres. Manuel Quintana 596, C1129ABO CABA, Argentina

We end our walk just outside this landmark cafe while we explain its history, the neighbourhood and the nearby attractions so you can choose what to do next on your own.

Duration: 5 minutes


Inclusions
Professional English-speaking guide
Exclusions
Gratuities
Hotel pickup and drop off
Meals
Departure Time
10:00 AM
Departure Point
Florida Garden, Florida 900, C1046 CABA, Argentina

Returns To
La Biela, Av. Pres. Manuel Quintana 596, C1129ABO CABA, Argentina

Additional Information
Confirmation will be received within 48 hours of booking, subject to availability
Children aged 8 years and under are free of charge when accompanied by an adult.
Note: tour operates rain or shine
Not wheelchair accessible
Near public transportation
Coverage of full itinerary may depend on weather, city-dynamics (riots, strikes, repairs), timing and other circumstances at time of tour.
Most travelers can participate
This tour/activity will have a maximum of 7 travelers
Booking Information
You can present either a paper or an electronic voucher for this activity.
Cancellation Terms
This trip is fully refundable up to 96 hours prior to the commencement of your trip.
Booking Terms and Conditions
When you book this trip, you need to read and accept the
terms and conditions
for booking our day trips in excursions.
Scoring an average traveller rating of 5 out of 5 based on the last 24 recent reviews
"
I just loved this... got to know much more of it's history and saw so much of the city center. Gave me the confidence to return on my own to the places that attracted my interest or were on my wishlist! Beautiful city with wide wide avenues.
"
Jenny
• Submitted 07 Sep 2018





"
A very knowledgeable guide walked us around the streets of Buenos Aires in two and a half hours. We stopped at various sights and had time to take in the history, etc. Certainly an excellent way to get to know a small area of the city.
"
Margaret
• Submitted 03 Mar 2018





"
Our guide was great and covered a lot of the downtown area of Buenos Aires. She spoke very good English.
"
Joe
• Submitted 21 Feb 2018





"
Carlos was waiting for our group at the appropriate time and location. He was fun, informative and interesting. It was a good overview of our pre-cruise visit in Buenos Aires.
"
marcia.meyer
• Submitted 10 Mar 2017





"
This was a good thing to do if you are looking to fill up a short period of time. Great photo opportunities. Learned a lot about the history of some of Argentinas history and the people involved. Sandi
"
Sandra I
• Submitted 01 May 2016





"
Great tour, good way to see the city on foot and learn something. Reasonably priced too.
"
Pendleton A
• Submitted 28 May 2015





"
The tour of my city I was born in BA was fantastic: the guide was extremely knowledgeable about tons of interesting facts and her Spanish is also great!. I strongly recommend it for those who want to see what a wonderful city we have in the Southern Hemisphere:.
"
Raul S
• Submitted 11 May 2015





"
Carlos was an outstanding guide and with his knowledge and inside info the city monuments and sights came to life. It's a leisurely walk but covering quite a bit of ground. You don't have to be super fit to do it but need to be able to keep up. One of our highlights.
"
WC M
• Submitted 20 Mar 2014





"
Very experienced guide who walked at a pace that was not too arduous and gave us lots of facts and information to make our experience of Buenos Aires even more than we could have hoped for.
"
Philip T
• Submitted 12 Mar 2014





"
Great walking tour! Martin was knowledgable, friendly and funny. It was a great introduction to the beautiful city of Buenos Aires. Thanks Martin :)
"
Petar L
• Submitted 12 Aug 2013





"
This is the perfect tour for this fascinating city. I enjoyed walking back into the history of of Buenos Aires, Martin made it fun and interesting,he is very knowledgable and expert in the history of the country as far as socially,economically and political,i strongly recommend to ask for him specifically he is the best. Best regard's. Anabel Urquidez.
"
FERNANDO V
• Submitted 11 Jun 2013





"
Excellent tour and a great way to see and learn about the inner city. Guide spoke excellent English and was very informative.
"
David B
• Submitted 02 Jun 2013





"
We did this tour in combination with the afternoon walking tour and found it to be fabulous. Our guide was personable, knowledgable, and fun. By the end we had heard many interesting and little known facts about the neighborhoods we walked through. We would have liked to walk more neighborhoods with him had we had the time. Don't miss these walking tours, especially if you are a first time visitor to Buenos Aires.
"
timothy b
• Submitted 05 Jun 2013





"
Everything was very good and enjoyable. No negatives.
"
James B
• Submitted 10 Jun 2013





"
This is a wonderful way to get to see Buenos Aires with an amazing guide who provided much details and history of the city.
"
James H
• Submitted 10 Jun 2013





"
Excellent! Guide (Martin, I think his name was) was brilliant. Very informative and interesting and told us all sorts of interesting and quirky things about BA. Highly recommend this tour.
"
Lynda A
• Submitted 25 Mar 2013





"
Always nice to have a brief view of a new town, and street tours really are good that way. We had a great guide who knew about what he was showing us and the histories behind it - really enjoyable
"
Reidar H
• Submitted 11 Mar 2013





"
I absolutely loved this tour! It has a lot to do with our tour guide, Martin. Aside from the historical tidbits that he shares, we touched on the cultural differences between western customs and that of Argentina. This was my favorite tour (I took 4 tours in all).
"
Erickson M
• Submitted 08 Jan 2013





"
So much fun even on a rainy day. This is truley a spectacular city and it so enchanting. Our tour giude martin was informative and funny. Great tour
"
stacey h
• Submitted 16 Sep 2012





"
Awesome day out with Martin! Great introduction to this city.
"
Anonymous
• Submitted 08 Jun 2012





"
Great tour, very informative. Martin was a great guide and you could tell that he was very passionate about his city. You can ask him anything and he'll know the answer. I'd recommend this tour to anyone wanting to know more about the city of Buenos Aires.
"
Bandit
• Submitted 08 Jun 2012





"
Short Version: Get Martin as your tour guide. Period, end of story. Long Version: My wife and I have taken a number of the Walking Tours throughout a number of different cities across the globe. We feel it's the best way to really get to know a city. Now of course the biggest variable on any of these tours is the guide. The guide literally makes or breaks the experience. For the most part with Viator we have been lucky and had some very good guides take us around and show us their city but this city tour was on a whole different level. Martin was the best tour guide we have had and we have had a number of great tour guides. At the end of the day we really felt we knew the culture, the history, the districts... i mean just everything. Martin's has a unique perspective as he lived in Canada before coming back to Argentina and can really do an amazing job of comparing/contrasting all the details and nuances of what make BA such an interesting place. Without getting too long winded, if there is someway you can ensure Martin is your guide I can confidently guarantee you that you will come back to your friends and family gushing about the awesome trip you had. We had nearly a 3 week trip through South America and this was one of the absolute highlights of the trip (New Years Eve in Rio wasn't bad either). We had to change our date the morning of the tour and Martin was extremely accommodating. We liked the morning tour so much that we asked to come along for the afternoon tour as well and he fit us in. What a remarkable experience. Thanks Martin!
"
Jeff G
• Submitted 12 Jan 2012





"
the guide is excellent he gave us a lot of usefull information and we really enjoyed every minute of the tour
"
sandra l
• Submitted 03 Jan 2012





"
Wonderful tour! Martin the tour guide was awesome.
"
Anthony L
• Submitted 19 Dec 2011





In Brief
Location:
Comuna 1, Argentina
Duration:
2 hours 30 minutes
More Buenos Aires Day Trips