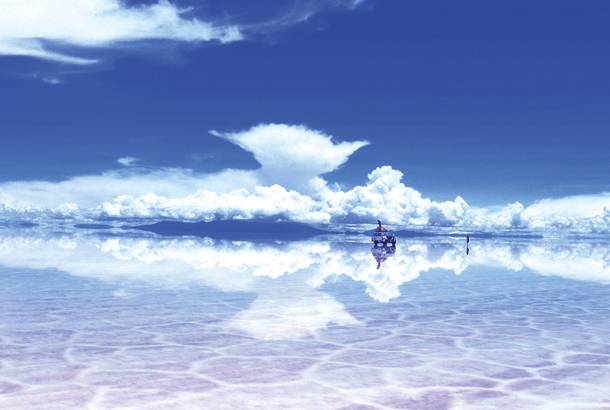 Seasons and Weather
Nicknamed the 'Tibet of the Americas', landlocked Bolivia is divided into three regions: Altiplano (a plateau at an average of 4,000 metres above sea level, 800 kilometres long and about 130 kilometres wide); the yungas (a series of forested and well-watered valleys); and the llanos (the Amazon-Chaco lowlands). Because of the wide range of elevations and topography, there are many different climatic patterns. The overall temperatures are probably cooler than most people expect. Even in the humid forest regions of the north, frosts are not unheard of. Bolivia's unprotected expanses contribute to variable weather conditions and the two climatic 'poles' are Puerto Suarez for its stifling, humid heat, and Uyuni for its near-Arctic cold and icy winds.
December to March is when most of the rain falls and La Paz is always cool to cold at night, so be prepared with sweaters and windbreakers. La Paz can get quite warm during the day but sometimes mists swirl through the streets and the city can be literally wrapped in the clouds. Throughout the country, night temperatures drop dramatically, and on the high Altiplano, when a cloud passes over the sun, the temperature plunges noticeably. In Cochabamba, Sucre and Tarija, winter is the time of clear, beautiful skies and optimum temperatures. The lowlands experience hot sunny days and an occasional shower to cool off and settle the dust.
Thinking of visiting Bolivia? Download a copy of our Latin America brochure for inspiration.
Climate | La Paz
| | Jan | Feb | Mar | Apr | May | Jun | Jul | Aug | Sep | Oct | Nov | Dec |
| --- | --- | --- | --- | --- | --- | --- | --- | --- | --- | --- | --- | --- |
| Temp Min °C | 6 | 6 | 6 | 4 | 3 | 1 | 1 | 2 | 3 | 4 | 6 | 6 |
| Temp Max °C | 17 | 17 | 18 | 18 | 18 | 17 | 17 | 17 | 18 | 19 | 19 | 18 |
| Rainfall (mm) | 114 | 107 | 66 | 33 | 13 | 8 | 10 | 13 | 28 | 41 | 48 | 94 |
Climate | Uyuni
| | Jan | Feb | Mar | Apr | May | Jun | Jul | Aug | Sep | Oct | Nov | Dec |
| --- | --- | --- | --- | --- | --- | --- | --- | --- | --- | --- | --- | --- |
| Temp Min °C | 3 | 3 | 2 | 0 | -2 | -3 | -4 | -3 | -1 | 1 | 2 | 3 |
| Temp Max °C | 15 | 15 | 16 | 17 | 15 | 14 | 14 | 15 | 16 | 18 | 18 | 17 |
| Rainfall (mm) | 99 | 72 | 42 | 17 | 1 | 0 | 3 | 4 | 11 | 24 | 27 | 44 |
Upcoming events
To help plan your visit to Bolivia, here's an overview of the festivals and events taking place over this year. This is by no means an exhaustive list so if you are thinking of heading to Bolivia outside of these dates and want to know what's on, check out this comprehensive list.
2021:
January 24th - February 24th -
Alasitas Fair (La Paz)
February TBC -
Fiesta de la Virgen Candelaria (Copacabana)
February 6th-16th -
Carnaval de Oruro (Oruro)
June 6th -
La Fiesta del Gran Poder (La Paz)
June 21st -
Aymara New Year (Nationwide)
June TBC -
San Juan Batista (Nationwide)
There's also a number of national holidays in Bolivia and on these dates many businesses and some tourist sites will close for the day so plan your visit accordingly.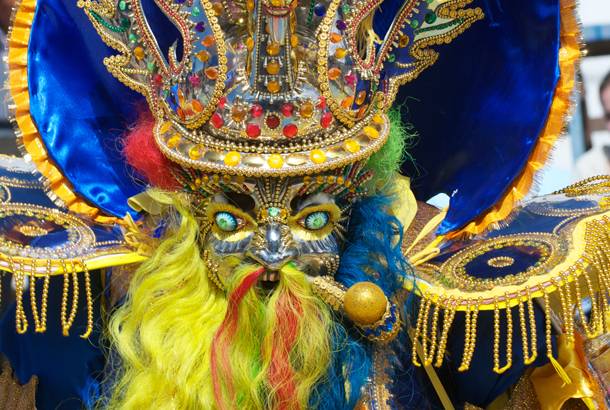 Festivals and Events
Bolivia might not be at the top of your travel agenda when it comes to festivals but they sure know how to throw a good party. With colourful festivals taking place throughout the year, this South American gem blends tradition and modernity seamlessly as it fills the streets with some of the brightest and most exciting events on the continent. Whether you're after music, food or spiritualism, Bolivia hosts something for everyone.
What is the Alasitas Fair?
This month-long festival sees hordes of people make their way to La Paz to buy everything from cars to university degrees, houses to electronics. Sound like an odd shopping list? That's because everything they buy is miniature – gifts for Ekeko, the tiny figurine that keeps guard over their houses throughout the year. Originally miniature gifts were bought for this tiny man in order to secure a good harvest but, with time, this wish has morphed into hopes for wealth, good education and travel.
What is the Fiesta de la Virgen Candelaria?
The legend behind this festival is that in 1576 some Inca fishermen were caught in a terrible storm on Lake Titicaca but before they were devoured by the water, the Virgin Mary appeared and rescued them. Out of gratitude, the fishermen built a shrine in her honour, containing a four-foot statue of the Dark Virgin of the Lake, as she's known. While the statue remains safely in the shrine, a replica is paraded through the streets once a year as people pray and party in equal measure before avoiding being gored during the running of the bulls on the final day of the festival.
What is the Carnaval de Oruro?
This is the only party you need to know about on your trip to Bolivia. Hundreds of thousands of visitors head to the sleepy town of Oruro every year to dress up in extravagant costumes and participate in traditional folk dances in order to celebrate Carnaval. One of the main characters during this festival is the benevolent Pachamama (Mother Earth), a life-giving goddess who can be spotted during the festivities. In 2001, UNESCO designated the carnival a "Masterpiece of the Oral and Intangible Heritage of Humanity".
What is La Fiesta del Gran Poder?
A celebration of 'the great power', this festival started as a small festival amongst local Aymara migrants but has expanded to become one of La Paz's biggest social events of the year. Tens of thousands of people, in spectacular costumes, parade through the streets to mark the beginning of the festival. The festivities then continue with dancing and drinking, all the while expressing utter devotion to the Señor del Gran Poder.
What is the Aymara New Year?
One of the most important events on the Bolivian calendar, the Aymara New Year coincides with the Winter Solstice and is a celebration filled with colour and joy. One of the most popular places to bring in the New Year is at the pre-Incan Tiwanaku ruins, where people gather to watch the sunrise filtering through the entrance to the temple. Expect to dance till you drop, chew coca leaves and make merry until the early hours.
What is the San Juan Batista?
Originally during this Catholic festival, fires were lit outside of the houses of local people, into which household items were thrown and left to burn. This symbolised Bolivians getting rid of their old possessions in order to make room for new ones. The flames were also supposed to keep evil spirits away on what is the coldest day in the Southern Hemisphere. However, as regards for the environment have increased, bonfires and their toxic fuel have been banned and replaced with BBQs, which allows people to still have a good time without destroying the o-zone.
See Also
To help you plan your Bolivian adventure, here are some more handy travel resources:
Best Places to Visit
- our favourite destinations
Tourist Visas
- details on visa procurement
Top Travel Tips
- vacciniations, food, tipping and more