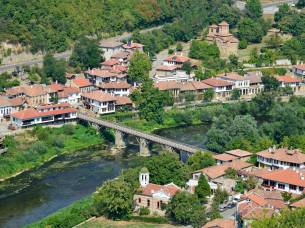 Best places to visit in Bulgaria: Our pick #1
Veliko Tarnovo
Evocative Veliko Tarnovo is medieval Bulgaria at its best with ancient fortifications, antique houses and attractive churches. Its dramatic setting above the Yantra River, surrounded on all sides by verdant forests, only adds to its appeal and remains constantly in sight from the urban centre. The well-preserved Tsarevets Fortress enjoys a commanding position atop a hill overlooking the town and is Veliko Tarnovo's top sight. The remains of some 400 houses and 18 churches have been excavated within the medieval stronghold, as well as a royal palace with the original foundations dating back as early as the 5th century. Home to Bulgaria's most prestigious university, Veliko Tarnovo has an excellent choice of cafes and restaurants to accommodate the university crowd, perfect on a balmy summer evening when you can sit back and soak up the beautiful undulating backdrop.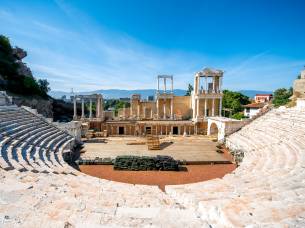 Best places to visit in Bulgaria: Our pick #2
Plovdiv
Bulgaria's second largest city has the perfect ratio of old town charm and urban culture with a beautifully restored 19th century centre and brilliant selection of art galleries, museums and nightlife to rival that of the capital, Sofia. Its manageable size makes exploring the city's twisting cobbled streets on foot the best option, allowing plenty of opportunity to stop off at the bohemian cafes where Plovdiv's university crowd catch up over coffee. The city's long history is reflected in the range of architectural relics left behind from Ottoman mosques to Thracian fortifications, and Macedonian masonry to Roman walls. The most impressive of Plovdiv's archaeological treasures is the Roman amphitheatre, one of the world's best preserved ancient theatres that can seat up to 7,000 spectators and is still used for cultural performances today.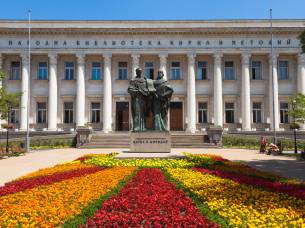 Best places to visit in Bulgaria: Our pick #3
Sofia
The capital city Sofia is a fascinating mix of east-meets-west with Soviet era monuments standing beside Ottoman mosques. As one of Europe's most recent capital cities it has retained a mellow ambiance with a central square that leads off through cobbled streets to manicured gardens and vast, green parks dotted with towering trees, passing a number of open-air cafes and bars along the way. As you would expect of a capital city Sofia has a wealth of fine museums and art galleries, with a healthy selection of dining options. Of Sofia's oldest structures, the iconic Aleksander Nevski Church is a must-see, a beautiful green-domed vision that has become a symbol of Bulgaria itself. The tiny UNESCO-listed Boyana Church displays 90 rare murals that have survived from the 13th century and another worthy visit.
See Also
To help plan your visit to Bulgaria, take a look at our other handy Travel Guide resources:
Best Time to Visit - climate and seasons in Bulgaria
Tourist Visas - details on visa procurement
Top Travel Tips - handy information on money, health and food in Bulgaria