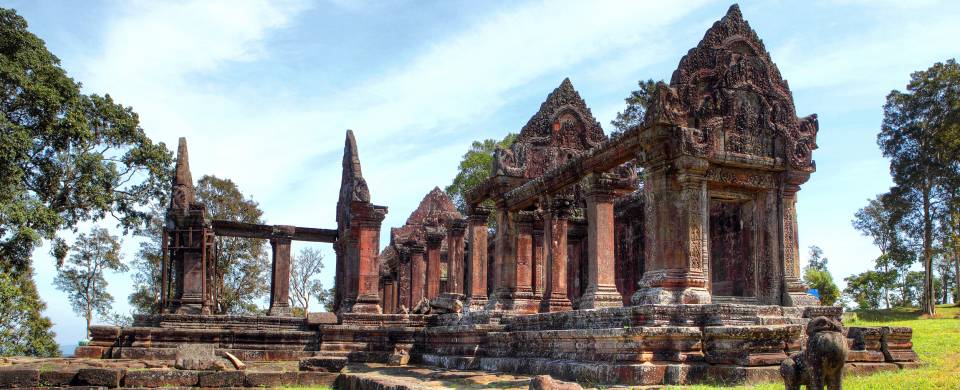 Trips and Tours to Preah Vihear
About Preah Vihear
The raw wilderness of Preah Vihear has remained virtually untouched by tourism, making it the perfect getaway for those who dare to venture from the beaten path in search of peace and tranquillity. Despite the relative lack of infrastructure here, it is still possible to get to and from the region and while it may be a bit of a challenge, those who succeed will reap the benefits upon arrival. Nowhere else in the country will travellers feel the same sense of utter isolation as they escape the real world and immerse themselves in rural life.
Read More
Despite the seeming insignificance of this small, under-populated area, Preah Vihear boasts one of the most impressive temples in the country, in fact it is so important that the province is actually named after it. For half a decade the temple was at the centre of a fierce dispute between Thailand and Cambodia with regards to ownership of the historical site. In 2013 it was ruled as Cambodian and has been safe to visit ever since. The temple, dedicated to Shiva, is a majestic remnant of a bygone era and dates back as early as the 9th century, making it an incredibly important part of Cambodian history. It has also been exceptionally well preserved thanks to the relatively little footfall it gets due to its remote location, making it even more appealing as a checkpoint on the itinerary.
While the area of Preah Vihear might not have a wealth of activities itself, it makes an excellent springboard not just for visiting Prasat Preah Vihear but also for taking a trip to see and explore the ancient region of Koh Ker, which served briefly as capital of the country back in the 10th Century AD. The area still has a number of fascinating ruins and sculptures, which certainly merit the effort of a trip.