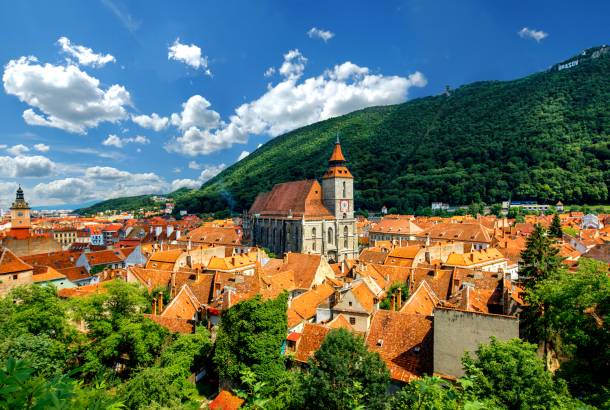 Adventure Group Tours
Our Eastern Europe group tours have been designed to suit the more adventurous traveller. Those who love to experience a more local perspective and to travel the way the locals do. For our tours to Eastern Europe we use a mixture of transport including local buses and trains as well as private transportation. Our accommodation for the night is generally simple and locally owned and definitely offers plenty of very unique and local travel experiences.
Group tour accommodation
From simple hotels to kitsch hostels, private apartments to quaint b&b's – your accommodation on our Eastern Europe tours have been carefully selected to get the most out of your stay.
We choose local character, cleanliness and atmosphere rather than a star rating. However that said accommodation is generally of a 3 star standard and location is key as we try to stay close to the centre of the town/city and within a good distance of the main sights. Rooms will be clean and comfortable and you'll get en suite facilities where possible (occasionally there will be the need to share a bathroom however we keep this to a minimum).
As our accommodation is more local it is advisable to expect the service to be a little unpredictable at times and English may not be widely spoken. This is all part of the adventure. Be aware that the odd problem or mistake may arise and that despite being in Europe we are still going to be travelling through some poor and underdeveloped regions. If you take all this on board, have a go with the flow attitude and a good sense of humour then you will be sure to have a great Eastern European adventure.
On our Eastern Europe tours we'll always match up solo travellers with another group member of the same sex. Where possible this will always be twin rooms – however now and again it may have to be triple rooms – depending on group composition and accommodation rooming structure.
Arrival & Departure Days
There are no planned activities for your first and last days of our tours. This gives you the freedom to arrive and depart when you like. We spend minimal time in the arrival and departure cities so if you would like to see more of these places then it is advisable you book pre and post tour accommodation with us. Airport arrival transfers are included in the cost of your tour of Eastern Europe making for a smooth and stress free start to your holiday.
Group size & profile
The maximum group size of our tours to Eastern Europe is 16 and we usually get an average of 8 to 12 passengers. Some excursions we partake it can be on a shared basis so be prepared to expect more people (not from your tour group) joining. Our tours tend to attract a great mix, including couples, groups of friends and solo travellers commonly from all over the globe. Our Eastern Europe tours tend to operate in a modular system, so group numbers can change from section to section and people may be leaving the tours at different stages. This is a great opportunity to meet an even more diverse range of like minded travellers.
Like our South America tours, our Eastern Europe tours tend to be of the adventurous and active nature so generally these are suitable for travellers between 18 and 60 years old who are fit and active. These tours require walking between bus and train terminals and hotels. Travellers must be able to carry their own luggage over various terrains as well as be able to lift their luggage onto the tops of buses. So be sure not to pack more than you can carry comfortably.
Meals
Meals (apart from most breakfasts) are not included on our Eastern Europe tours. This enables you to get out there and experience the best local cuisine on offer according to your own tastes and budget. This also allows for flexibility in when and where to dine and allows you to maximise your free time and not worry about rigid meal times. The hotels we use are generally located near restaurants with standards that vary (with location) from first class local eateries to more local restaurants. This ensures we are able to cater for all tastes and budgets.
Included & Optional Extras
Our Eastern Europe tours include a range of excursions, including visits to a KGB museum, a Serbian citadel, waterfalls, Dracula's castle and Auschwitz Concentration Camp (depending on which tour you are on). On some excursions you are likely to be put together with other people creating large groups. We also offer a great range of optional excursions and activities that can be booked locally. All of these are listed on the Trip Notes, which you can download online.
What to pack
Whether you are travelling for 7 days or 19 days – choosing what to bring can always be a struggle. Firstly as mentioned earlier it is important to limit yourself to one reasonably sized bag or backpack. We recommend not exceeding a weight of 20kg. You will be carrying your own luggage throughout the trip, sometimes for long periods of time and up stairs and along uneven ground – a lot of Eastern Europe still has cobbled streets. A comfortable frameless backpack is most recommended and suitcases are not recommended. It is also advisable to bring a small day pack which you should try and keep as light as possible with enough room to carry your food, snacks, camera and other personal items.
For a more extensive list of what to pack check the Trip Notes for the tour you are travelling on.
Tipping
Tipping is a part of everyday life in Europe, but you should not feel obliged or pressured to tip if you have not received good service. A gratuity of 10% of the total bill is recommended in restaurants. Gratuities are usually expected for local guides on included and optional excursions. Tips are also appreciated by our tour leaders at the end of your tour and we recommend an average of $2-$4 per person per day for the duration of your tour. This is only if you feel that their service was up to standard and is completely at your own discretion.
Further Information
For details on the style of travel to our other destinations in Europe, check out the following links:
Croatia - the choice of boats we offer and what you can expect on a sailing holiday
Trans-Siberian - all you need to know on travelling by train across Russia