Bethlehem and Jericho Day Trip from Jerusalem





44 reviews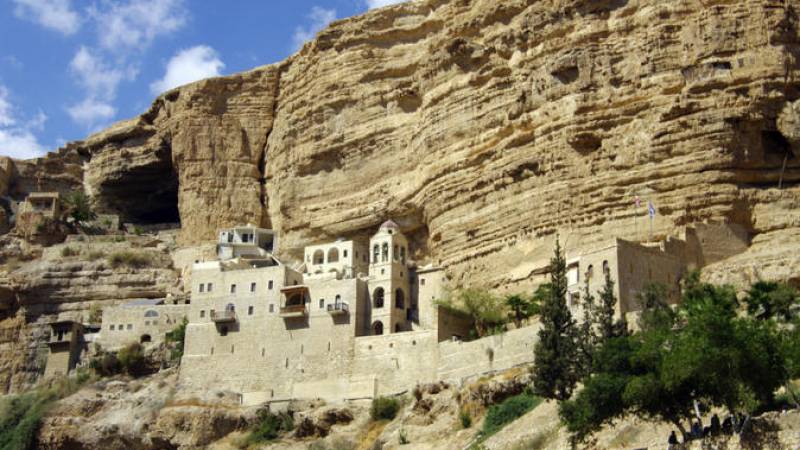 from £108.50
Experience the ancient and biblical treasures of Bethlehem and Jericho on this thought-provoking full-day trip from Jerusalem. Discover fascinating religious history from your guide as you travel to Jericho, the scene of many biblical stories. View Mt Temptation and the tree said to have been climbed by Zacchaeus for a better view of Jesus. Then, head to Bethlehem, to witness its most beloved Nativity sites. Visit the Church and Grotto of the Nativity, and view the Shepherds' Field, where shepherds reputedly saw the Star of Bethlehem.
BOOK WITH CONFIDENCE:
As members of ABTA and ATAS we are
100% financially bonded
. You can book your day trip with us in absolute confidence, no matter where in the world you are.
Due to the impacts of COVID-19, we are currently not taking new bookings for day tours.
In Brief
Location:
Jerusalem, Israel
Operates:
Monday, Wednesday and Saturday
Highlights:
All entrance fees included
Free hotel pickup and drop-off included
Informative, friendly and professional guide
Leave your central Jerusalem hotel in an air-conditioned coach and head east toward Jericho. As you travel through the Judean desert, pass the Inn of the Good Samaritan, the site linked to the Bible's famous parable.

Stop at the sign marking sea level and enjoy views over the Jordan Valley, the place where Jesus is said to have been baptized; and Jericho's oasis, as you descend to the world's oldest continuously populated city. Mentioned in the Old and New Testament, Jericho is perhaps best known for the biblical story of its walls crumbling to the trumpet sounds of the Israelite army, and as the place where Jesus is said to have returned after 40 days in the wilderness.

Get views of Mt Temptation, the craggy hill that towers over the city, and see the Tel mound and Elisha's Spring, the natural spring mentioned in the Bible. Also, take a look at the sycamore tree that, according to the Bible, was climbed by Zacchaeus so he could see Jesus more clearly as he entered the city.

Either stop for lunch (own expense) in a restaurant in Jericho or later, when you visit Bethlehem, depending on timings.

Having explored Jericho, relax on your coach ride to Bethlehem, Jesus' believed birthplace. On arrival, walk around Manger Square and enter the Church of the Nativity to see the Grotto of the Nativity, where a star marks the spot of Jesus' birth. Then, visit the Church of St Catherine where Saint Jerome translated the Bible from Hebrew to Latin.

Leave Bethlehem and view Shepherds' Field, where the bible says the angel of the Lord appeared to shepherds to tell them of Jesus' birth. See the modern, tent-shaped church built on the site, and then return to Jerusalem, where your tour ends with a hotel drop-off.
Inclusions
Hotel pickup and drop-off
Professional guide
Air-conditioned vehicle
Exclusions
Food and drinks
Gratuities
Departure Time
8:30 AM
Departure Point
Your centrally located hotel in Jerusalem or our alternative pickup location is at Dan Hotel in Jerusalem
Returns To
Returns to original departure point
Additional Information
Confirmation will be received at time of booking
A moderate dress code is required to enter places of worship and selected museums. Please refrain from wearing shorts. Knees and shoulders must be covered for both men and women. You may risk refused entry if you fail to comply with these dress requirements
Please note: you will be met by a Palestinan guide at the boarder
The order of activities as described in What You Can Expect is subject to change on the day of your tour
Please note this tour is not suitable for children under the age of 4
Booking Information
You can present either a paper or an electronic voucher for this activity.
Cancellation Terms
This trip is fully refundable up to 96 hours prior to the commencement of your trip.
Booking Terms and Conditions
When you book this trip, you need to read and accept the
terms and conditions
for booking our day trips in excursions.
Hotel Pickup
When you book, we will ask you to select a hotel to be picked up from. Once your booking is confirmed, we'll send you a confirmation voucher with full contact information (phone number, email address) for our local operator in case you need to update or change your hotel pick-up details.
Here are answers to some commonly asked questions about hotel pickup:
What if my hotel is not listed?
That's okay. When you book you can select an hotel from our list and make your way there on the day of departure; or you can contact our local operator directly to make alternate pick-up arrangements.
What if I have not yet booked a hotel?
Once your hotel arrangements are finalised, you can contact our local operator directly with your hotel details.
What if I live locally, am staying with friends or relatives, and/or don't require pick-up?
Once your booking is confirmed, we'll send you complete details and directions to the tour/activity departure point.
Scoring an average traveller rating of 4.67 out of 5 based on the last 24 recent reviews
"
Excellent guides. Extremely knowledgeable and accommodating. ZAHI Shaked warm and friendly .also very funny
"
Gay C
• Submitted 22 Nov 2019





"
The tour was spectacular thanks to Dan Porges... He was very knowledgeable and friendly. Took care of all requests !!!
"
SHAUNDA C
• Submitted 03 Jul 2019





"
We had the opportunity to spend time in Bethlehem and in Jericho. In Bethlehem we had ample time to go through the Church of the Nativity even though it was extremely crowded. We visited the Shepherds Field Church with excellent explanation by the Guide and time to enjoy the beauty and for pictures. Then on to Jericho, the oldest City in the World, and viewed ruins dating back 10,000 years. Lunch is on your own and the place we stopped was lovely but not impressed with the food. As with most restaurants, a bit pricey for lunch. I would certainly recommend this tour if you have a few days in Israel.
"
BGP623
• Submitted 11 Sep 2018





"
Both Bethlehem and Jericho are worthwhile seeing. The day trip started by visiting Bethlehem first. We saw the field where the shepherds heard the news of Jesus birth from the angels, and then went to the grotto where Jesus is meant to be born. To see the actual place with the marble slab and star, was impossible as there were very long lines waiting, so our lovely guide George he's awesome and so passionate about the bible explained that Jesus could have been born anywhere in this grotto, not just that particular spot. I was happy with just being here and not having to wait in line for 3 hours. The church was nice too. I recommend George to be your guide. The only thing I was a wee bit disappointed in is that they went first to a gift shop, then to the grotto. Had they got us into the grotto first we might have had more chances to see the actual place, and then go to the gift shop after that. But overall, this was still a great day. Jericho was fantastic, and left me a good impression. Even though I nearly fainted from the heat, 38 but felt like 42 C the excavation sites were very interesting, and we had a fabulous buffet lunch and very friendly hosts in the temptation restaurant. I even got to ride a camel and ate their delicious dates. They have a very nice shop downstairs with skin care products, shampoo etc from dead sea minerals.
"
Marianna H
• Submitted 04 Sep 2018





"
Very good tour, amazing sights, very powerful
"
Maurice V
• Submitted 07 Apr 2018





"
This was an exceptional tour not because of the sites scene but because of the tour guide. His years of experience provided a valuable historical foundation for the tours. He was culturally skilled and presented the information eloquently and in a manner that left you wanting to know more. He was open to questions and responded well. I've been on several Viator tours, in several countries, and we older travelers can be dismissed by the younger tour guides. This tour guide welcomes travelers of all ages and wants you to become part of his tour guide team. It was because of his service that I booked a day long trip in Tel Aviv though Viator. Kudos to this tour guide !
"
Ken H
• Submitted 09 Mar 2018





Gustavo M
• Submitted 16 Feb 2018





"
This is an excellent tour. Bethlehem was fantastic and I thought Jericho was as well. Others have seen it as ho hum.
"
Mich L
• Submitted 27 Dec 2017





"
Our day trip to Bethlehem with Bein Harim Tours was one of the most memorable tours we've taken. It was very efficiently organized and we were able to visit all the important sites and venues in Bethlehem and had also enough time to shop. The guides for Bethlehem and the Jericho tours were super good and friendly and professional. The Jericho tour exceeded our expectations we were pleasantly surprised to see Elisha's spring and the commentaries by our guide at the Archeological digs in Jericho was very informative. We had a long day but every moment was special and most enjoyable. Thank you to Bein Harim and the wonderful guides.
"
Suveda T
• Submitted 31 Aug 2017





"
Excellent tour with experienced Tour Guide
"
Philip
• Submitted 28 Aug 2017





"
Bethlehem was very good, Jericho was not worth it.
"
Sandra X W
• Submitted 27 Sep 2016





"
MUST DO tour. Book it here as you completely safe leaving Jerusalem - Israel Fantastic Palestinian tour guard, amazing knowledge deep in full of stories. Thank you for caring service all the way, staff could not be more helpful. Fantastic tour well worth the money.
"
Ivana S
• Submitted 25 Jul 2016





"
Good tour. Bethlehem was clearly the highlight of the day. Jericho was just ok. Would recommend.
"
kk
• Submitted 20 Mar 2016





"
I loved this tour mainly the Bethlehem part of it. The guide was perfect, and the tour was excellent! Jericho part wasn't such as excited... but it was ok. Strongly recommend!!!!
"
Attila M
• Submitted 29 Oct 2015





"
Excellent guides and beautiful place to see, very Well informed on this tour, will use viatour Again for sure.
"
Kipp
• Submitted 27 Oct 2015





Gregory B
• Submitted 03 Dec 2014





"
Belén en sí tiene un encanto muy especial y más allá de la religión el lugar es hermoso. Hicimos 4 tours con esta compañía 3 muy bien y uno si fue un desastre total!! Las sugerencias son: 1.- No pasen por cada persona a los hoteles es una pérdida de tiempo y nos hacen esperar mucho tiempo por que no te recogen exactamente en el hotel no a todos si no en algún cercano y en nuestro caso tuvimos espera de casi una hora. 2.- Nos han tocado varios tours en los cuales el guía lleva un micrófono inalámbrico y cada uno de nosotros tenemos audifonos. En estos 4 tours el guía tenía que gritar para que escucharamos y eramos grupos de al menos 35 personas lo cual hacia bastante difícil lograrlo. Los lugares visitados son hermosos y el conocimiento y preparación de cada guía de lo mejor.
"
Evelinsalgadomejia
• Submitted 17 Jan 2018





"
Another excellent trip....didn't get enough time to go into the grotto at the Church of Nativity..because the lines were so long....however the rest was enjoyable.
"
maharajanuradha27
• Submitted 09 Jan 2018





"
I would have liked a little more information about the stops. It would have been nice to include the tram ride to the mount of temptation. It was amazing to see the area and how the Israel and Palestinian guides worked together. Unforgettable.
"
Kevin K
• Submitted 20 Sep 2017





"
The tour and tour guides were excellent! The only issue were the pick up times and drop off as it wasn't clear when booking. We understood we would be picked up at 8:30 at hotel, but a car came to get us at 9:15 and then took us to the tour bus transfer location and didn't actually leave for tour until after 10:00. We were dropped off on a street about a 15-20minute walk from hotel which was Ok but not understood when booking that it would be the case.
"
Laurie B
• Submitted 12 Jan 2017





"
Wonderful trip. Etima or Noah's uncle as he was referred to was very knowledgeable and provided additional insight on the current political situation in Israel. The trip to the West Bank and into Jericho and Bethlehem was seamless. The guide from Palestine was also very knowledgeable and provided additional information on the Church of the Nativity. Recommend this tour but would have like to take a look at the small shops that sold olive tree products on the way to the Church.
"
rmezzara
• Submitted 21 Dec 2016





"
10-12-16 My wife and I went in a small group tour in July 2016. Both Bethlehem and Jericho were interesting and well worth seeing. In Bethlehem, we bought an Alexandrite pendant necklace. Though probably lab created, her Alexandrite pendant changes colors in different light similar to natural Alexandrite. She is very happy with the necklace. Jericho was hot. As a tip, take one of the cool cloths that are advertised to wear around your neck. The cool cloths work very well and it is amazing how pouring air temperature water on the cloth makes the cloth cold.
"
Randy D
• Submitted 13 Oct 2016





"
Wonderful Trip out tour Guide was very informative and totally had a wonderful Day G Jack
"
G Jack M
• Submitted 25 Jul 2016





"
Adorei o passeio em Jericho, valeu super a pena! A empresa e confiável, passou sempre no horário marcado. Além disso, a guia de Bethehem foi sensacional.
"
Adriana de O
• Submitted 28 Jun 2016





In Brief
Location:
Jerusalem, Israel
Operates:
Monday, Wednesday and Saturday
Highlights:
All entrance fees included
Free hotel pickup and drop-off included
Informative, friendly and professional guide
More Jerusalem Day Trips