Jerusalem Three Religions Holy City Walking Tour





131 reviews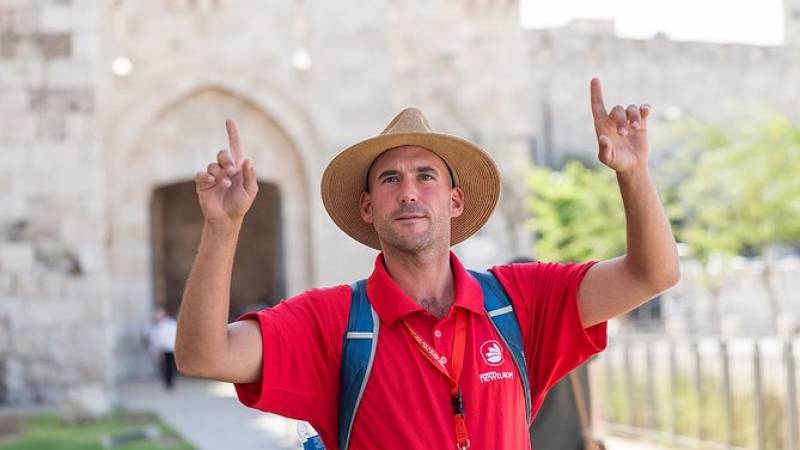 from £33.24
See Old Jerusalem's holiest sites through Jewish, Christian and Muslim eyes on this revealing 4-hour walking tour. Accompanied by an impartial guide, walk up to the Temple Mount to see its Islamic shrines and learn about its significance to Muslims and Jews. Then, check out landmarks revered in both Judaism and Christianity. See the Western Wall and King David's Tomb, and visit the Via Dolorosa, Church of the Holy Sepulchre and Hall of the Last Supper, as your guide recounts the potent religious beliefs that swirl around each of them.
BOOK WITH CONFIDENCE:
As members of ABTA and ATAS we are
100% financially bonded
. You can book your day trip with us in absolute confidence, no matter where in the world you are.
Due to the impacts of COVID-19, we are currently not taking new bookings for day tours.
In Brief
Location:
ירושלים, ירושלים
Operates:
Monday, Tuesday, Wednesday, Thursday and Sunday
Itinerary
This is a typical itinerary for this product

Pass By: SANDEMANs NEW Europe - Jerusalem, Jerusalem 97500 Israel

Meet your guide at the walls of Old Jerusalem and set off on your walking tour. As you work your way through the bustling lanes, learn about Jerusalem's 3,000-year and more history, and how it became a spiritual center for Christianity, Judaism and Islam.

Stop At: Temple Mount, Al Aqsa Mosque Complex, Jerusalem Israel

Walk up to the Temple Mount and marvel at the stunning, gold-covered Dome of the Rock, a Muslim shrine believed to mark where the Prophet Mohammed rose to heaven. As you admire the building, learn how it stands on a site revered by Jews as the original location of the First and Second Jewish Temples and the place where Abraham prepared to sacrifice Isaac.

Duration: 25 minutes

Stop At: Western Wall Plaza Jewish Quarter, Jerusalem 97500 Israel

Walk to the Western Wall (Wailing Wall) at the base of the Mount.

Drink in the scenes around the wall as your guide explains why it is a site of pilgrimage for Jews.

Duration: 25 minutes

Stop At: Christian Quarter Road, Jerusalem Israel

Continue to the Christian quarter and walk along part of the Via Dolorosa, the path that, according to Christians, Jesus took to Calvary.

Duration: 25 minutes

Stop At: The Way of the Cross - Via Dolorosa, Via Dolorosa Old Town, Jerusalem Israel

See some of the Stations of the Cross

Duration: 25 minutes

Stop At: Eglise du Saint-Sepulcre, Christian Quarter, Jerusalem Israel

Visit the Church of the Holy Sepulchre, reputedly built on the site of his crucifixion.

Duration: 25 minutes

Stop At: Mount Zion, Rehov Ma'ale HaShalom, Jerusalem 9750000 Israel

Head to Mt Zion outside the walls and visit the Hall of the Last Supper, a 12th-century room said to stand where Jesus had his last meal with his disciples.

Duration: 25 minutes

Stop At: King David's Tomb, Mount Zion, Jerusalem Israel

Visit the Tomb of King David, viewed by Jews as the burial place of the second king of Israel.

Duration: 25 minutes

Pass By: Old City of Jerusalem, Jerusalem Israel

After your visit, walk back to the city walls, where your tour comes to an end.


Inclusions
Exclusions
Food and drinks
Hotel pickup and drop off
Departure Time
11:00 AM
Departure Point
Jaffa Gate, Omar Ibn Katab, ירושלים

Additional Information
Confirmation will be received at time of booking
The following items are prohibited on the Temple Mount: religious objects or political items of any kind, weapons, alcohol, iPads/tablets/eReaders, laptops, selfie-sticks, and tripods
Not wheelchair accessible
Near public transportation
Children up to 12 years old are welcome to join this tour for free. We reserve the right to ask for a valid ID for children joining our tours
All visitors must wear either full length pants or a skirt that covers the ankles and have sleeves up to the elbows. There is a strict dress code on the Temple Mount
The Temple Mount is closed to visitors on Fridays and Saturdays. The area may also be closed during the week due to security reasons or public holidays
Please note: During the Month of Ramadan from 23 April 2020 till 23 May 2020, this tour will not enter the Temple Mount. Sites on Mount Zion will be visited instead
The independent guides who employ us to market their tours have your best interests in mind; while the tour usually includes the sites & stories mentioned and lasts about 4 hours, your tour may vary depending on what your guide thinks is best for your group
Most travelers can participate
This tour/activity will have a maximum of 40 travelers
Booking Information
You can present either a paper or an electronic voucher for this activity.
Cancellation Terms
This trip is fully refundable up to 96 hours prior to the commencement of your trip.
Booking Terms and Conditions
When you book this trip, you need to read and accept the
terms and conditions
for booking our day trips in excursions.
Scoring an average traveller rating of 5 out of 5 based on the last 24 recent reviews
"
Great guide and good route giving an overview of the main sights of the old town and lots of inspiration for exploring the surrondings
"
Natalia S
• Submitted 22 Jan 2020





"
This is my second time doing this tour and it is still fantastic. I did this tour by myself years ago and now did the tour with my family. I loved it then and I loved it now. The tour was informative and entertaining. Anna the tour guide was amazing. She brought props to help illustrate the points she was making. Highly recommended.
"
Boris G
• Submitted 10 Jan 2020





"
PERECT introduction tour to Jerusalem. Easy location to meet the tour. Our guide was interesting - Talked the right amount - knew how to move around crowds Constructive criticism: Group needs to be under 25, Guide needs to have poll with a Red Flag
"
Marie A P
• Submitted 09 Jan 2020





"
We had Anna as a guide, and she really was excellent at her job! The tour covered well the city's history and the most important sights. We had a great day, learned a lot and had unforgettable experiences, including a visit to the Wailing wall (not just looking from a distance, but actually going to the wall), walking the Via Dolorosa and standing at the Temple Mount between the Al-Aqsa mosque and the Dome of the Rock. I really recommend this tour as a way to get to know the Old City of Jerusalem!
"
Miika R
• Submitted 06 Jan 2020





"
We had Mr. Omer Cohen as our guide, and he was great. He had expansive knowledge of the Old City and the impact of the three religions on Jerusalem. He brought a 3-ring binder with maps, diagrams, photos etc. for help in explaining, which was very informative. He had a good sense of humor, too! Be advised - there is no getting around a LOT of stair-climbing and crowds in Jerusalem! But the tour was well-paced, and the optional lunch at a great hummus restaurant was reasonably priced and delicious. We recommend!
"
Ido R
• Submitted 16 Dec 2019





"
Excellent knowledge! Great fun! Totally wonderful! Highly recommend! The weather was fabulous! Many thanks
"
Marina B
• Submitted 27 Nov 2019





"
An interesting overview of the city and the religions that are the bedrock of this phenomenal place. Our guide was interesting, enthusiastic, and more than happy to field questions and stimulate thought. And this tour is a great way to get your bearings if you've never been to Jerusalem before.
"
Blake M
• Submitted 25 Nov 2019





"
Fantastische begeleiding door Mrs Anat!!! Top guide. We enjoyed very much the flamboyant way in which she showed us the old city of Jeruzalem en told a lot about the history
"
Paul R
• Submitted 09 Dec 2019





"
As first timers in Jerusalem, we would not have known where to start and how to proceed. The tour was reasonably priced enough to give us the lay of the land and enable us to be confident enough to venture out on our own after its completion. Highly recommended for those just getting to know the city for the first time.
"
Maria R
• Submitted 13 Nov 2019





"
The tour is really well organized. Orna, our guide, was really expert, clear and kind. She explained lot of historical events and, at the same time, historical anecdotes making the visit really interesting. Jerusalem is a city full of history and having a walk with her was amazing to understand its allure. The tour is a little bit tiring but it's worth it.
"
Claudia I
• Submitted 11 Nov 2019





"
I learnt a lot during the trip and Dror, our guide, did a fantastic job keeping the tour both informative and entertaining. I would highly recommend this tour to anyone.
"
Andreas L
• Submitted 04 Nov 2019





"
Perfect tour. Enough time at the highlights, perfect tour guide that's enthusiastic and had the right place! Would recommend this one
"
Stefan T
• Submitted 18 Oct 2019





"
We chose well with this tour as it gave us a thorough overview of the old city, the principle sites and a great guide (thanks Anat Rom) who gave us information about where we were going, where we were and the relevant history and religious significance. A great introduction from which we were able to decide where to visit the next day. Food not in package but guide organised a reasonable lunch that we paid for. The next day we rested at a different but similar restaurant that ripped us off so guide on this tour looked after us.
"
larryjselby
• Submitted 12 Sep 2019





"
We very much enjoyed this walking tour of the 4 walls in Jerusalem. Our tour guide was excellent. Very knowledgable and you can tell he really likes being a tour guide. He gave us great information and advised us through dress codes and cultural norms we may not have been use to. I would highly recommend this tour
"
Amanda A
• Submitted 27 Aug 2019





"
Anna our tour guide for awesome. She was very knowledgeable and fun. So glad I took this amazing tour.
"
Pamela D
• Submitted 24 Apr 2019





"
She is very knowledgeable and kept us really engaged and interacting as a group. She is also very caring and watched out for us. I almost forgot my jacket. She noticed I wasn't wearing it and went back into the restaurant to get it before I even saw that it was missing. She is really exceptional.
"
LEONARDO R
• Submitted 08 Apr 2019





"
I had a great time on this tour and couldn't be happier with the guide, pace and coverage of the tour. Would highly recommend.
"
Collin B
• Submitted 08 Apr 2019





"
Our guide Hila as very pleasant, knowledgeable and objective. She made our tour informative and memorable.
"
Elzbieta M
• Submitted 24 Jan 2019





"
Anat was an amazing guide for the Three Religions tour we took today. She is very knowledgable, conscientious and well prepared. She is also friendly, funny and kind.While all of the locals we visited are spectacular in their own right, through her insights and 'visual aides' Anat brought them all to life and heightened the experience exponentially.
"
Neil W
• Submitted 05 Dec 2018





"
David did a great job. He is very knowledgeable of all the sites. Since the Temple Mount was closed because of a Muslim holiday, he added other sites and the tour actually went longer than scheduled, which was fine. He explained that, and everyone in the group stayed for the whole thing. Basti was also a delicious lunch stop. Thanks!
"
Donalee S
• Submitted 22 Nov 2018





"
Was very well done by Shlomo. He did an excellent job covering both the history and religion while avoiding the politics.
"
saldanha
• Submitted 23 Oct 2018





"
This was a very good tour. We went up on the Temple Mount which was on my bucket list. Not too many people manage to get up there. Jeru was a very knowledgeable guide.
"
Mark B
• Submitted 09 Oct 2018





"
Really good tour. Lots of walking. You really have to believe that the sites where you visit are where things actually happened. Faith I guess but overall the tour guide was very informative.
"
Mark B
• Submitted 10 Sep 2018





"
My goodness we lucked out with our knowledgeable guide - Joshua Levinson. He took us on the most incredible tour around the Old City of Jerusalem. We got to see all the main sights bar Dome of the Rock - as it was closed with a lot of places and side streets we would not have known about. He made the tour interesting and varied and kept our attention until past 6pm in fact having started at 11am. We were with our two children - 12 and 9 years old and they equally loved the whole day. I would absolutely recommend this tour to anyone visiting Jerusalem. When we return we will definitely book another of your tours. Excellent and very memorable day. Cannot fault it.
"
Victoria T
• Submitted 29 Aug 2018





In Brief
Location:
ירושלים, ירושלים
Operates:
Monday, Tuesday, Wednesday, Thursday and Sunday
More Jerusalem Day Trips