Musica a Palazzo 'Traveling Opera' Performance in Venice





277 reviews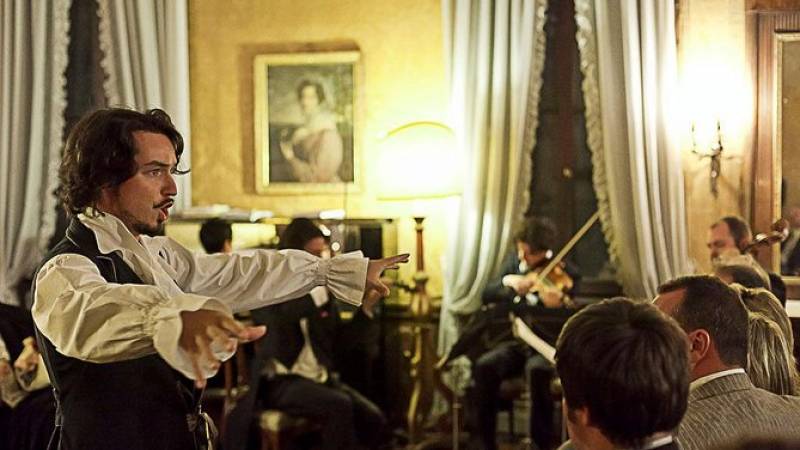 from £80.73
Experience the magic of 'traveling opera' during a 2-hour operatic performance at the grand Palazzo Barbarigo-Minotto in Venice. Performed by the acclaimed Musica a Palazzo ensemble, this night of opera, song and music features world-class singers and instrumentalists performing as they move, with the audience, through the palazzo's beautiful salons. With the singers performing feet away and the lavish rooms providing authentic backdrops, you'll feel as if you're part of the opera, not in the audience. Choose from three classic operas or a selection of duets to suit your tastes and schedule.
BOOK WITH CONFIDENCE:
As members of ABTA and ATAS we are
100% financially bonded
. You can book your day trip with us in absolute confidence, no matter where in the world you are.
Due to the impacts of COVID-19, we are currently not taking new bookings for day tours.
In Brief
Duration:
2 hours 30 minutes
Visit: Musica A Palazzo, Sestiere San Marco 2504 Palazzo Barbarigo Minotto, 30124 Venice Italy

Musica a Palazzo offers a new way of experiencing the grand Opera. The Opera is a travelling show and each act is set in a different hall of a fascinating Venetian palace: Palazzo Barbarigo Minotto.

Duration: 2 hours


Inclusions
1 glass of prosecco, red or white wine, soda or orange or peach juice per person in one interval
1 Musica a Palazzo card per person
Entry/Admission - Musica A Palazzo
Exclusions
Food and drinks
Gratuities
Libretto (available to purchase for approx. 5 euro)
Postcards, CDs and DVDs of show (available to purchase)
Departure Time
8:30 PM
Departure Point
Musica A Palazzo, Sestiere San Marco 2504 Palazzo Barbarigo Minotto, 30124 Venice Italy

Additional Information
Confirmation will be received at time of booking
Dress code is elegant casual
Not wheelchair accessible
Service animals allowed
Near public transportation
Not recommended for children under the age of 4
Most travelers can participate
Booking Information
You can present either a paper or an electronic voucher for this activity.
Cancellation Terms
This trip is fully refundable up to 96 hours prior to the commencement of your trip.
Booking Terms and Conditions
When you book this trip, you need to read and accept the
terms and conditions
for booking our day trips in excursions.
Scoring an average traveller rating of 5 out of 5 based on the last 24 recent reviews
"
If I could rate this as ten stars, I would. An intimate experience listening to beautiful music is like nothing else.
"
elliot s
• Submitted 23 Dec 2019





"
Initially we were wary of taking booking this opera as we are not opera lovers at all. But our friends insisted and we went. We ended up thoroughly enjoying it. It was such a lovely experience. It was up close and personal and we moved from room to room making it a much more enjoyable experience than a typical opera in a big theater. I would definitely recommend this. It just gave us such a good feeling and made our experience in Venice so much better.
"
Anna B
• Submitted 13 Dec 2019





"
A must even if 'opera' is not your main musical interest. The Barber of Seville done this way was fun and immersive and you cannot help but wonder what life and romance was like a few hundred years ago in that very building in Venice. Highly recommend it. It is worth it to purchase the program/guide and read up a bit on the storyline and keep as a souvenir. Very happy with the experience!
"
DMRuiz101
• Submitted 09 Dec 2019





"
This is such an amazing event in such a quaint setting. I never imagined how fantastic the performance could / would be until it started. The memory goes on and on and will absolutely return the next time we're in Venice
"
michael m
• Submitted 20 Nov 2019





"
From the moment we arrived, it was a different feel to traditional opera. The venue was lovely, the artists were so close to the audience interacting with them during the performance. It was fun to move around to different rooms at each new scene. Loved it and would absolutely go again!
"
Kirsten L
• Submitted 18 Nov 2019





"
Waling down the narrow grotto alleys of Venice and we end up in a 1500's house. Privately performed "Rigaletto" was nothing less than amazing. Never done an opera but betting opera lovers will appreciate even more. To be able to see up close the expressions and even the labored breathing of each passionate note echoing through the chambers of these rooms. TX interpretation: "If that don't get ya, your powder ain't dry!" Seriously, just do this.
"
Michael W
• Submitted 29 Oct 2019





"
The evening was very fun. The setting is very intimate and interesting.. I highly recommend this for all opera fans!
"
Christopher A
• Submitted 30 Sep 2019





"
Small audience gave space for excellent viewing and interaction with troupe. The performers had beautiful voices and kept the audience entertained and engaged. Room to room tour of the facility was an added benefit. Highly recommend this activity!!!
"
Mary M
• Submitted 26 Sep 2019





"
This was excellent and we actually felt part of the performance being so closed to the performers. The location was perfect and being able to move to different rooms for the separate acts made it even better. I would definitely recommend this if you are new to opera which we were.
"
Emma W
• Submitted 15 Aug 2019





"
We thoroughly enjoyed this experience. The novelty of moving rooms to create a new set for each act added to the excitement of the night. It was my husband and daughter's first taste of Opera and they are still talking about how much they enjoyed it weeks later.
"
Linda K
• Submitted 03 Jul 2019





"
This was such an amazing performance and experience! The talent,atmosphere and setting were unbelievable!!!
"
hourglassashley
• Submitted 03 Jul 2019





"
Great experience, the performers were all on point and the venue was just amazing. I like that they interacted with the crowd but were very professional as well.
"
Leah M
• Submitted 15 Jun 2018





"
One of my favorite memories from this stunning city.
"
Ashley R
• Submitted 12 Jun 2018





"
Unique experience if you appreciate non traditional settings. Intimate setting. Highly recommend.
"
Maliza J
• Submitted 24 Apr 2018





"
This is a must see private show. We absolutely loved it and loved the exclusivity of it. The performers were top knotch and so talented. Highly recommend!!!
"
Debra D
• Submitted 04 Apr 2018





"
The Barber of Seville was very entertaining. The performers looked like they thoroughly enjoyed entertaining us, engaging the audience which was nice and small. The venue was very quaint and I loved being able to move throughout rooms of the beautiful building. I really enjoyed the musicians as well, they were very talented and professional and the pianist was very animated and entertaining. I highly recommend this style of opera.
"
Tracy B
• Submitted 26 Mar 2018





"
I pre-booked through Viator to see La Traviata and only wish I'd booked earlier so I might have also seen The Barber of Seville and Rigoletta My favourite opera on other nights! It proved a little tricky to say the leastto find, so do make sure you suss out the back streets in advance if possible. Even the locals and bar staff didn't know the address. However, once there we were greeted by lovely hosts. It was a wonderful venue with professional, attentive staff and excellent customer consideration. The guide book is handy to have for those not familiar with the opera story lines and translation notes make it good value at 5 euros. Anyway, to the evening, and what a delightful, joyous evening is was for me. I've been to the opera many times but LOVED the intimacy and setting of this venue. It is a beautiful building. Moving room to room was enchanting and worked well, making it more interactive and intimate. But of course, the main thing was the performances. And WHAT PERFORMANCES they were! In particular, Natalia Roman, Soprano, as Violetta was sublime and moved me to tears several times. I would say world class. If you enjoy opera you will love an evening at Musica A Palazzo. If you're not acquainted with opera, expect to be converted. An absolute joy to attend and without doubt one of the highlights of my trip to Venice.
"
Debbie F
• Submitted 18 Mar 2018





"
This is an event not to be missed! To move from 1 beautiful room to another in this palace, sitting there, so close to the actors and musicians was truly thrilling, almost magical! Seeing an opera in such an intimate setting makes it come alive, and more understandable, in my case, Rigoletto. I would recommend reading a bi-lingual libretto in advance. A great experience! One HUGE problem was finding this place in freezing cold, rainy weather, in the dark of night!! NO REAL ADDRESS IS GIVEN and NO ONE KNOWS WHERE THIS PALACE IS! Viator, please give a specific address and perhaps clear directions for locating it, for example, the closest vaporetto stop, visible cross roads and closest bridges.
"
Linda H
• Submitted 16 Mar 2018





"
This is the second time we've attended Musica a Palazzo in Venice and it's an up-front-and-personal experience that should not be missed. We brought along a friend who is not an opera fan, but even she was enchanted by the beauty of the palace and the production.
"
Linda K
• Submitted 13 Mar 2018





"
Absolutely wonderful! Not an opera fan, or at least I didn't think I was! So entertaining! Incredible musicians and singers. Definitely a lifetime experience! Actors having fun with the musicians and audience adds to the comedy, would recommend to everyone!
"
victoria b
• Submitted 29 Jan 2018





"
In the early days of opera, performances were presumably given in the private homes of rich patrons. Elaborate staging came later. So the Musica a Palazzo style has authenticity as well as vitality, hilarity in the case of the Barber of Seville anyway and a high standard of acting and musicianship. Being so close to the 5-person cast and 4-piece orchestra made the experience very different from sitting in the middle of the stalls in a theatre. It's expensive, but we thought it was worth it. After trying to think of a reason to knock off a star we ended up giving it the full five.
"
Mary S
• Submitted 04 Dec 2017





"
Loved it. Great way to be introduced to Opera.
"
Nancy G
• Submitted 02 Dec 2017





"
This was an excellent experience and a very intimate performance which moved through 3 rooms of this 15th Century Palazzo with the intermission with complimentary prosecco in the salon facing the grand canal. All of the La Traviata performers were amazing. Go if you get the opportunity!
"
Kaye K
• Submitted 01 Dec 2017





"
Loved it. Such an atmospheric place to listen to opera - and the the whole production was excellent
"
olliespompey
• Submitted 30 Nov 2017





In Brief
Duration:
2 hours 30 minutes
More Venice Day Trips