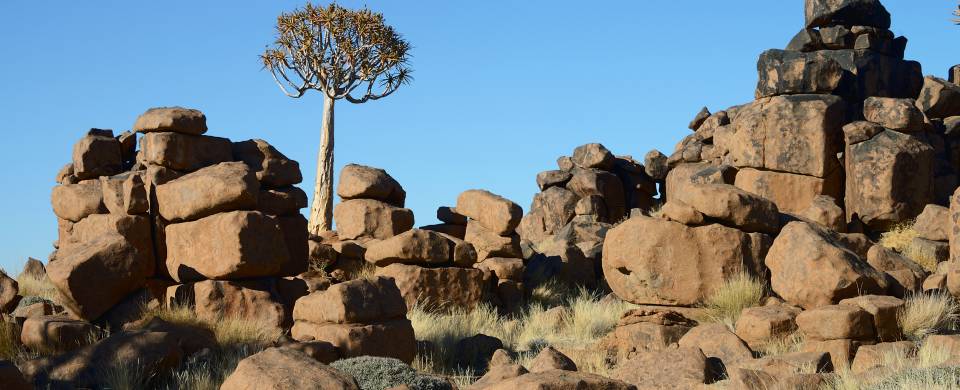 Trips and Tours to Keetmanshoop
About Keetmanshoop
In southern Namibia lies the town of Keetmanshoop, an old German town whose name translates as "Keetman's hope". It has the enviable location of sitting within a close distance of some of the most stunning landscapes in the country. Despite being a small town, Keetmanshoop boasts some fascinating buildings including the Keetmanshoop Museum, which dates back to 1895. The Church is also worth noticing due to its unique and striking construction using Gothic architecture and Namibian stone.
Read More
In the grounds of the church is a traditional Nama matjieshuis, which is a typical house of the region that is contructed using thatched reed. Further edifices of particular interest include the old hospital and post office as well as what is known as the Schutzenhaus, which was the headquarters of the oldest German club in Namibia. The building has now been transformed into a guesthouse. Just outside of the town of Keetmanshoop are the archaeological wonders known as the Giants' playground and the Mesosaurus Fossil Site.
The Giants' Playground, with huge dolerite boulders stacked onto each other and a maze of rocks, is awe-inspiring to behold. Also close to Keetmanshoop, and equally amazing, is the Quiver Tree Forest. The plants can grow up to an impressive 9m and contribute significantly to the diversity and beauty of the scenery. They store water in their trunks and only flower for the first time after 20 to 30 years and can reach 300 years of age. As the trunk and branches can be easily hollowed out, they were used as quivers by the bushmen.